Travel isn't always about touring capital cities and A-list attractions. To gain nuanced impressions of a nation sometimes it's far more rewarding to head to small towns and villages, where the pace of life is gentler. Quietly observing everyday scenes from the shaded seat of a provincial café is as much a part of experiencing France as snapping selfies in front of the Eiffel Tower.
Sommières, a long-established town of 5,000 inhabitants, lends itself well to immersing yourself in the outdoor, Mediterranean lifestyle of the Languedoc-Roussillon region in the country's south. The River Vidourle glides along under the town's medieval gate on its meandering, 80-kilometre course from the Cévennes Mountains to the sea. The closest Mediterranean beaches are under 30-kilometres distant, so can be reached within a half-hour, making the town a viable vacation base.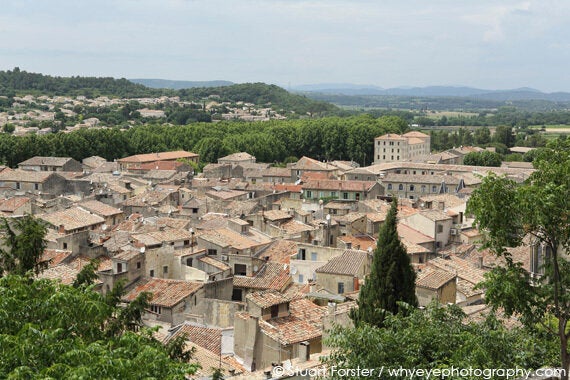 The Vidourle flows below seven arches of a stone bridge which was constructed during the reign of the Roman Emperor Tiberius, almost 2,000 years ago. It's testimony to the skill and building methods of Roman engineers that traffic continues to drive across the bridge. In total it has 23 arches and runs for 180 metres yet the majority of the structure is hidden from view, below shops and houses. Sommières is home to a European rarity - an inhabited bridge. Two-thirds of its length remains unseen as you wander into the medieval heart of the town between stone buildings with antique-looking, pale blue wooden shutters.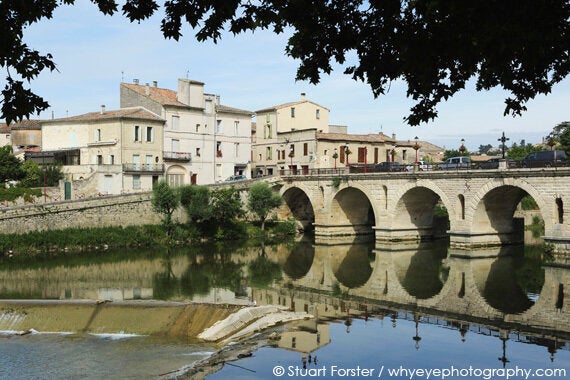 Ominously, signs on the facades of several houses record the levels reached by flood water at various junctures in recent centuries. The last major flood was on 9 September 2002, when the Vidourle rose eight metres above its normal level. During the 18th century humans channelled the normally placid river so that Sommières could expand, but nature occasionally proves rebellious. Autumn rains can force the water back along its natural course, one the Roman bridge builders respected in their design.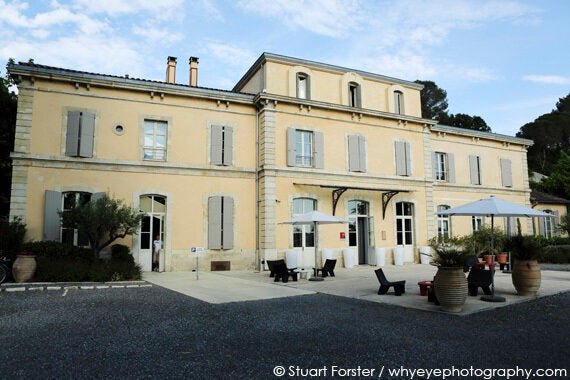 A popular market is held each Saturday morning on the opposite side of the river. As many as 20,000 people are drawn to browse stalls stocking wares encompassing fresh regional produce, clothes, flowers and household items. You'll find local foodstuffs, including seasonal fruits and sausages made from the meat of wild boars or Camargue bulls. Locals will urge you to try one of the Pélardon cheeses - delicious white disks, roughly the size of ice hockey pucks - made from goats' milk up in the Cévennes Mountains. Don't be surprised when you see bags of powdered clay, Terre de Sommières, for sale. The powder is renowned for its fat absorbing quality, helping to remove stains when it's sprinkled onto clothing.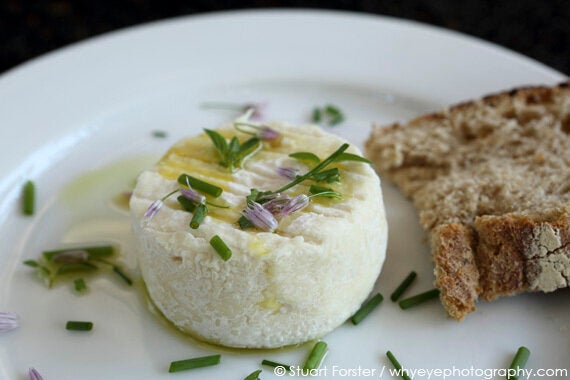 Food, of course, plays an important role in the everyday life of this part of France. The daily rhythm encompasses a lengthy lunch break. If you can, grab a seat at one of the riverside terraces, under the shade of trees whose trunks are partially stripped of bark and reminiscent of those depicted by Post-Impressionist artists. Watch as waiters carefully cross the road to deliver drinks or plates showcasing the region's cuisine. Herb-crusted Provençal lamb accompanied by seasonal vegetables is an enduring favourite.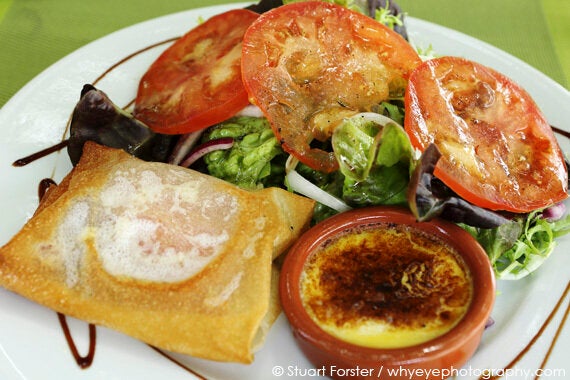 Thanks to Sommières' warm climate and laid-back ambiance it's easy to see why an outsider might find this an attractive place to live. One of the town's most famous former residents was the writer Lawrence Durrell, who settled here during the 1960s. Durrell passed away in Sommières in 1990.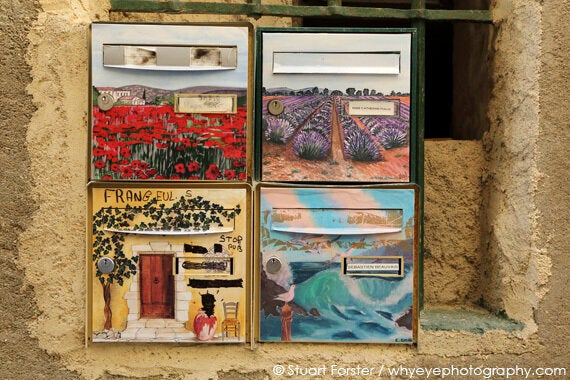 Of course, visiting a provincial town provides plenty of opportunities to speak French. That said, don't lose heart if you have difficulties understanding some of the locals. This is one of the last strongholds of the Occitan language, which you may overhear older residents speaking as you amble along narrow lanes whose shade offers cool respite on hot summer days.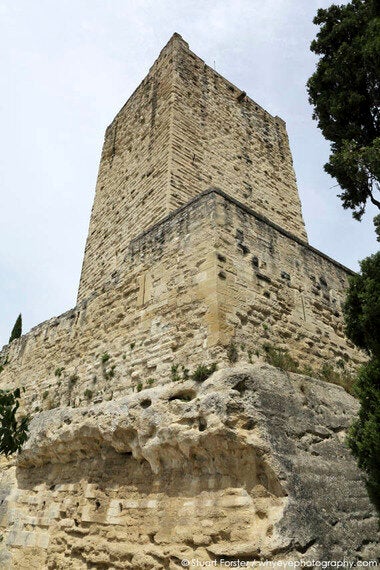 If you do feel the need to go sightseeing then head to the castle with 11th century origins that dominates the town. In June the royal chapel - named in honour of King Louis IX, whose forces took control of Sommières in 1248 - reopened following extensive restorations and now has an interpretation centre. If you have a head for heights climb the 74 steps leading to the top of the castle's 25-metre tall tower. From there you can enjoy panoramas of the commune's terracotta rooftops and surrounding countryside.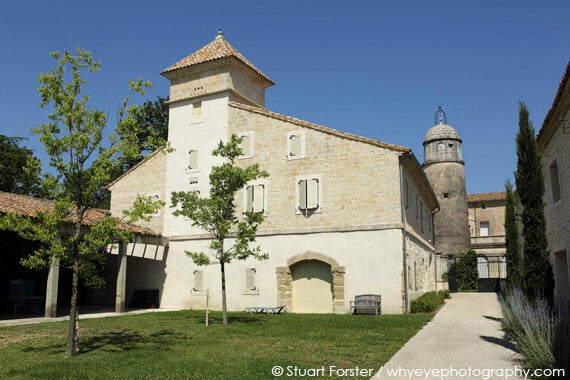 That terrain proves popular with cyclists. One of the most recent developments is the 21-kilometre voie verte, meaning 'green way', a three-metre wide tarmac track which follows the route of the Sommières-Nîmes railway line that closed back in 1991. It's open to pedestrians and non-mechanised transport, meaning you're likely to see joggers, inline skaters plus people pedalling on the path that cuts between vineyards and farmland.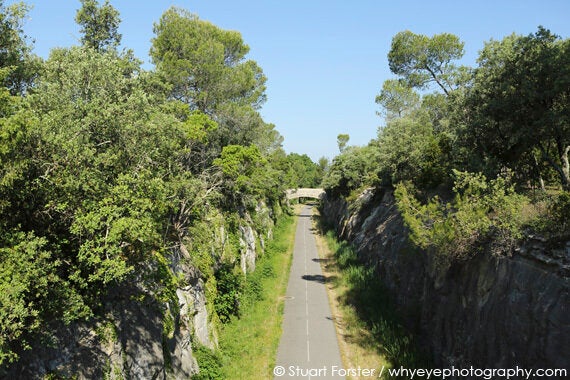 The voie verte skirts by Junas, a village housing a rock quarry from which limestone was cut by hand from ancient times until a century ago. Eerily, towers of stone stand unquarried, reminiscent of the ruins of some ancient civilisation, due to flaws making the material unusable. In recent years the site has been used to host annual summer jazz festivals and sculpting events. Sommières' Roman bridge and castle both feature stone from the quarry, so too does the Roman amphitheatre at Nîmes.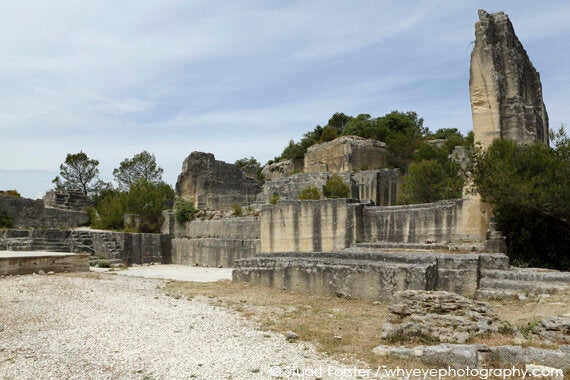 If you choose to cycle towards Nîmes you'll see curious looking, cone-topped, circular structures on a hilltop close to Calvisson. They are the ruins of the Roc de Cachone windmills. Plaster is flaking from the whitewashed walls of the mills, which no longer have sails. Their white form is easy to spot against the clear blue summer skies that are common in Languedoc-Roussillon. It's worth heading up the hill in order to enjoy views of the fields on the Vaunage plain below.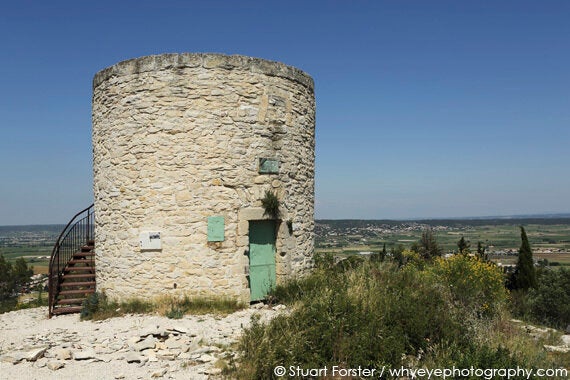 For foodies, photographers and Francophiles Sommières and the surrounding Gard region has much to offer and should be explored at a slow pace, in keeping with the natural rhythm of this sun-kissed region.