In terms of creating perceptions of countries, their cultures and people, photography has long been recognised as a powerful medium. Vietnam is a good example of this.
The photojournalistic legacy of the wars fought on Vietnamese territory in the latter half of the twentieth century continues to play a role in shaping many foreigners' perceptions of the country.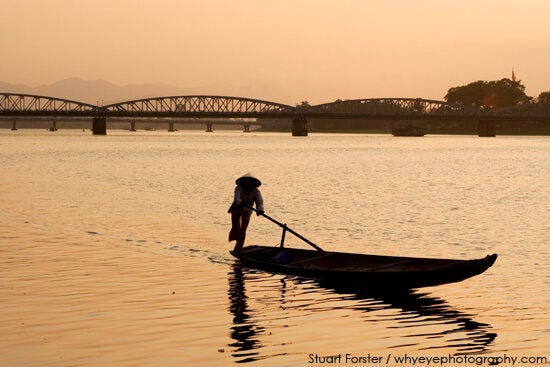 Yet the locations that once drew the likes of Nick Ut, Don McCullin, Robert Capa and Larry Burrows are now attracting travel photographers and tourists. Gradually, Vietnam is winning a reputation as a mainstream long-haul holiday destination.
Accommodation is plentiful in Vietnam and, in comparison to many other countries, room rates are relatively inexpensive. That's good news if you prefer to spend your money on experiences while underway and on travelling to photogenic locations.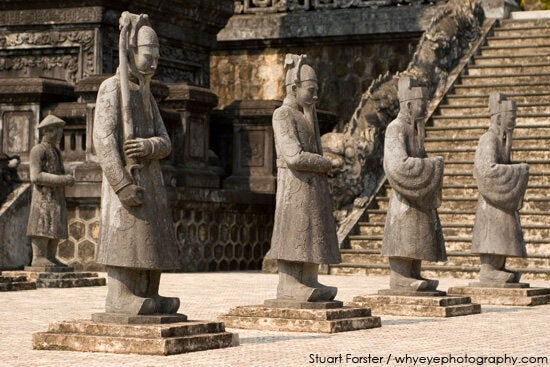 Of course, reserving accommodation in advance is ideal, but I was able to find rooms while underway and requesting an additional night rarely caused problems. If you enjoy photography, you might be glad of this flexibility, particularly when you find a location abundant with subject matter that you want to capture.
I found getting around relative straightforward. English is widely spoken in restaurants and hotels in the southern part of the country, and booking transport is less testing than in many other places.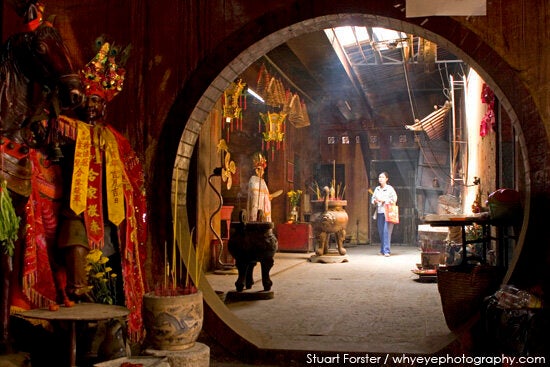 After arriving at Ho Chi Minh City's Tan Son Nhat International Airport I was surprised to find that most residents call the metropolis by its former name, Saigon.
I also learned that as long as you avoid photographing near military installations or airports you're unlikely to run into trouble because of your camera. In fact, you might be pleasantly surprised by the level of interest in photography in Vietnam.
Keep your eyes open for private photography galleries. Many exhibit prints of traditional Vietnamese subjects, including people in national and tribal costumes. Taking a look might give you fresh ideas on what to shoot.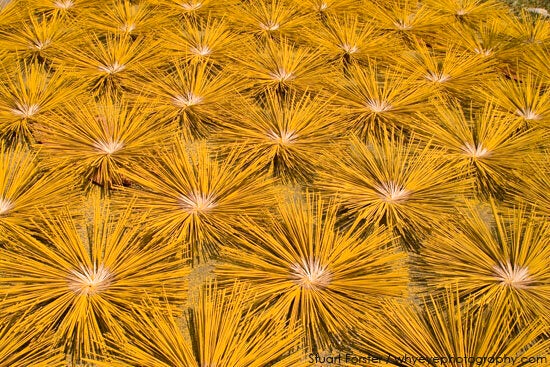 Vietnam is a good destination if you enjoy people photography. Surprisingly few people had a problems being confronted with me, a camera-toting foreigner. Many, in fact, were quite willing to let me photograph them.
Of course, you should respect the wishes of people who make it clear they don't want to be photographed. In the few instances when refused, I found that a little polite cajoling quickly changed the situation.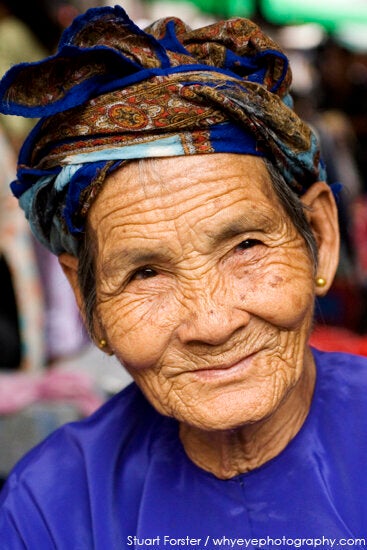 There's a surprising amount of ethnic diversity in the country. Around 12 per cent of the 87.75 million population are not ethically Vietnamese. These include the people of hill tribes, who wear distinctive, colourful costumes. However, reaching the highlands to photograph requires significant time and effort. If you can make it, Phan Van Thong, an award winning Vietnamese photographer, strongly recommends Ban Me Thuot as a top location for photography.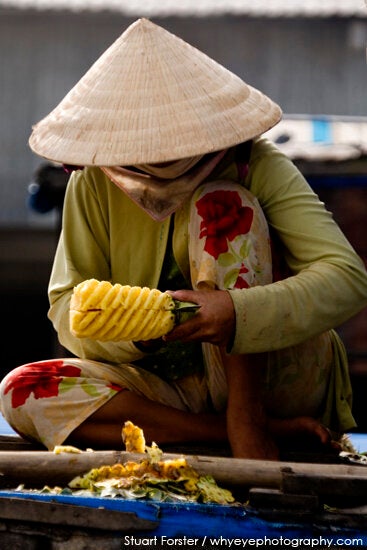 It's far easier to visit the temple complexes built by the Cham people at My Son and Po Nagar, in Nha Trang. Several Cham people now reside in villages of houses built on stilts in the Mekong Delta, which you can visit on tours operating from Ho Chi Minh City.
If landscape photography is your passion, the waterways and lush countryside of the Mekong Delta tours will present you with plenty of options. The views can be stunning, particularly in the golden hours around sunrise and sunset. You can travel all the up to Cambodia.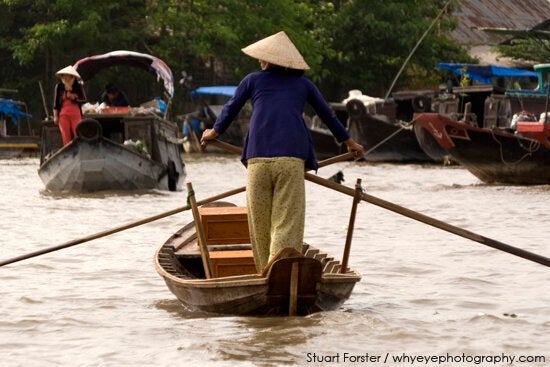 Chugging along the river means you'll have the chance to observe daily life in the Mekong Delta. You'll see locals being ferried in small wooden boats from one river bank to the other and children swimming to cool down. Regular stops allow you to go ashore and learn about local ways of life; ranging from how rice noodles are made to the functioning of fish farms.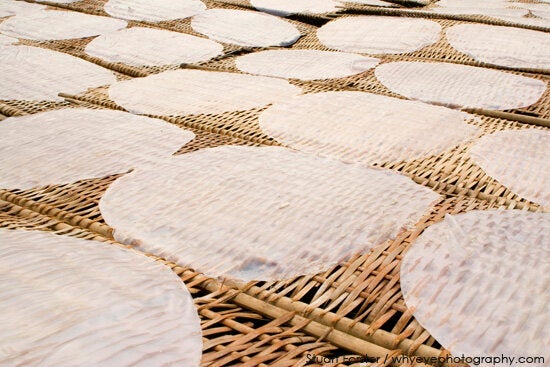 Be aware, the distances involved mean that travelling within Vietnam can be time consuming. Read up ahead of your trip and decide which locations hold the greatest interest for you and your photography, so you can plan a framework for your trip. Domestic flights can be booked at short notice and are a good method of saving time.
When is the best time of year to visit Vietnam? The period from January to mid-April tends to be the driest part of the year. At other times showers are common, so it'll make sense to carry a light waterproof jacket and umbrella plus a protective cover for your camera bag.
I particularly enjoyed photographing people in rural areas. I found that women in their traditional long, flowing au dai clothing and conical straw hats made for great images.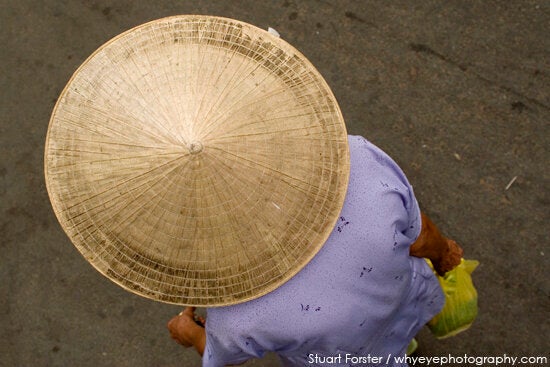 Also, if you're interested in documentary photography, I'd recommend you take a trip to the War Remnants Museum (on Duong Vo Van Tan in Ho Chi Minh City's District 3) and view the powerful war images shown there. Spare a thought for the experiences of the photographers who covered the conflict, and those who lost their lives.
All told, Vietnam is a rewarding place to visit. The vibrant colours, smiling faces and streets bobbing with conical hat wearing women are just some of the highlights await camera carrying travellers.