I'm not often compelled to write about people who are featured in Nuts magazine, as this guy was last week, but The Prince of Naples isn't just a story for boys, it's a true account of a 12-year-old boy who manages to get one over on the incredibly vicious and powerful Camorra (Naples' local mafia).
'The Prince' has to remain anonymous to this day because of his childhood clashes with the Camorra and it's perhaps a risk for him to be telling his story at all. Organised crime still holds firm control over Naples and arrests are few because to talk usually means death. This week Camorra boss Silvio Sparandeo, who has been on the run for eight months, was arrested but as the Camorra is far more powerful and widespread than the Sicilian Cosa Nostra his capture won't make much of a difference to the level of power held over the city of Naples. It's hard to believe a 12-year-old child could have any affect on such an almighty organisation at all, but 'The Prince' was no ordinary boy!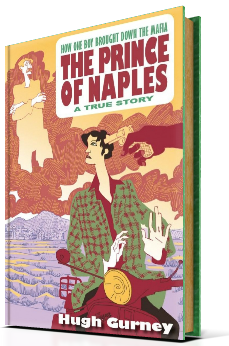 The Prince of Naples has a fast-moving, gripping plot and an unusual mix of violent revenge and charm and it sweeps you into a world that feels so much like a Hollywood movie that it's sometimes hard to remember it's true and it actually happened. Told in the words of 'The Prince', who is just 12 at the start, it describes lives deeply affected by an earthquake which struck Italy in 1980 and a people prevented from rebuilding their destroyed city because of the control and domination exerted through organised crime.
The Prince, who is a child prodigy with a full awareness of his mental superiority, uses his finely tuned brain as his main weapon to attack the Camorra who have syphoned off most the £40 billion in aid money that was supposed to rebuild the city. When he blows them up, steals from them and blackmails them, he manages to elude capture due to the fact that no one suspects him as the Camorra's mastermind tormentor because he is a child. And, as if his youth isn't enough to waylay suspicion, The Prince also plays dumb, pretending to be just like any other kid - a device that provides the reader with that lovely stomach-squeezing type of excitement and hope that drives classic adventure novels, such as The Scarlet Pimpernel and The Count of Monte Cristo. The constant promise that his true identity will be revealed - that he is a genius and not the ordinary boy he's pretending to be - is a hook that makes this book unputdownable.
Even though at the time of the telling of this story The Prince is in his forties, and obviously recollecting the experience, the author Hugh Gurney skilfully manages the words so they read like they are coming from a 12 year old. The Prince himself is on the surface a complex mixture of childish innocence, arrogance and a disdain for others. He repeatedly asserts his independence and distances himself from his family, his friends and even his mother, denying that he is capable of feeling love for anyone but his dead grandfather. But his moral and caring side - the Robin Hood part of his character - is revealed (and finally worn like a neon overcoat) precisely by his persistent insistence that he loves no one. The Prince, who thinks of himself as grown up and a dark personality, remains unaware throughout the book that he's revealing his light and good side and the reader can plainly see his arrogant judgement of others comes from the fear and vulnerability of a child.
The psychological aspect adds complexity and depth to an otherwise uncomplicated story. On the surface, The Prince of Naples is a simple David and Goliath story of a boy who seeks revenge on a power much greater than he is (which is always exciting in itself) but on a deeper level it's a picture of inside the mind of a child forced by tragedy to grow up too fast.
There is a visual book that reads so much like a movie you can almost see the story unfolding on a screen behind your eyes, and there are many satisfying moments where the underdog comes out on top but also an element of risk that our hero might well and truly fail - in short, The Prince of Naples has all the fuel that any good adventure needs.