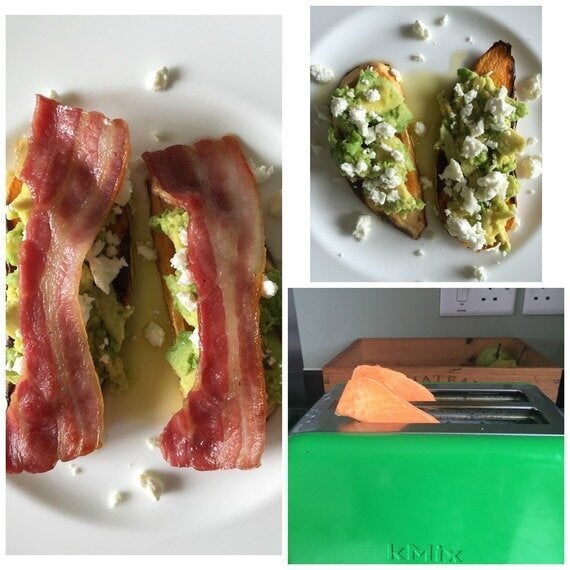 Sometimes you've got to love social media. Bleary eyed scrolling through my Facebook feed too early one morning I saw a post called, Sweet Potato toast is now a thing . Really? Yeah right. I was intrigued, the post said it actually worked. It was on Facebook; it had to be true, (ahem). Right?
I quickly shared the post on my Facebook page , I was not alone, other people liked the idea. I posted that I was on it, I'd try it out and report back. Opened my fridge door to grab some sweet potatoes and there weren't any. Crap. Not the start I was hoping for. A quick pop to my local Co-op and I was in business.
The result, I am a fan, a convert. No more gluten free toast with huge holes in for me. Every time I see yet another picture of someone's piece of gluten free 'bread' with a sizeable mouse like hole in it, I 'll be commenting three little words, sweet potato toast.
A simple, healthy winner. Unless you don't like sweet potato and then I'm afraid this one probably isn't for you. I'd also add the following caveats;
You need a powerful toaster and a sharp knife to cut the sweet potatoes thinly
I'd recommend you pimp up your SP toast, avocado, bacon, tomatoes, cheese, whatever's your thing. I tried it solo and it didn't work (for me).
If you are GF remember to use your own gf toaster or toaster bags to avoid cross contamination from regular toast.
So it turns out there is another world of veggie replacement food beyond spiralizing. Toasting. Another 'fad' I'm happy to say is fab and one I'll be hanging on to for my 'toast'.
I'd like to finish up by saying a quick but big thank you to everyone in touch over my little hiatus. Lots of life stuff happening. Exciting stuff. We're moving house and my youngest starts school this year so I've been focusing on other stuff, but I'm back. I can't tell you how much I've missed this blog and all you lovely lot.
But for now, let me share with you, my take on Sweet Potato Toast. Let me know what you think?
Real Food. Healthy Fuel. For a Happy Life.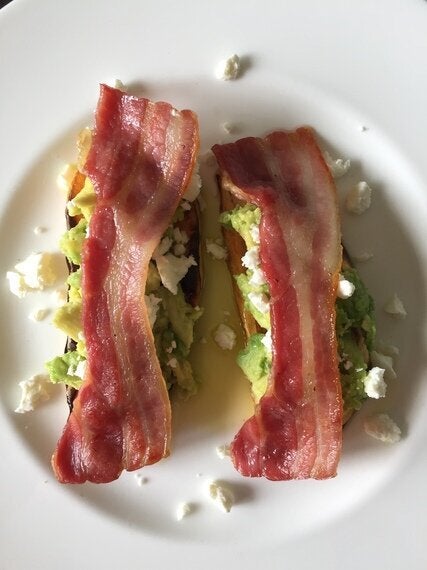 • Himalayan or good quality sea salt
Peel and slice the sweet potato into 25mm slices. I only slice a couple at a time and keep the rest covered in the fridge until I next need it.
Pop your sweet potato toast in your toaster on the highest setting and toast until it is now longer firm, and feels and looks cooked through. See pictures for what it should look like. This process takes x3 toasting sessions in my toaster, and you will need to experiment with yours. Remember to be careful getting your 'toast' out, switching off the power at the socket if it gets stuck and you need to use something to guide it out.
Drizzle with extra olive oil, and dress with the avocado, feta, bacon or toppings of your choosing and finish with a light sprinkling of Himalayan or good quality sea salt.