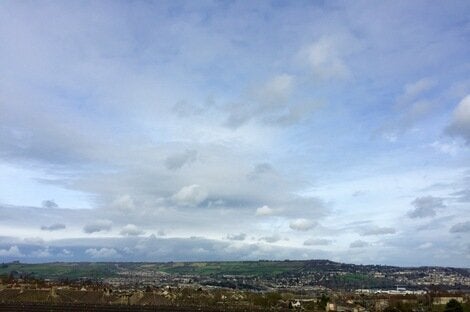 You never know what's on the horizon.
Recently we seem to have been surrounded by death. We recently lost Mr S' Grandad, he'd had a good innings at 91 but still a great loss, my dad's brother passed away this week- I didn't see him much but still felt a loss for my dad. A friend has been left devastated by the sudden death of his dad and then, just this week, a guy I have worked with who fought cancer for six years passed away leaving behind his wife and young son.
It's the latter that has made me think long and hard about the need to lay out some plans in case death strikes our little family before it should. My friend knew what the outcome was going to be so I am sure as a family they had discussed it and their young son was aware of the inevitable, but it still breaks my heart to think of a little family being torn apart and left to rebuild their unit.
I don't know whether the time to talk and prepare is better than it suddenly happening. I know I have the need to talk about death with Mr S but not with a two year old. He hasn't asked about Great Grandad, I'm not sure what we will say, I suspect he won't ask for a few years yet, pictures of him in the house seem to suffice.
Mr S isn't one for talking, let alone about dying, but I need to know my wishes are in place, not just so I get what I want, after all I won't know, but to make things easier for my family that are left behind.
I know of families that have fallen out over funeral plans, fallen out over the will. I don't want that, it's just not needed. Mr S will have enough on his hands with the Rockstar and clearly grieving for his loss, without worrying about what happens next.
As an 'organiser' I want my funeral to run like clockwork, in fact I've already written the 'event schedule' for it! I've made suggestions on where the after party should be, food and drink. It's what my friends would expect of me.
I haven't got a huge amount of 'special items' but I've listed who should have what. I imagine the girls going through the wardrobe for coats and handbags whilst drinking fizz.
The next thing I want to do is get back to writing more emails for Rocco to read over the years. I have no intention of leaving him just yet and I hope I will still be around when he reads them but just in case something happens, I need to get back on top of that.
I constantly fill his memory box of reminders of our adventures, he's young and these memories may not be ingrained yet.
I print off lots of pictures and pop them in little albums for him to flip through, snap shots of all the things we do. I don't want to rely on digital photos.
My sister and I joke with my dad, he wants to be flown to Barbados where we have had many a family holiday and scatter his ashes at sea. My sister and I see ourselves flying him in his own upper class seat, taking to the sea in black Prada dresses, fizz in one hand, dad's ashes in another. All very dramatic and actually I think we've convinced him this is what he wants rather that it being his choice!
Mr S and I have talked briefly about what happens if we both die at the same time, who would have Rocco? It's an easy one for us when we have such close siblings whose morals and values are the same as ours, so it's not actually something I really worry about. Once we decided that Rocco would be an only child I did panic somewhat about him being alone but that's not a concern since we have talked about it.
Since we have been talking about death, Mr S has told me of a few things he would like at his funeral - I didn't know these things, so talking has helped. It hasn't felt morbid, yes it's an awful thought and one I hope we don't go through for some time but after the last few weeks you just don't know.
I've downloaded some info on writing your own will - it seems pretty simple. Although for me it's not about who gets what, it's more about making sure people know how I feel about them.
If the last few weeks have taught me anything, it's taught me to talk more about what happens next - it's not morbid, yes it's a bit scary but it needs to be done.
Find out what your loved ones want, work on that bucket list, call your mate you haven't spoken to for a while, just spend some time doing fun stuff because life really is too short.