Recently I had the pleasure of attending a talk about Sophia: Princess, Suffragette, and a Revolutionary by Anita Anand. I was fascinated about the daughter of an exiled Indian prince, God-daughter to Queen Victoria, who spent almost all of her life in England, where she was in the midst of political turmoil, including the women's suffragette movement. Anita Anand has reconstructed this remarkable woman's lost story and facts about the shape and beginnings of the feminist movement. Sophia lived to see women finally win their right to vote in 1928.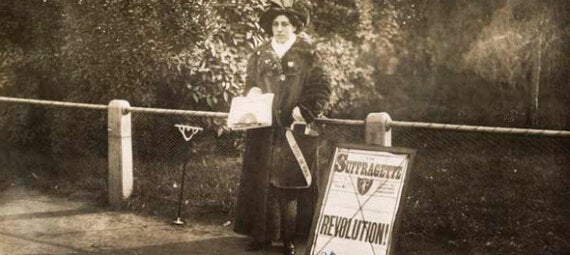 We don't need history lessons but certainly do need a reminder of the struggles, and discrimination women have faced in getting their voices heard and justice. Forget the self-style argument that people shouldn't vote, imagine as a British woman who had no right to vote? It may be hard to believe, but since 1918 there have been fewer than 400 female MPs.
Suffragette timeline taken from Wikipedia:
1894 - The United Kingdom expands women's voting rights to married women in local but not national elections
1869 - Britain grants unmarried women who are householders the right to vote in elections
1918 - The United Kingdom gives a full vote to some women over 30, with property qualification or a UK university degree and to all men age 21 and older.
1928 - The United Kingdom grants full equal voting rights to women over the age of 21.
1969 - All men and women got the right to vote over the age of 18 years old.
We have seen a turning point in the run up to this year's general election with three women leaders involved in the TV debates. One of the big developments of this election has been the debates and the not-quite debates. We have learned in which women candidates have stepped onto a more level playing field than in past years, as well equipped as their male counterparts to compete and win. As a result the TV debates may have empowered more women, to have a greater opportunity to connect with voters than their men opponents. As voter's we value honesty and ethics and dislike the perception of negative campaigning.
For those women who think there is no point of voting, women's involvement is necessary women need to get out there and vote for the government they want. It's a step in the right direction for more decisions regarding women. Research shows that female candidates can win over voters by relating as women, daughters, and mothers and, of course, grandmothers. 2015 and not one major party comes close to 50:50 gender representation with the candidates it's fielding.
We read with optimism the news that Sandi Toksvig has quit her job as a Radio presenter to roll her sleeves up and launch in to the political arena. It is certainly a long time coming the Women's Equality Party and the party will field candidates in the 2020 election. From their Facebook page, Catherine Mayer co-founder of the party states: "Equality for women isn't a women's issue. When women fulfil their potential, everyone benefits. Equality means better politics, a more vibrant economy, a workforce that draws on the talents of the whole population and a society at ease with itself."
A true and lasting turning point it certainly is a year in which more women continue to embark a seat in Parliament, including a more ethnically diverse pool of candidates than we have seen before. In all, more progress and new challenges and why The Women's Equality Party is so badly needed in modern society.