This week I've gained two new role models in life. Megan O' Malley and Gab Murphy are walking across Southeast Asia under the banner of Walk Sew Good. Over the space of a year they will hike 3,500 km of partly heat-scorched, partly landmine-ridden, ground. And Megan, by her own admission, is anything but a hiker:
"We did a test hike before we left for this trip. At one point Gab turned around and said: 'You look like that scene from Wild.' I felt like it too. I had a panic attack on the second day and we had to go home."
Luckily they've made it the 1,100km from Ho Chi Minh to Bangkok where I caught up with them. And here's why I think they're two of the best female role models this planet has to offer.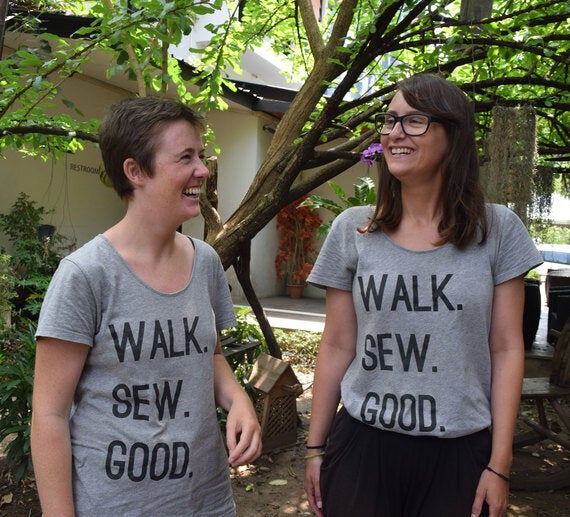 Reason #1: They're doing this to raise awareness of ethical fashion
At every given opportunity Megan and Gab are stopping to meet small business owners who are treating their workers fairly and caring for the environment.
They've spoken with Hanna and Kunthear, founders of Dorsu, which makes comfy casuals from material leftover from Cambodia's large garment factories. They've met Koky Saly, the Cambodian refugee who founded Beekeeper Parade - every backpack sold funds education for a Cambodian child for one year. They are broadcasting their interviews across Facebook, Youtube, Instagram and Twitter.
The way they see it, the people are the key. Says Meg: "That human connection is so rewarding. To know the story behind your clothes rather than just buying from a random brand that doesn't really mean anything."
Reason #2: They're taking a positive approach. It's contagious
There are some horrific human rights abuses associated with the garment trade. Meg and Gab took me to meet one man, Manom, who used to work in a factory where the workers were drugged with amphetamines to keep them awake for two to three day shifts. Sometimes this would cause pregnant women to miscarry. The factory supplied many major global brands - albeit brands which didn't realise what was happening as the owners would cover it up during inspections.
Whilst I, and I'm sure many others, found this shocking, when we are faced with such stories it is so far from our own experience we can barely process it. We often feel disempowered when bombarded on social media with stories of such reckless disregard for human rights.
Megan and Gab's strategy is to flip this. Talk about the people doing it right. Sing their song, promote their businesses, show people where they can direct their attention and their money if they want to support something good.
The reason we're meeting Manom is because him and his fellow workers fled the terrible conditions they were working under and founded Dignity Returns. They're now happy, working decent hours in good conditions. A whole community has built up around it. I went from feeling disempowered to fired up within the space of minutes. These people have built something great, I thought, and I'm going to support it.
Reason #3: they're scared (well one of them is). And they're doing it anyway
Megan, it turns out, is scared of quite a few things. "I don't know if I can make it up a mountain," she tells me. Or: "I'm scared of being eaten by a large mammal. Do you know they have tigers and bears here?" And: "Gab's really good at dealing with vicious dogs, where as I still have this fear that I'm going to die," and so on.
She drops these fears into our conversation, but she doesn't obsess over them. She's not just facing them, she's laughing in the face of them (even whilst quaking in her cargo pants).
I don't really know what more I can ask from a strong female role model than that.
Reason #4: they have a wicked sense of humour
They keep each other going by laughing together at every given opportunity. They laugh about the time someone thought Megan was a mum and Gab her teenage son. They laugh about the time Gab got a vomiting bug, found a 'miraculous' bin to throw up in, then realised her sick was running right back onto her sandal clad feet through a hole in the bottom. They laugh about the time they were walking through a village and got stopped by the local women to do karaoke. They performed 'Wannabe' by the Spice Girls and then kept right on walking.
Surely the correct approach to life.
Reason #5: they are advocates for humanity
I ask about scary, difficult moments of the trip. And absolutely none of them are associated with human beings. They've had concerned villagers offer them lifts, thrust food upon them, and even plant trees in their honour.
Says Megan: "Before the trip everyone was like oh my god it's so dangerous, so scary! It's like everyone is so scared of the people around them. But the only thing we have experienced is generosity and kindness and it restores your faith in humankind. You realise how much the world is driven by fear, when it doesn't really have to be."
Gab agrees: "So much politics is driven by fear, but this whole trip has been driven by love. Which sounds so cliché, oh my gosh I wanna just punch myself in the face, but it's so true. We're welcomed very openly into the community."
We live during a time where there appears to be so much hostility and hate among people. But Megan and Gab have spent three months at the mercy of strangers and the truth about their experiences is the opposite.
I admire them for putting themselves in that position and for telling the world. I think it's a story we all need to hear.
Support Megan and Gab by following their social channels and sharing their stories. For more information visit walksewgood.com