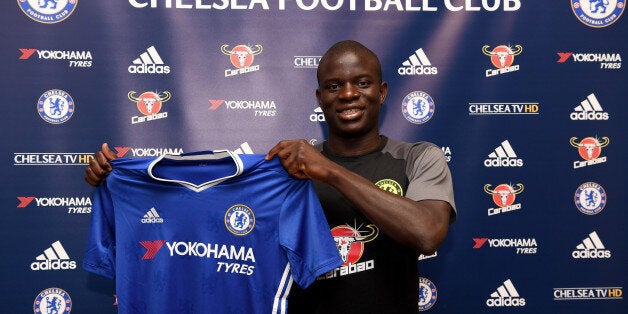 We've all heard every version and aspect of Leicester's fairytale by now. How Nigel Pearson dragged them back from the brink. How Ranieri pushed them beyond all limits. How Mahrez took them to the next level. How Leicester are going to fail next season because no one can do it twice. How Leicester are going to retain their title because Vardy and Mahrez have all but decided to stay.
However, there has not been enough of a focus on N'Golo Kante's departure. They have brought in Mendy to replace him, and by all counts, it seems like a transfer that could work out. Mendy definitely has a better reputation than Kante did a season ago, and if he can quickly embed himself into the team culture at the King Power Stadium, there is no reason that he can't emulate his predecessor. At the very least, him and Drinkwater should provide a solid Europa League-level base.
Nevertheless, this analysis fails to take into account Kante's off-the-pitch role last season, and the vital locker room position he would have held this year. He may have only joined last summer, but him and Mahrez quickly proved themselves to be among the most important players at the club. They were the face of the club's success alongside Vardy, and they were able to take advantage of the lack of expectations at the midlands club. Even if Mendy is to take the league by storm, he will always be under pressure to perform for the champions, and to emulate the departed Frenchman.
Another aspect that seems to have been forgotten by the media as a whole is Kante's selection for the French team for the 2016 European Championship. His unquestioned inclusion in the squad for the tournament favourites provides Kante with something that no one else at Leicester has: exposure to the constant pressure at the very top of the game. You could claim that Vardy has similar experience, but he was never more than an impact substitute for an England side that had almost no expectations. On the other hand, Kante was only displaced from the French side by a combination of Pogba and Matuidi, arguably both in the top five midfielders in the world at the moment.
This experience would have proved vital to Leicester's step up to the Champions League. With Kante running the midfield, they could've been confident of maintaining their composure, even if they were outgunned talent-wise. It is similar to Manchester City, during the first years after Sheikh Mansour took over. They were good, and they occasionally came up with some stunning results. However, they were only able to translate the money into success when Carlos Tevez was in the side. Their first trophy, the FA Cup in 2011, was a direct result of Tevez's return to the fold after months on the sideline after arguments with Mancini.
Tevez provided a sense of calm and accomplishment that none of the other players had achieved yet. Similarly, Kante would have provided that same sense of direction. Without him, Leicester are in a very similar situation as they were a year ago: talented, but unpredictable. Last year the combination worked, as no other club was expecting any sort of challenge from them. This year, they go into the season as domestic champions, and Pot 1 seeds in the Champions League. In a season where their small squad is undoubtedly going to be stretched, top clubs are going to treat them as rivals. Without Kante, there is a sense that Leicester don't have enough top-level leadership to successfully respond.