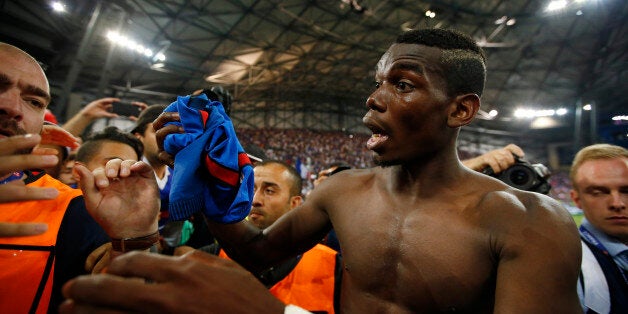 Four years ago, Paul Pogba left Manchester United to pursue his career elsewhere. He was portrayed as player without patience, one who would choose riches over his development under one of the finest managers of the game. Today, it is widely accepted that Sir Alex made a mistake, possibly the biggest of his career, in disregarding the young man's talents. Since leaving, Pogba has become an important player for Italian giants Juventus. Now, Manchester United are set to make Pogba the most expensive player of all time.
For Mourinho, there is an important reason to recruit Pogba. Despite the support at his first friendly against Wigan, he knows that many fans are still undecided on his appointment. Even Sir Bobby Charlton shared misgivings about the appointment. When legends are unsure about managerial candidates, it's hard to blame the fans. The Portuguese's strained, if respectful, relationship with the club over the years had not helped his case either.
Mourinho's first encounter with Manchester United came in 2004, when his Porto side met Ferguson's giants in the quarterfinals of the Champions League. A late Costinha goal led to that now infamous dance along the touchline. To Ferguson and the fans, who had seen a Scholes goal wrongly given offside, it seemed like poor sportsmanship. This would become the start of a rivalry between the working class Glaswegian and the flamboyant Portuguese. His introduction at Chelsea, where he appointed himself the Special One, was proof of his arrogance. Who did this upstart think he was, taking on the traditional might of Ferguson?
Yet, Mourinho managed to substantiate his talk with brilliant results. Not only did he break up the decade-long Arsenal-United duopoly over the Premier League, but he also comprehensively beat them both. He has only ever lost two matches against Manchester United, while Wenger first won against him last summer. However, only once Mourinho left Chelsea could opposition fans accept his genius. To win the London club's first title in fifty years, go on a 40-game unbeaten run, and maintain an invincible record at home were all immense achievements. When he led an unfancied Internazionale side to a treble in 2010, his talent became unquestionable.
Mourinho's move to Real Madrid would ruin this burgeoning reputation. On the field, his disruptive tactics in matches against Barcelona would only gain him scorn, particularly as he rarely won those matches. Off the field, he picked fights with anything and anyone, predominantly during the 2012/13 season. It started with an on-pitch fight against Barcelona, including that undignified attack on Vilanova, and ended with public arguments with the influential players at his own club.
His downfall could not have come at a worse time for Mourinho as Ferguson finally retired in May 2013. However, as he was coming off his worst season personally and professionally, the serial winning Mourinho was ignored for the trophyless David Moyes. Even when the Scot failed, he was succeeded by Van Gaal. The Dutchman's reputation as both Mourinho's first mentor and the best coach at the 2014 World Cup had rendered him a perfect choice for the Red Devils.
Even though Mourinho had won the title at Chelsea in 2014/15, most United fans were satisfied that their club finally had some direction in the post-Ferguson period. However, the 2015-16 season would prove to be a disaster for both Manchester United and Mourinho. Chelsea were languishing at the bottom of the table when Mourinho was fired in December, while Van Gaal could only lead United to fifth place playing some of the most turgid football in Europe. Going into the summer of 2016, Mourinho and Manchester United were at their lowest points in recent history. Much like two unhappily single friends in their forties, they decided to get into bed together because they had no other options.
Both club and manager realised that they would have to sell their union, and they have set about it an aggressive manner. Mourinho's season-long scandal with Eva Carneiro was finally put to bed after his appointment in Manchester. Additionally, Manchester United have successfully signed both Henrikh Mkhitaryan and Zlatan Ibrahimovic. While these signings were necessary to inject some quality into a stale side, they were important as a declaration of intent. If you were on the fence about the managerial appointment in June, Ibrahimovic and Mkhitaryan were meant to get you excited by July.
This is where Pogba's relevance comes into play. If Mourinho can rectify what was Ferguson's greatest mistake at Manchester United, he can save the season before it starts. The pill of a potentially controversial and trophyless year is far easier to swallow when accompanied by the sugary return of a prodigal son. And not just any prodigal son, but one that could quite conceivably go on to become the best player in the world.
Related