In the wake of the recent Burkini bans in over a dozen cities in France, sales have been soaring around the world by up to 200%. Founder of UK based Islamic Design House, Harun Rashid stated that, "on the pre-launch campaign of the burkini, we sold out completely on all of our inventory".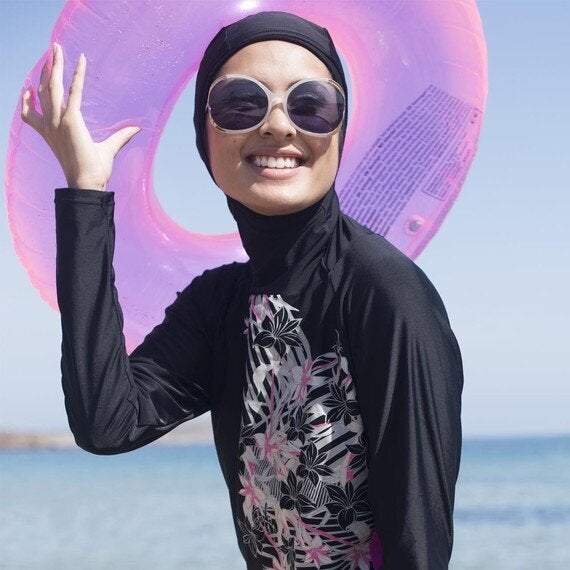 Courtesy of Islamic Design House ©T.Nazeer
Rashid claims that the French ban on the burkini has only further spurred sales and impacted businesses worldwide in a positive way rather than acting as a political deterrent. Islamic Design House has been pioneering modest clothing for over a decade with franchises in France and worldwide and strongly condemns the ban which has not deterred their French consumers from purchasing.
An unprecedented interest has been aroused following the ban which have left people appalled by the decision by French government officials to take away the rights of women who want to wear the burkini, a piece of clothing which enables women to cover up whilst on the beach.
Founder of Islamic Design House, Mr Rashid stated that, "I strongly believe the burkini acts as a real and practical solution to choose from, for those women, Muslims or non-Muslims, as an alternative to the bikini wear. It is quite normal and natural that some women despite their religious or cultural background, do not wish to show their bare bodies when visiting the beach with their families. So the burkini is a very good solution for them."
The burkini was originally created by Sydney based designer Aheda Zanetti. Lebanese-born Australian fashion designer for Muslim women, developed the burkini to give Muslim women freedom to adhere to their faith whilst enjoying sports and condemns the senseless criticism that the burkini is 'oppressive'.
In response to the French ban on the burkini, Zanetti said that, "They have not thought hard enough; they are using a piece of fabric as a political item. Little do they know a lot of non-Muslims are wearing it."
Many non- Muslim women, in particular cancer survivors, have been purchasing the burkini in order to cover up from sun exposure and women who just have a general preference to wear the burkini have been purchasing the garment, which they claim has provided a great option for a gap in the market.
Zanetti further stated that, "A lot of the correspondence... was from survivors of skin cancer and they've always been looking for something like this, saying, 'Thank god we've found someone like this producing such a swimsuit,'" she said.
France has disrespected the rights of women to make their individual choices on the clothing which they wish to wear. In an attempt to target Muslim women and stop them from integrating freely within their respective communities on the beach, many French cities continue to implement the ban.
The Mayor of Cannes has reportedly issued a ruling which states that, "Access to beaches and for swimming is banned to any person wearing improper clothes that are not respectful of good morals and secularism."
"Beachwear which ostentatiously displays religious affiliation, when France and places of worship are currently the target of terrorist attacks, is liable to create risks of disrupting public order."
The infringement is punishable with a fine of €38 (£33) and the ban remained in place until 31 August 2016.
The burkini is being misused and turned into an unjustified political stance, however logical people are able to see the motives behind the ban that has actually caused more consumers to purchase the burkini and appreciate its value.
Rashid stated, "we are utilising the power of social media, especially on Facebook and Instagram to promote the burkini and cater for the growing interest from women around the world".
Junayd Miah, Creative Director and CEO at Islamic Design House said, "Historically, if we want to know where the burkini came from, it was formed from a practical solution from the founder for women to engage in sports"
Miah further stated, "We want to live in an inclusive society and Muslims are part of that society. For me, the burkini is a positive change and for girls who are not taking part in sports this is ideal. It is a practical solution and it is nice to see people of different values and religions come together".
One would hope that the French government would be aware that within a democracy nobody has the right to restrict people from wearing the clothes they choose to. The ban has certainly shown that the attempts to deter people from wearing the burkini have been hindered and you may just see more women, expressing their freedom through the inspirational garment.