A 27-year-old entrepreneur from the United Kingdom is set to help create 10,000 entrepreneurs in creating their own businesses within the next 10 years. Aaqib Ahmed, Founder and CEO of Entrepreneurial Muslim, has built himself a 7-figure business online through his expertise in Facebook marketing.
Mr Ahmed said that, "I want to help people from all walks of life who have an aim to start their own business. My goal is to enable people to break away from the 9-5 routine and work successfully on their own terms".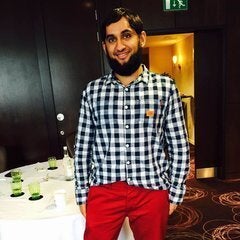 Source: Aaqib Ahmed, Founder & CEO of Entrepreneurial Muslim
There are many biased representations of Muslims within the mainstream media and people often disregard the positive contributions of the 1.6 billion nation, who have excelled in a variety of industries.
There have been many successful notable Muslim personalities in the past and present and Mr Ahmed believes there are many success stories to come.
Mr Ahmed currently runs his own online flagship premium course, Legacypreneur University which enables students to learn how to start their own business, even if they have had no prior experience in the past. Both men, women, elderly, and parents have even been joining up with a passion to turn their lives around and start making sales from the comfort of their own home.
However, Mr Ahmed reiterates that, "You can only gain success if you put in the hard work and believe in yourself". There have been many instances of self-made entrepreneurs who have tapped into creating an online business. With the amount of choices for online businesses, it is becoming an increasingly popular option.
Zainab Khan from London says, "I like the idea of being able to work from home, around my family commitments whilst doing a business I enjoy. Being a mum, I wanted to spend more time with the family and having your own business online can give you that freedom to manage both work and family".
Online businesses are not just limited to educational courses but you could also run your own personal coaching sessions online, start an Amazon business, dwell into the e-books sector or even create webinars.
The scope for earning online is unlimited and with the advancement of technology promoting and marketing your business has never been easier. Social media platforms such as Facebook enable you to run ads and promote your business to an international audience.
Ariba Farheen, a student of Legacypreneur University said, "I quit my job last month! A big risk, it was an awesome job making over $100k but it felt like I am running in the opposite direction".
Mr Ahmed that, "Facebook marketing has the potential to accelerate your business and this is something that many people fail to realise. I have been able to scale up my business in a short amount of time due to implementing an effective Facebook marketing strategy".
There have been many success stories of normal, everyday people making abundant sales online in creating their own businesses and the future looks bright in building 10,000 more businesses in the years to come.