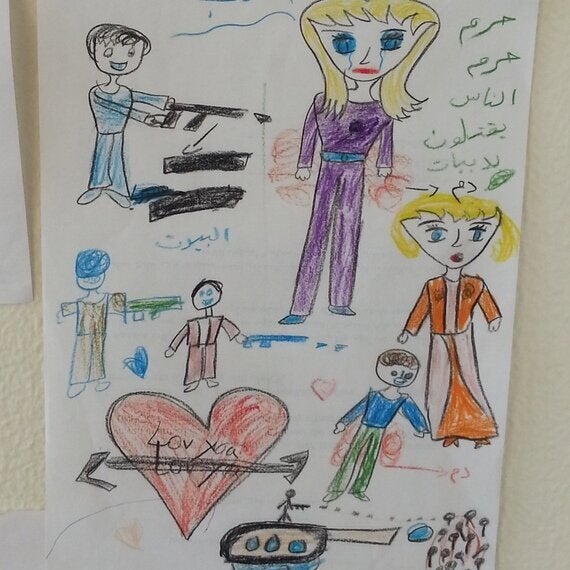 "Who made these?" Hala asked as she looked up at the drawings on the wall of my office in Tyre, Lebanon.
"Syrian children, during the interview to be registered as refugees", I answered.
Hala, an eleven year old girl from the Syrian town of Idleb, suddenly showed an urge to draw herself, as if she had something to express, which she was unable to verbalise. She took the colouring pencils and the paper and started to draw without stopping. She drew a man holding a gun, shooting at a woman. She appeared to be mesmerised and was so busy drawing it seemed that she might forget to breathe. Choosing her coloured pencils carefully, she covered every inch of the paper. It was as if she wanted to share as many stories as the paper could possibly hold.
Hala showed physical signs of anxiety and anger and did not speak once as she drew. On one side she wrote simply: "People were killed by tanks".
When she had finished, she calmly explained that she lost a best friend and many close neighbours during the demolition of their neighbourhood but she thanked God that she still had her parents and siblings close to her.
Hala is one of more than three hundred thousand Syrian children registered with UNHCR in Lebanon.
You often hear people talking about how time heals. Unfortunately, for children such as Hala who have witnessed so much, time alone will not heal the trauma they experienced when they were forced to leave their homes and flee to Lebanon.
Such horrific experiences are deeply disturbing and overwhelming and it is common for both adults and children to suppress bad memories rather than confront them. This repression can lead to a re-occurrence of the feelings in a more evolved way. This is why we want to help Syrian children express themselves in safe and controlled environments, allowing them to confront bad memories with the support and guidance of informed and empathic adults. Providing times and spaces where the children are encouraged to draw is a start.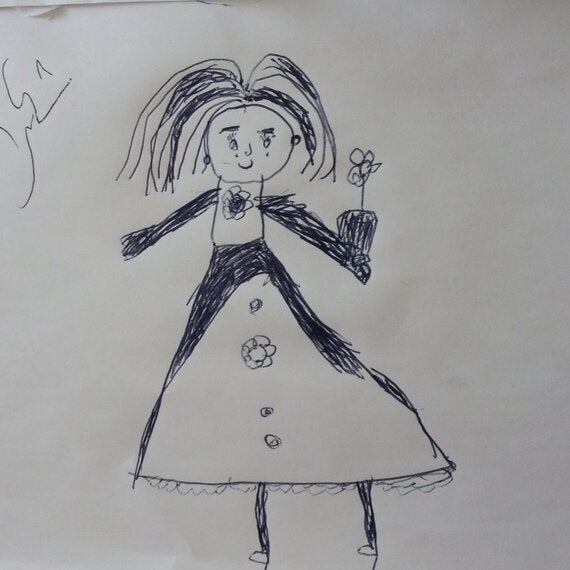 Another Syrian refugee, nine year old Samar from Daraa, drew a woman who was smiling and crying at the same time, holding a flower in one hand while her other hand was missing. When Samar talked, she alternated between sharing the feelings of fear and hopelessness she experienced in Syria and the security and stability she is now feeling in Lebanon.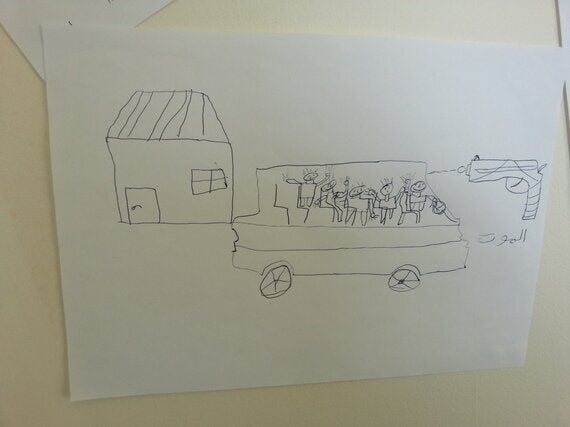 Jamal, a nine year old Syrian, depicted a bus being attacked by people with guns. It transpired that he was drawing the actual bus upon which he travelled from Syria to Lebanon. Armed gunmen had raided the bus and threatened all of the passengers. Two people were killed in front of him. For most of us, this situation is utterly unimaginable but too many Syrian refugees have experienced similar traumas.
Simple programmes such as the one I am involved with are the first step to providing at least some psychological support for these children. We hope that our intervention and our partners' activities will help minimize any long term psychological impact and prevent such harrowing memories becoming dangerously suppressed.
UNHCR has just published a report about refugee children in Lebanon and Jordan. It shows in detail the incredible impact the war in Syria has had on these children. As well as the trauma described here, many children are feeling very alone and isolated. So we're asking people to donate if they can, but also to send a message to these children. The messages will be translated and put up in centres like the one I work in.