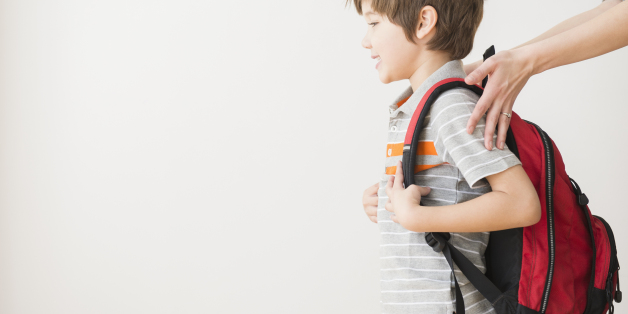 JGI/Jamie Grill via Getty Images
Whether your child is about start school for the very first time, or they are older and transferring to a new school this September, it can be a very daunting time for them (and you). Starting a new place of education can significantly affect a child's emotional wellbeing, as well as their social development and in the case of older kids, their academic performance.
However, there are things that you can do to help calm your child's anxieties and make it easier for them to settle into their new environment - without letting them see that your own concerns about them is causing you to cry into your wine glass on a regular basis!
Get the knowledge
Part of parenting is answering the billions of questions that your child can come up with. No matter how old they are, you can be certain that there will be lots of information that they might want or need to know. One of the best ways to relieve anxiety is to be prepared. Almost all schools have prospectuses and websites that you can use to find out everything and anything that you might need to know.
Want to learn more about the school? You can request a prospectus here https://t.co/y283WXVpU9pic.twitter.com/SZW2re0uTu

— Hipperholme Grammar (@HipperholmeGS) June 21, 2017
Get the right stuff
This is particularly important if you have a teenager who is going to need to take their own equipment to school every day. There is nothing more embarrassing than turning up on the first day with the wrong sports kit, or without the right stationery. Check with your kids' new school exactly what is required and help pack their bags the night before the first day!
Yesterday was my first day back at school anddd I forgot my backpack with everything in it... pic.twitter.com/larAY2cqwe

— Toni Reed (@ToniJewel) June 6, 2017
Do a practice run
If your child is heading off to senior school and is going to be walking, riding a bike or getting a bus, then a dummy run of the journey can really help them to prepare. If they will be walking or riding their bike, show them the different (and safest) routes to take, which will give them a good idea how long it will take them to get to and from school.
If your kiddo is getting the bus to their new school, you are undoubtedly just as anxious as they are that they will end up on the other side of town! Showing them what stops to use and which bus to get by doing the journey a couple of times over the summer can take a lot of the stress away.
If you're still really anxious on their first day, you can always take a leaf out of Mad's mum's book... or not!
Tbt to my first day of pre school and my mom was so sad that she followed my bus to the school

— mads (@madsspaige) June 16, 2017
Talk about what happens at school
If your child is starting school for the first time, it's likely that they are unfamiliar with many of the day to day normalities of school life. You can help to prepare them by talking to them casually about things that happen during the school day. Work them into your normal conversations as much as possible so that you don't overwhelm them.
For example, when having lunch together you could talk about what will happen during the school lunch break. If you go to a film or event where you need to sit quietly and listen, explain that they may have assemblies, or quiet time on the carpet where they will need to sit nicely and listen to their teacher.
Our lovely vicar asking the children if they remember their first day at Wainscott School- fab assembly! pic.twitter.com/ps9FQizdXA

— Mrs Callaway (@RoseCallaway3) June 22, 2017
Hide your tears
First day tears are a normal occurrence for parents as well as kids, but if your child sees you crying, they are much more likely to get upset. Instead, send them in with a positive, confident goodbye. Tell your child how proud you are of them, and how you know they will have a great day. And once they are out of sight, feel free to release a torrent of tears that would put Niagara Falls to shame!
How was your day dear?
Many parents complain that their children never tell them anything about their school day, which can be so frustrating when you're dying to hear all about it! Bear in mind that primary-aged kids will be completely overwhelmed by all the new things they are learning and may need a while to unwind at home at the end of the school day before they are ready to talk. The dinner table can be a great place to start a conversation, try taking it in turns to say one good thing that happened, one thing they have learnt, or a new friend they have made.
Try to avoid open ended questions such as, "how was your day?" as they will usually result in one-word answers! More specific questions such as" tell me something that made you laugh today" or "who did you sit next to at lunch?" are good conversation starters.
And don't forget the obligatory first say at school photo!
I don't have any kids starting school today but here is a picture of my front door anyway.#backtoschool#firstdayofschoolpic.twitter.com/ffiiz0uMt7

— Evil C (@ValentinoEvilC) August 30, 2017
Get Involved!
Especially in the younger years, kids love it when their parents get involved in the school community. Okay, perhaps your teenager would prefer you to keep a low profile...
Why not get in touch with your PTA to see if there are some fun projects you can help a little with, or even play a small part in organising? It's a great way of making new friends yourself!
Over to you...
I would love to hear your tips for how you have helped your child to prepare for starting a new school. Why not add a comment and share this with other parents of new starters?
About PTAsocial
PTAsocial makes organising events super-easy and inclusive by allowing volunteers to pick out a specific, manageable task. It's completely free, so your school PTA committee can start an account right now in 2 minutes.