Phuket, Thailand. Doesn't exactly conjure images of peaceful nights and quiet luxurious romantic moments does it? Yet a mere 40km outside of the madness of Phuket town, sits the Aleenta Resort and Spa.
Aleenta is perched on Natai Beach, one of the few undeveloped and unspoiled coastlines in Thailand. The white sandy Natai beach has been awarded copious amount of stars for it's cleanliness and water quality, that's something to be proud of.
And Aleenta is passionate about the environment. Since the stretch of coastline is so undeveloped, they have been sure to design the hotel with an "Outside Living - In" philosophy, and in fact have recently been awarded with the status of Thailand's Best Small Green Resort.
One of the many joys of Aleenta is that it is far enough away from the fray that you feel blissfully isolated, yet you're close enough to mosey into town to be in thick of it, should you so wish. Win Win. It's a boutique hotel and the gang here sure don't mess around when it comes to putting the "Boutique" into practice. In fact I would go so far as to say that this place is "seriously boutique".
The concept is "all suites, all private" and it does exactly what it says on the tin. Private hovering sala beds beds by the infinity pool, submerged swim up bar, koi fish ponds lining the path to your room, outdoor showers, the beach at your fingertips, service bells on the beach (which I must admit made me feel like a lazy cow, but got great pleasure in using it to request my fresh daily coconut water nonetheless!) and staff who are happy to grant your every wish, in fact, they were the happiest staff I've ever come across. I guess I too would be smiling all day if this blissful haven was my office!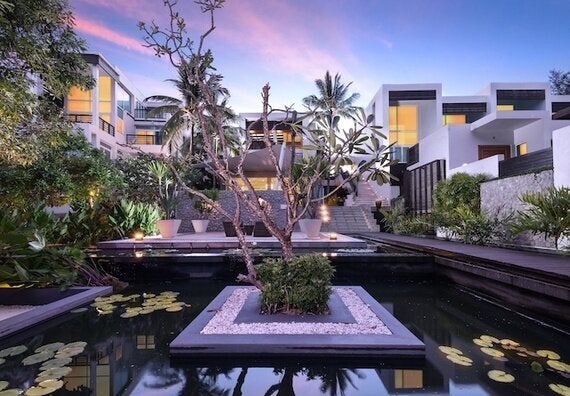 Every room at Aleenta gazes out over the Andaman Sea through floor to ceiling windows. Oodles of privacy is a given in each of the villas and suites here. All are a pebbles-throw from the private beach, but should you decide to avoid sand in your Missoni bikini bottoms, most accommodation has its own private pool. So private, that you can skinny dip and no-one would be any the wiser (unless they are reading this).
The design is contemporary. Wood, glass and slate are abundant, as is the amount of space. Our suite was absolutely massive, with retractable glass walls opening onto the pool first, which in turn lead to the separate living room. Simple, clean lines and natural materials make for the most luxurious ambiance.
The creature comforts here are impeccable - beds are custom-made and sheets are made from a custom-milled variety of 360 thread-count Egyptian cotton. Each night a special Thai bedtime story is left on your bed and oils are lit in the corner. DVD players and pre-loaded iPods are also on hand.
Choose if you can, between one of the 34 lavish pool villas. Ocean-View Lofts, Pool Suites or Pool Villas or for families, there are One, two or three bedroom Pool or Beachfront villas. And most recently Aleenta have added their Grand Villas (which I found hard not to ogle at from my beach bed. Spot The Tourist?!).
Each private two-storey house has three ensuite bedrooms, a spacious living area with high ceilings, a modern kitchen, a state-of-the-art home entertainment system and a personal butler service. A dream hideaway for families!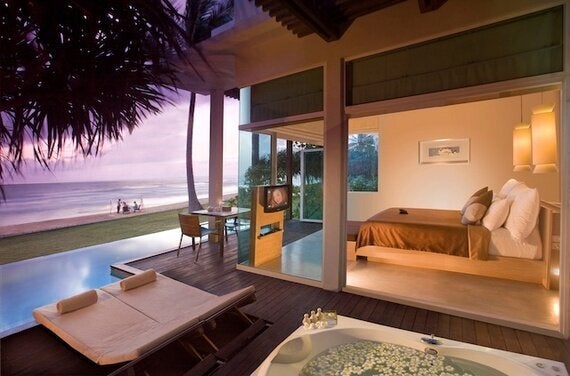 Ayurah Wellness Centre is a haven within a haven. It bills itself as 'a sanctuary of mind and body' and that's just what it is. Its extensive spa treatments - all based on the 4 elements of moon, sun, earth and sea - combines facials, steam baths, wraps, scrubs and massage.
The philosophy ″Eat Well, Live Well, Be Well, Look Good″ informs you of the spa treatments and spa services offered. The Looking Good part is well and truly taken care of here, in the luxurious large treatment rooms with floor to ceiling windows, a post-treatment relaxation chamber, a chromotherapy room and a Vichy shower room - where you can indulge in a horizontal Vichy Rain Mist water massage.
The menu is full of cutting-edge, anti-aging therapies, age defying treatments, comprehensive facial treatments. Try the oxygen masks, peptide injections, and advanced techniques which include the latest light therapy technologies. You can Be Well by taking part in the therapeutic Spa programs including meditation, yoga and tai-chi and supervised detox sessions.
Best of all Ayurah have secured Thailand's exclusive use of facialist-to-the-stars Linda Meredith skincare range. If she's good enough for Gwyneth...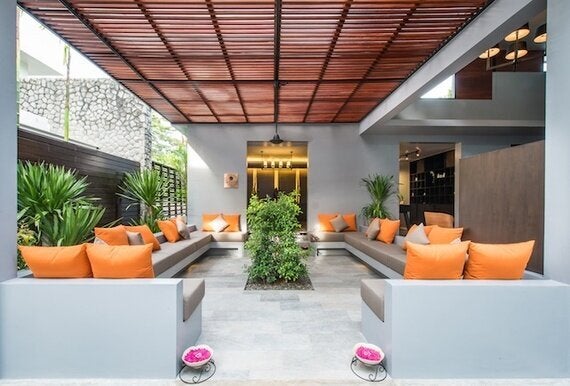 As the sun sets over the Andaman Sea (and boy does the sun know how to set memorably here) it's time to get your kaftan on and waft down to The Edge Beachfront Restaurant to get your tastebuds tickled with the exquisite creative fine dining.
Grab a seat by the ocean and take in the fresh sea breeze as you peruse the menu which offers innovative Thai and fusion delights such as Pork neck with madras, banana, granola (yep... and it's amazing) A quick cured mackerel, with cucumber, daikon and guava. St Jaques Scallops, atop a dill sheet, grilled baby carrots, and coconut gel drops (a mouth explosion!) Duck eggs, with leek, porridge and buffalo milk (exquisite!). And leave room for The Honey Bee; honeycomb, bee pollen and jasmine - you'll be buzzing all night!!
As you head back to your room, with every intention that you'll sign up to the personalised cooking classes here tomorrow, you'll notice the pool now sparkling with mini stars twinkling at the bottom. They mirror the perfectly clear starry skies above, and if you're lucky, you may even spot a shooting star like I did. I wished that my stay here would never end.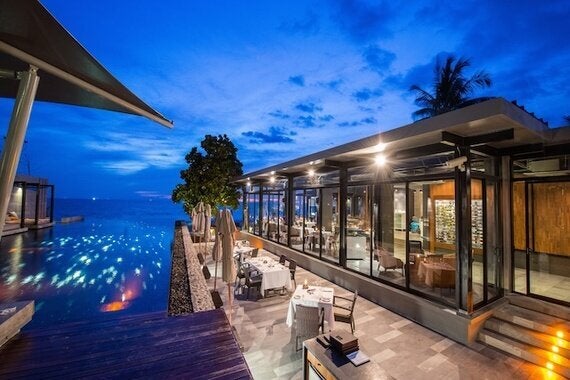 On site you can greet the sunrise with Tai Chi on the beach, partake in wellness classes such as Muay Thai, Yoga, pilates and even yogilates! Kiddies are welcome here too, 'The Explorers Club' has been created just for them.
If you can prize yourself away from Aleenta, there are plenty of things to keep you busy like charter a yacht, play golf, go cycling, deep sea fishing or dive the breathtaking Similan Islands which are just an hour away by speed boat
Aleenta in Sanskrit means "A rewarding life. I rest my case. Life Rewarded.
Related