Schloss Elmau, located in the lesser-trodden parts of south east Germany (45 minutes from Innsbruck airport) is one of the swishest family-friendly hotels in Europe. A wickedly indulgent spa-hotel-cum-castle with a roster of cultural events to rival the Royal Albert Hall, it's not uncommon for famous authors to drop by, and when it's not hosting the literati, presidents and prime ministers - the G7 summit was held here last year - it's the ideal spa retreat for fresh-air-seeking families.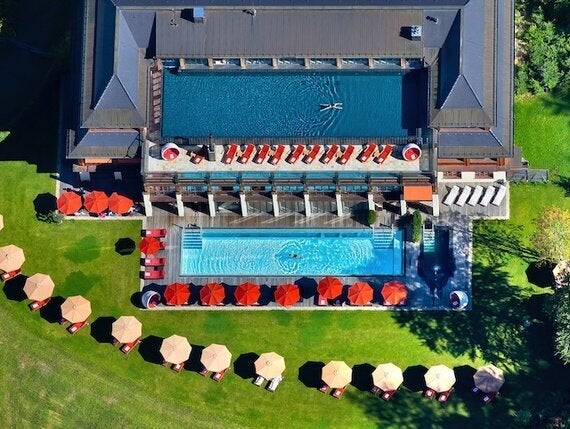 Make no mistake, this isn't a dainty Bavarian boutique hotel. It's big, bold, and following a fire in 2005, built to last. Heavy doors, wide hallways, swathes of wood, glass and limestone - it's all very Germanic and functional but there's also a distinctly Asian vibe. Think earthy colour schemes and cushions with elephant motifs. We were assigned a junior suite in the main house, which comprised two generous bedrooms, a large bathroom with a deep round tub, a walk-in closet for stashing snow gear, and best of all, it had a lovely aspect overlooking Bavaria's Wetterstein mountains - most enjoyed from the bath.
Note: The hotel's new all-suite 'Retreat' boasts larger rooms with a contemporary tilt: floor-to-ceiling windows, sweeping terraces and furniture by Patricia Urquiola and Andrew Martin.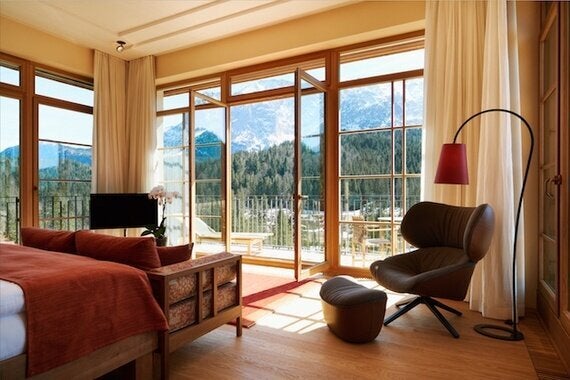 Voted 'best family spa' by Tatler several years in a row, Schloss Elmau is home to four individual spas (three are adults-only and the other one is designed for families). The main 'Hideaway Spa' is spread over three floors with a 25m-rooftop pool, a 35ºC outdoor saltwater pool, a dozen treatment rooms and endless places to flop out next to a crackling log fire. The 'Family Spa' has a large indoor pool filled with inflatables for kids to bounce off plus a spa menu tailored towards little-ones, and lastly, the snazzy new Retreat's 'Shantigiri' spa has a similar treatment list to the Hideaway Spa but benefits from a more intimate, exclusive vibe. To top things off, there's a vast hammam in the bowels of the main hotel.
Like the rest of Schloss Elmau, the spa is smashingly well-organised, and has treatments to suit all types, so once you get your head round the sprawling facilities, you're in for a real treat.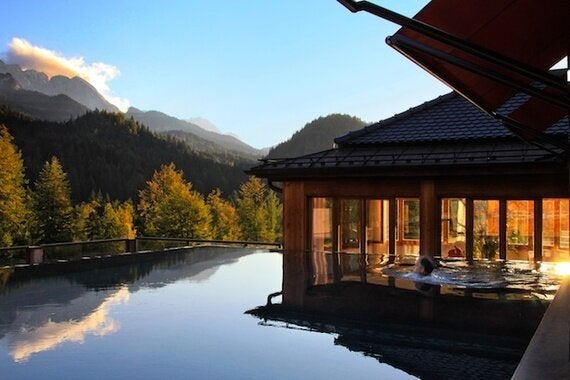 For anyone who spends too much time sitting at a desk, the 'physio relax massage' is a must. Spa Director Dr König developed this full-body massage to treat patients suffering from burnout. It's based on neurophysiological studies by the Touch Research Institute in America, which indicate that certain massage techniques lower the concentration of stress hormones and stimulate the release of endorphins. Expect long slow massage strokes to start with, followed by gentle stretching techniques, shaking and oscillation of the major joints and intensive massage of the legs and feet. In other words, it will get the blood circulating, ease aches and pains and leave you feeling ten years younger. (45 minutes €92 or 60 minutes €123).
There's no limit to the activities on offer at Schloss Elmau. In winter, ski-ing is an option: the hotel shuttles guests to and from the pistes at nearby Kranzberg (15 minutes away) but really there's so much to do within the hotel's grounds, you needn't bother. There's a tobogganing slope and ice rink on site, for starters. Further afield, spectacularly pretty nature trails criss-cross the area, many of which lead to century-old Bavarian inns sporting checked tablecloths, wood burners and a wonderfully warm welcome (Elmauer Alm and Gasthaus Ferchensee are both within an hour's walk from the hotel). In summer, there's yoga, Nordic walking, tennis and archery.
Food is another highlight. In La Salle, the main eatery (open for breakfast, lunch and dinner), buffet tables heave under an assortment of astonishingly good hot and cold gourmet fare. Trust us, the fresh-baked German breads like Bauernbrot, vollkombrot, pfundskurbrot are well worth getting up for. This is where most couples with children opt to eat, and happily, there's enough space in the restaurant for it to never to feel noisy or hectic, and the service is excellent. Alternatively, there's first-rate Italian fare at Fidelio, decadently cheesy fondues at Kaminstube, or foam, edible flowers and fancy at Luce D'Oro, Schloss Elmau's Michelin-starred eatery.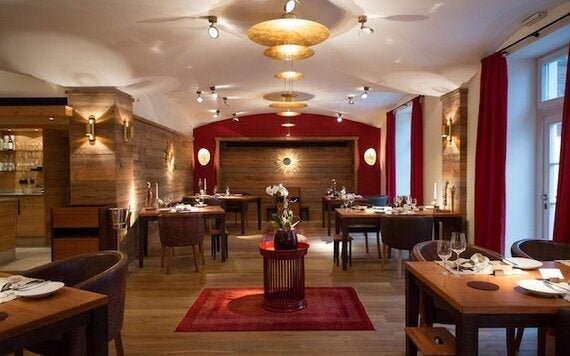 A calendar of classical concerts runs throughout the year (the hotel has its own concert hall and owns seven Steinway pianos), so make sure you catch one while you're there and settle in for an evening of culture.
Rooms at Schloss Elmau start at €408 per night.
easyJet flies to Innsbruck from Bristol, Gatwick and Luton airports with prices starting from £50.76 per person (return, including taxes and based on two people on the same booking). All flights can be booked at www.easyjet.com