Monte Carlo. Dubbed 'The Millionaire's Playground', it's a playground where you need quite a few of those millions before the government will even let you live here. So it comes as no surprise then that as I walked past the Ferraris, Lamborghinis and Bentleys parked along the hotel's cypress lined avenue, I assumed I would get kicked out for wearing a pair of Havaianas and a bank balance that cowered in shame. I was sure they had detected my (rather convincing) fake Prada bag with their special faux-wealth sensor. But yet the moment you walk through the door here, it's apparent that the staff are blind to wealth. They don't judge a book by its tatty cover. Regardless of who you are or how you are dressed, no judgement is made. The staff pirouetted around us with Bolshoi balletic precision. I'm sure that if you missed a step someone would have swooped in and made sure you put one foot in front of the other. This was a level of service second to none. Nods and whispers ahead of time like a Bond movie. Spies everywhere making sure you're taken care of. I assumed the role of Miss Moneypenny, took my fake Prada and strutted with pride as I was shown to my room.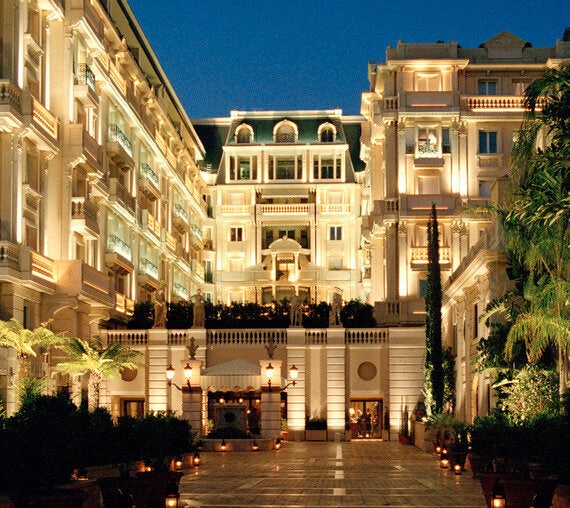 The rooms are an extension of the traditional luxe feel of the lobby, with its mélange of styles. Classic, modern and some middle eastern thrown in. Tapestries, African busts, velvet couches and curtains (behind which you assume one of those spies is lurking to help you). My deluxe junior suite boasted lots of beautiful period furniture, reminding you that you are indeed in France. A spectacularly large bathroom, with a shower that can only be described as Massive, Mahoosive or Majassive (these words exist in MY dictionary). Toiletries are not skimped on - Hermes l'orange - even in the bidet. Bums don't get left out here. You almost forget that you are in the heart of an extremely busy bustling city of casinos given that the noise in this cozy plush room is completely absent. Deux thumbs up for the soundproofing guy.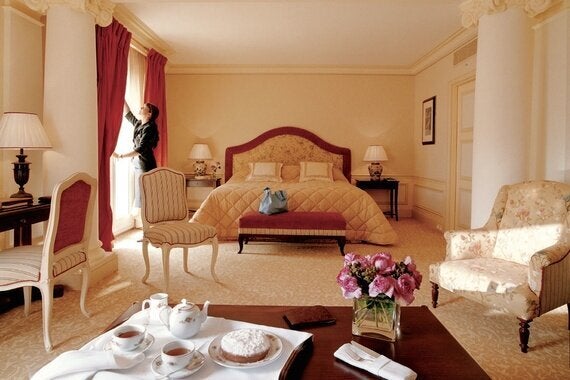 In complete contrast to the hotel's classical and timeless interior, the exterior restaurant and pool area ODYSSEY, conjure up exactly what it says on the tin. Designed by Karl Lagerfeld, murals replicating a neo-Grecian/Roman scene with photographs of models, hunky half clad Apollos being fed grapes by toga wearing Aphrodite's goddesses of love. Life attempts to imitate art here, as the (rather attractive) pool staff, dressed in a uniform of white tennis shorts, skirts and white funky sunglasses, offer up little melon "refresher" shots in lieu of grapes. You may not be dressed in a toga, but you certainly feel like Mighty Aphrodite, as you are waited on hand and foot. At the first sign of a drizzle of damp from the large heated sea water pool, your large black and white striped pool towels are replaced by the staff while you're not looking. The only reason to tear yourself away from this bliss, is to take a trip to the ESPA SPA, which is an extension of Odyssey. The spa is incognito. James Bond style sliding glass doors opened silently upon approach. Clementine lead me to a darkened room, where I had the choice of which ambient light colour I wanted. I opted for red... Danger. Very Miss Moneypenny. The spa menu is based on names of Greek Gods. Try the 'Neptune' treatments, designed for detoxifying. The Salt and oil scrub is a must. 'Appolon' treatments, designed for the body, offer a Godly four handed massage. And 'Hercules', for men (obvs, duh) helps you to lure your other half in with the promise that he will walk away looking like a greek God, especially after the 'Age Rebel enzyme peel facial'.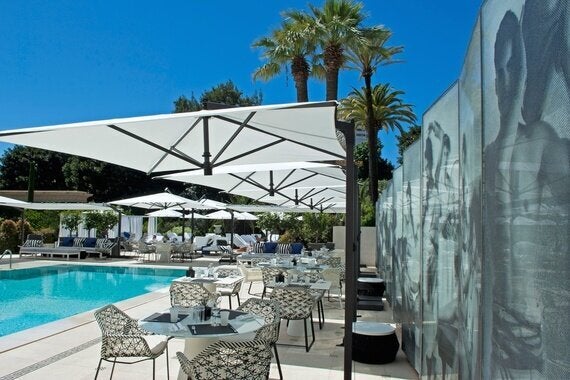 If you have yet to discover Joël Robuchon, you are in for a tasty treat. He boasts 2 restaurants here, one named simply 'Joël Robuchon Monte Carlo', and now his first Japanese restaurant (in the world) Yoshi - has come to The Metropole. It would be an understatement to say I am a fan of sushi. So, it's safe to say I know a good batch of the fishy stuff, from the bad. Well this is neither. It is far and above quite possibly the best sushi I've ever had the good fortune to get my chopsticks around. Orchestrated by the Japanese chef Takéo Yamazaki, under the guidance of Joël himself, the taster menu is exquisite, combining things like caviar and gold leaf, foie gras and grilled eel millefeuille, black cod in a daikon consommé with yuzu, lobster ravioli and marinated turnips, teppanyaki shrimps. If straightforward sushi and sashimi is more your cup of Japanese tea, then the sharing platter for 2 is highly recommended. A sushi chef comes to your table to show off his nifty rolling skills, more proof that this is as fresh as it comes. When you're done, discard the chopsticks and get your spoon ready to scoop up some poached apple in feuillantine and yuzu mousse.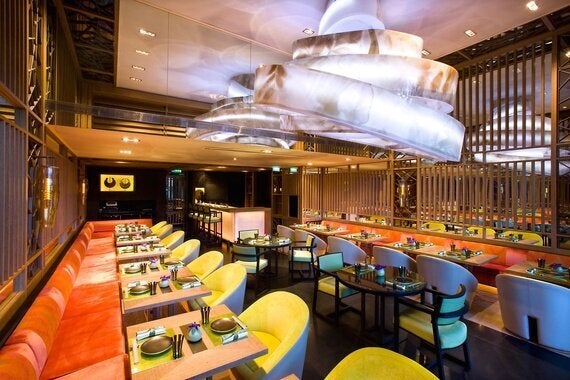 The Metropole Hotel may be bang smack in the middle of this adult's playground Monte Carlo, but rest assured it feels like an exclusive members club that you can be a part of. Intimate and personalised is the name of the game here. No snobbery allowed. Everyone who has come to stay is a part of the Metropole family. Fake Prada and all.
No better way to feel like you're part of a Bond movie, than to take the seven-minute "Heli Air Monaco" (www.heliairmonaco.com) helicopter ride from Nice airport into Monaco. Surprisingly, it doesn't cost that much more than a cab. French precision means a smooth transition from plane to helicopter to hotel without fuss. Your view on the way is worth a million of those pounds you need to reside here.