Dipped, dunked and steeped in history, like a crispy biscuit in a cup of tea that survived the test of the heat, Masseria San Domenico remains solid and magnificent. The whitewashed fifteenth-century building is nestled deep amongst 60 hectares of ancient olive groves. No surprise then that the secluded building was chosen as an ususpecting watchtower by the Knights of Malta, who once used the main building to keep watch and defend against Ottoman attacks. This would also explain the incredible expansive views of the Adriatic sea from most of the bedrooms. Any force or destruction is no longer visible as Masseria has been carefully restored and refurbished while still respecting the original materials and ancient forms. The purity of the white stone has been preserved resulting in Masseria acting as a gleaming beacon that draws you in, mesmerised like a moth to a flame, you'll flutter through the olive groves to the hotel.
The noteworthy, amazing staff at Masseria are always lurking yet rarely visible. Their silent omnipresence has a calming effect as you know you won't want for or need anything during your stay here. The sound of stones under your feet is the only apparent noise, and an immediate sense of calm kicks in. Perhaps this sound of silence is due to the 'no kids under 12' policy. Or perhaps it's because most guests are wafting around like they have happened across a hippy commune. Regardless, the zen vibe here at Masseria makes you feel dreamy, ethereal and sleepy all at once. How the Knights of Malta ever stayed awake long enough to fight off those Turks is a mystery to me...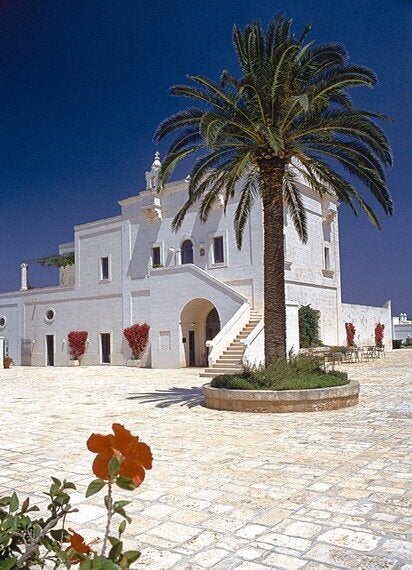 Stepping into a room at Masseria is like stepping into a Renaissance painting. Michelangelo and Da Vinci would most likely have agreed to paint your portrait if you suddenly felt the urge to strip naked, lounge on the antique chaise lounge and insist on being fed a bunch of grapes while cherubs hovered at your feet. The grandiose rooms are typically Italian with an abundance of antique furniture to ogle over. Large bowls of fruit overflow with handpicked figs, peaches grapes apples and cherries. Vases burst with fresh pink, yellow and red roses. The walls are adorned with beautiful biblical renaissance style paintings and ornate four poster beds are covered in decadent fabrics. In the bathrooms, towels are beautifully embroidered with a colourful hotel crest "MSD" and the shower is filled with delicious "Dalle Olive della Masseria San Domenico" products which contain the hot commodity here... yep you guessed... Olive Oil. It appears that slathering every inch of your body in this slick stuff proves just as satisfying as pouring it on every morsel of your food. My oversized private terrace overlooked the salt water pool - the biggest of its kind in Europe. Little waterfalls cascade onto miniature rocks around the pool, which is a mini rocks-throw away from the bubbling jacuzzi and pool bar, perfect for a semi clad renaissance man or woman to lounge in.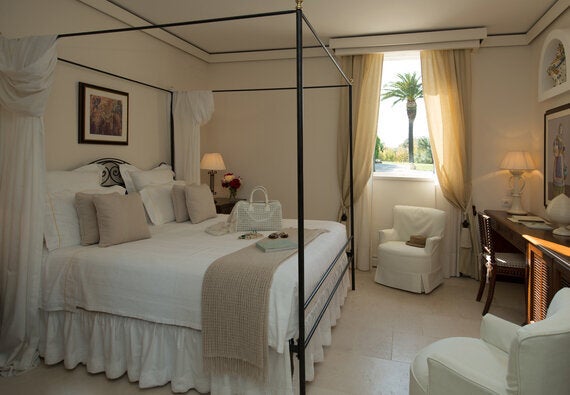 As Plato once said "Sea water eliminates all human pains". Plato my man, you were spot on. The Thallasotherapy spa here seemed to make every physical and emotional pain i had waft away into the Adriatic. "Thalassotherapy" is derived from ancient greek term "thalassa" - meaning "the sea". The treatments at the spa use Carita and Thalgo products. Ladies, the Hypothermal marine treatment is a must, as it reactivates circulatory function and helps to "combust of fatty tissues" and The Cold Marine facial will leave your face tingling and refreshed after a day under the Puglian sun.
Don't miss "The Marine scrub" experience which acts as a human car wash. Start by lying on a wobbly water bed with multiple shower hoses above you. Next the drive through brushes, in the form of an exfoliating massage include a cocktail of sea salt and 90 oligo-elements, that help towards the reduction of water retention and exfoliation of dead skin making your exterior sparkle. Then get ready for a sensory overload, your rear view mirror 'pine tree freshener' as orange lemon and grapefruit essential oils leaving your skin (bonnet, boot and doors) soft and smooth. You'll drive out of there looking like a sparkly new model on two wheels.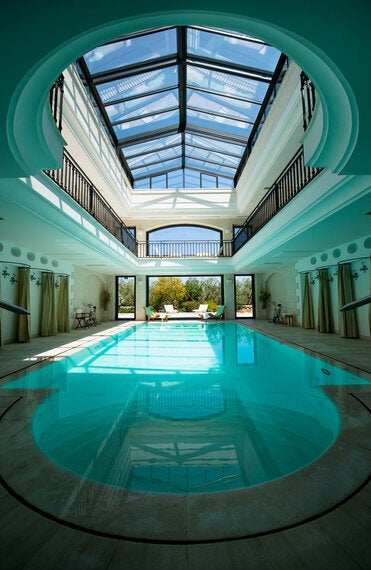 Masseria is nestled in the stunning region of Puglia. It is a region fuelled by oil. Not the black slick Texan JR Ewing kind of oil. Oil as in the Olive kind. The purest most delicious oil that I just couldnt seem to get enough of. The cuisine here is based on traditional rules of Apulian cooking. Flavours are enhanced by their extra virgin olive oil which is produced by the olives grown on their grounds and pressed in a traditional mill. The Ewings would be most impressed. Most of the produce used at Masseria is homegrown or brought in daily from local markets and the proof - is literally in the pudding... and the starters... and the pasta and the main dishes. Try the smoked tuna fish on fennel carpaccio and orange asparagus and "violette" shrimp salad to start. Italian menus have a second course, dedicated solely to pasta. So make use of the "Secondi" here at Masseria, where the hands of their "Massaie" carefully create their homemade pastas. Try the 'crusca and cruschello spagetti' in octopus sauce. And for mains, dive into the sea bass in a salt crust, which arrives at your table on wheels and broken open carefully by a skillful waiter. No trip to Italy is complete without a glass of red and even the house wine here is exquisite.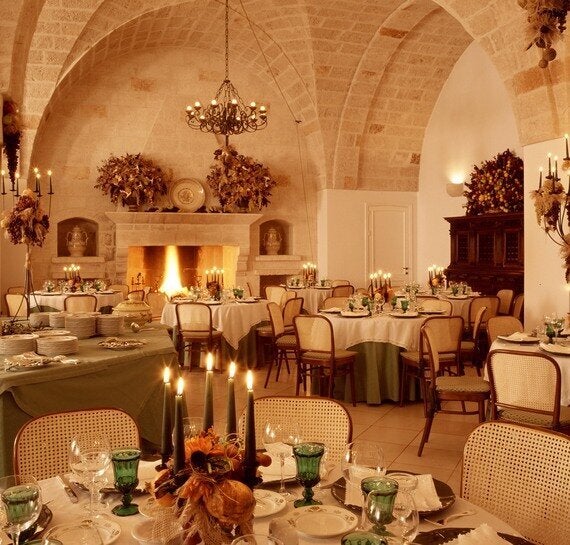 A trip to the local town of Ostuni is an absolute must. The Old Town (often referred to as The White Town because of its white walls and white-painted architecture) is Ostuni's citadel, built on top of a hill and still fortified by the ancient walls. Only a 30 minute drive away from Masseria San Domenico, Ostuni is one of the most beautiful and famous towns in Apulia famed for its monuments, its baroque-style churches. Sit outside on the cobbled streets and have dinner while watching the world go by. Ah, La Dolce Vita.
On the rare occasion that you want to get out and eat elsewhere, go to 'MADDALENA' seafood restaurant and take the table that is practically in the sea. The fish here is outstanding, so fresh you would swear it by-passed the kitchen and jumped straight onto your plate. (reservations recommended www.ristorantemaddalena.it ph: +39080.4827967)