Overlooking the terraced forests in the cooler central region of Ubud in Bali, Como Shambhala Estate sits within one of the most serene locations I have ever experienced. With forest noises ranging from an evening frog chorus from the lily ponds to the robust chattering of the larger variety of gecko, the 'Tokay' often found in Southeast Asia, you really do feel if not at one, then certainly close enough to nature.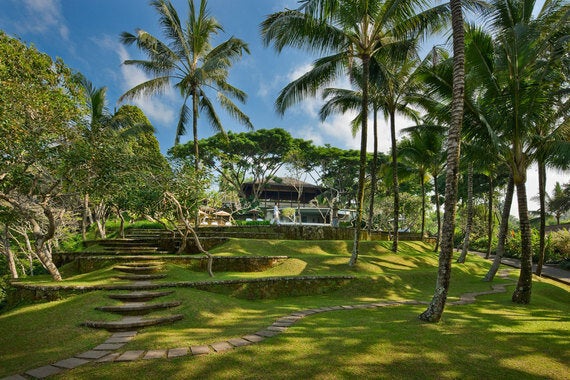 COMO Shambhala Estate offers 30 rooms, suites and private villas. The resort also boasts two gorgeous restaurants, a COMO Shambhala Spa Retreat with nine treatment rooms, including a sauna and steam room, spring water pool, outdoor hydrotherapy pool, pilates and yoga studio and a gym. There are also separate pavilions dotted around closer to the rushing water of the River Ayung available for massages and meditation. The latter being highly recommended to me by fellow guests, but alas, I could not squeeze one of these destination treatments into my schedule.
The estate is located just over an hour from Denpasar Airport (in good traffic conditions), the main international hub into Bali. The island is infamous for its traffic congestion so do be a little patient if arriving in rush hour. The hotel car is also highly recommended, it's not overpriced and after a long haul flight and the hit and miss queues at immigration (ask the resort to organize fast-track), the peace of mind of being picked up from the airport is worth its weight.
COMO is situated 15 minutes car journey from Ubud itself. Ubud is an amazing place and ideal for those who want to shop, chant "ohm", visit fabulous restaurants and bars and indulge in some quintessential Bali culture. I strongly urge you to visit for an afternoon and evening if you're staying at COMO for more than a few days, otherwise don't waste a drop of time away from this stunning sanctuary, the days go way too quickly in the tropics.
There are several accommodation types available. I was lucky to stay in a Tejasuara Terrace View Residence. Tesajuara is inspired by fire (other clusters all have a theme of the elements) it's a collection of small, exquisite wooden villas that share some communal space including a large living area with sofas, tables, chairs and a refreshing pool, long enough for laps. I couldn't help pine for a group of friends to be here with me, as you'd pretty much have a mega villa set up all to yourselves. It's very private. A guest also has a personal assistant, mine, was an adorable man called TinTon and he was ever ready with facts and instructions with a smile. Unobtrusive yet efficient service, the Balinese really do understand hospitality, especially at this level of luxury.
The villa/room was decorated perfectly. The four-poster bed was complete with a simple, yet elegant mosquito net and unbelievably soft linen, pillows and thick mattress. Of course, sleep quality is paramount, and no expense has been spared in this department I assure you. The entire resort feels very authentically Balinese and the accommodation is no exception to this.
The villa has two double sliding entrances and a third that looks out onto the jungle view. Open them all up wide and you've got a breeze. There are two day beds to relax on and a large bathroom with a double vanity, rain shower (naturally) and outdoor sunken bath. I indulged in a bath after my spa treatments, with candles lit and it was truly sublime.
I believe the insects are kept pretty much at bay here, but you are in the jungle. Expect to see some ants and other flying things, it's no big deal, but if you don't like bugs I suggest you stay at home, the tropics aren't for you.
The COMO Shambhala bathroom amenities are beautiful, I am a big fan, they are great quality and the stimulating scents of geranium and peppermint are enticing, take the products home with you from the boutique shop and be forever reminded of your stay in COMO's seventh heaven.
Room facilities include flat screen TVs, which begs the questions why would you watch telly in such a stunning place? A small table, two day beds, free Wifi, a small fridge, and a coffee plunger and kettle for tea. I have seen better mini bar selections, this is a small thing when everything else scores so highly.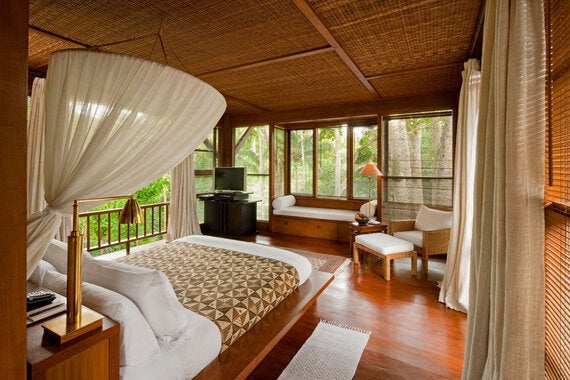 Offering nine treatment rooms and plenty of outdoor pavilions with jungle noises and river sounds to help you truly relax.
The spa area overlooks the 'amphitheatre' grassed area directly above the communal pool. It's spacious and soothing. You'll be offered either a lemongrass or a ginger tea before stepping into your treatment room; I always opt for the sweet ginger. The rooms are nicely done, Balinese in style and nothing stands out as cutting edge or trying too hard, it is what it is and it is wonderful. The spa bed is comfy and ambience perfect.
I was offered as part of my package the Shambhala signature massage and one other, after having reviewed COMO in Phuket I requested another treatment as I didn't want to write about the same one (first world problems). Therefore I enjoyed an Indonesian Massage on my first day and a Tatsu Massage on my second day; both were superb, but way, way too short. One hour per massage is not enough, do be sure to opt for 120 minutes, then you'll be guaranteed deep and dribbling-into-the-bed relaxation.
The 'Indonesian Massage' was expertly executed. My masseuse, her name was Wati, has been working for the company for 10 years and has worked in Dubai and Malaysia, her hands were tiny, I was astounded that she could yield such power from them, her touch was midas and I relaxed for the first time in a very long while. The aroma of COMO's 'Harmony' oil, is scented with jasmine and ylang ylang, and was very Bali and just lovely. She asked me about my preferences, and I enjoy a good pummelling but the backs of my legs are very sensitive and I need a softer touch, every time I have a massage I end up feeling like I want to cry because therapists do not listen to this, she listened, she was gentle and soft on my sensitive calves and rubbed and stroked my writer's bumps and knots away from my shoulders. I walked out and proclaimed via social media that that was the best massage of my life. It really was. So far.
The second treatment the day after was recommended to me to try and although it was very good, I preferred the Indonesian massage. It is personal preference but I really liked the long stroking techniques used on the first day, the Tatsu massage just didn't seem so relaxing. After both massages I went back to my villa and ran a warm bath and soaked in the COMO Shambhala bath salts, I think I may be addicted to their products now, they smell so good.
More than 20 Asian-inspired and Western holistic treatments, developed by COMO Shambhala. Massages range from deep tissue, Indian head massage, pre-natal to reflexology and hot river stones. Body therapies include Javanese lular bath, Dead Sea mud therapy and the warm muscle wrap looks very nice. Colon hydrotherapy is also offered, as well as Ayurvedic therapies and beauty regimes. Expert consultants and therapists visit regularly and the estate spa offers more than eight specialisations, including Ayurveda, reflexology, Yoga, Pilates and nutritional courses are available, please check their website for dates of visiting practitioners and retreats.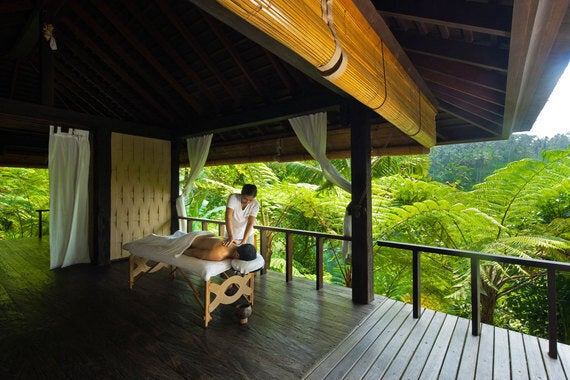 COMO by Shambhala products, of course.
I look forward to every meal, especially whilst staying in a COMO resort. I adore the Shambhala wellness menu and this menu is the main attraction for me.
I arrived quite late on in the day, so I made the 'glow' restaurant my first stop. I naively thought that a smoothie would keep me going until dinnertime, until I spotted the spelt pizzas on offer on the menu. The dilemma I faced was whether I would be able to eat my dinner after 'snacking' on a pizza but surprisingly I had no trouble. The spelt pizza was really good and I ordered it again for lunch the next day. Really light base with cheese, mushrooms, veggies and I requested lots of fresh hot chili. Having lived in Asia for quite a while my palate has been desensitized to spice and I crave it at nearly most mealtimes. The smoothie I had was the 'Culture Shock', the menu proclaims it creates digestive tract balance and repairs the skin. It was basically a fruit shake with strawberry, banana, passion fruit, rambutan, orange and plain yoghurt, tasty but I am unconvinced of its skin repairing effects. With my package, I was offered complimentary water, still or sparkling and coconut water with every meal; this was a very nice touch. Lunch of spelt pizza and a smoothie or a juice will cost you on average 15GBP excluding tax and service charge. Gluten free bread was also offered to me, and although I was already eating pizza I greedily accepted the bread too.
Dinner at glow restaurant on my first evening was nothing short of delicious. I went for the staff suggestions and non-raw options. The appetizer was a generous portion of buckwheat noodles, seaweed and yellow fin tuna tossed with olives, capers, garlic and chili sauce. Delicious and filling, would actually be an amazing lunchtime option if I could ever stop eating pizza. My main course was surprisingly light, yet substantial considering it was grilled wagyu beef with grilled vegetables, chopped capers and parsley salad. I was stuffed but could not resist dessert. I opted to go raw and try the cacao and carob truffles, some were nice and some were not, but great to try anyhow. Dinner with all three courses and a drink will cost you anything from 30 to 60 UKPs depending on whether you opt for wine. Wine, like Thailand and Singapore is very expensive in Indonesia. Expect to pay way over the odds for bottles you'd find in the cheap section in the supermarkets at home. Service was, at all times attentive, friendly and super efficient. In fact I sat down at 8pm and my plates were cleared away by 8.36pm, on the second night I asked them to lengthen the time between courses a little. The resort has two Balinese executive chefs, which I also applaud.
Breakfast being the most important meal of the day was fabulous, not a buffet in sight with an al la carte menu. You may choose as many dishes as you like and it is served in the Balinese restaurant, named 'Kudus House', which enjoys a heavenly jungle view. Highlights were the 'living bread', the fresh coconut and banana crepes and the rosti, rocket and smoked salmon. Coffee is Balinese so expect strength.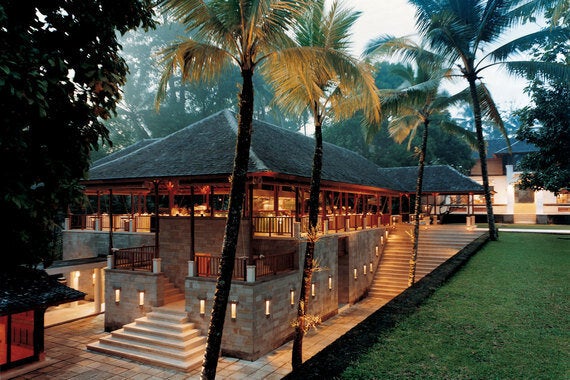 The guest activities which include yoga, pilates, rice field walks, aqua therapy, meditation, talks on subjects including 'Secrets to Longevity' and 'Balinese Wisdom & Meditation'. Some activities are complimentary or included in the packages.
The package I experienced was the Discover Daily Rates and they start from $800 to $1,700 per night for a lead in category of room up to a stay in a 2-bedroom villa per couple, the rates are less for single occupancy. The rate included a choice of a 60-minute massage/treatment/activity per day, breakfast, lunch or dinner. These rates are rack rates and visiting the website directly is strongly recommended to harness the best deals and explore the right package for you.
Spa treatments are available from $120* (75 mins) including the Indonesian and the Tatsu Massage. (*Subject to added government tax and service charge, an extra 21%).
Denpasar Airport is served by flights arriving directly from Europe, the Middle East and Asia. The car journey from the airport to the estate is about 1.5 hours.
Flights are plentiful from the UK and airlines that fly in to Denpasar are:
Related