The Tivoli Hotel in Vilamoura stands proudly overlooking the 19th hole of the Oceanic Victoria Golf Course (home to the prestigious Portuguese Masters) making it perfectly located for the growing number of golf enthusiasts who are taking up the sport. It is estimated that there were a staggering 1.2 million rounds of golf played in the Algarve in 2015. Fortunately the hotel also has one of only two Banyan Tree spas in Europe, so if you don't fancy a round of golf, this is certainly a great place to be a golf widow. Originating in Thailand and drawing on ancient Asian tradition, the Banyan Tree Spa offers a truly holistic approach to physical and spiritual well-being. In contrast, with its contemporary design and white cabanas around the palm fringed swimming pool, the Tivoli Hotel has a very glamorous Miami style feel.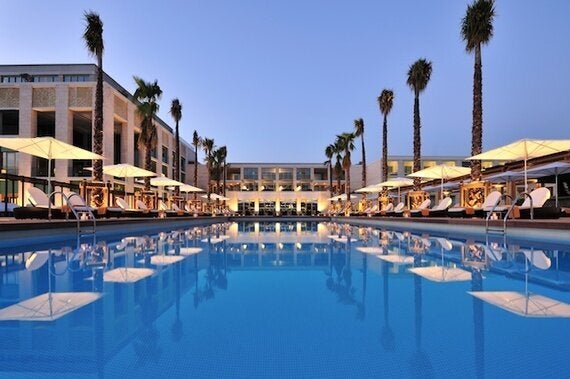 The Elements Spa by Banyan Tree is complimentary to all guests. The spa has an Asian-inspired decor, with glossy black and rich gold hues. Located on the top floor of the hotel, the spa houses 7 treatment rooms, a vitality pool (with a hydromassage circuit) a sauna, steam room, heated spa beds and an outdoor spa terrace with views of the golf course, stretching all the way to the horizon of the Atlantic. Using natural products created by Banyan Tree, the health and beauty remedies are devised using aromatic oils, herbs and spices with ancient healing powers.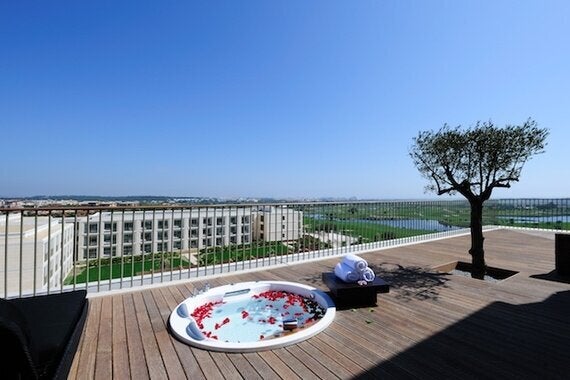 I chose the Ayurvedic Tradition which began with a herbal footbath followed by a steam, ensuring you are ready for your invigorating cinnamon herbal body scrub, which cleanses and balances the skin. The scrub was gently washed off your body under the gentle sprinkle of a rain mist shower. Next came the Yoga Massage, which focuses on combatting tired muscles through a combination of palm pressure and light stretching. If you prefer another style of massage then the spa is happy to offer an alternative from their menu, ensuring that the treatment meets your needs. This is followed by a dreamy Indian Head Massage. Finally the therapist prepared a herbal bath so you can complete this therapeutic experience with a soothing soak in the tub. My therapist was very serene, and I instantly felt my pace slow down. The treatment concluded with a refreshing green, lemon and honey tea and a generous serving of fresh fruit. For three blissful 'digital detox' hours I was cocooned away from the outside world in my own peaceful sanctuary, a luxury that in our always 'on' world can be a rare occurrence.
The Essence Of Earth Massage, a gentle massage where the therapist uses long strokes and thumb pressure to achieve a full body balance.
We stayed in a deluxe twin room, with a view of the pool and beyond to the luscious fairways of the Victoria golf course. The room was distinct in its contemporary design. The entrance to the room was via a corridor flanked in light wood paneling. One side cleverly concealed wardrobes (big enough to accommodate even the most over zealous packer) and on the other side panels slid across to reveal an impressive bathroom, with a bathtub and a huge walk in shower. Very James Bond!
There was a separate lounge area and a private balcony with comfy day beds, and the room has lots of little luxuries, such as an evening turndown service, a pillow menu, video on demand, an I-home with iPod hub and radio and a Nespresso machine.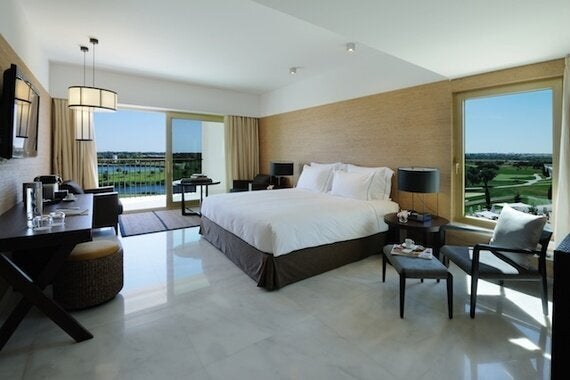 Sensorial Restaurant - The buffet breakfast offers a splendid selection, using local, fresh and natural produce. In the evenings a buffet dinner is served here, the theme of the cuisine changes each evening, but the atmosphere is always informal and relaxed with warm and attentive staff. A €12 drinks package with dinner included soft drinks and very palatable wine! The restaurant is family friendly, I witnessed many children becoming firm friends as they played on the grass nearby, while their parents chatted, most likely with vague promises to stay in touch!
EMO Gourmet Restaurant - This restaurant is located on the top floor with stunning views, and provides a superb setting to enjoy sunset dining. The food is based on traditional Portuguese cuisine made contemporary and daring by the Executive Chef. The staff are attentive but not intrusive, taking time to explain every dish on the menu and discuss the wine options.
Chill by the Pool - Light and healthy meals, and gourmet snacks and drinks. The salads are delicious and are delivered straight to your sun lounger!
Bartini Bar - In the hotel lobby, this sleek modern bar is a great place to enjoy a snack or a cocktail before or after dinner.
This is definitely one for the golf enthusiasts, with 11 courses in a radius of 10k, and 3 in walking distance.
The Presidential Suite is available to hire for a 'Royal Experience' - a soothing Thai Massage followed by relaxation in the Jacuzzi, sipping Champagne and snacking on red fruits and chocolates. Finally there is time to dress up before sitting down to enjoy a gourmet candlelit dinner which is served in the suite.
There is complimentary transport which takes you in to Villamoura, where you can enjoy the Marina, but if you want to experience some of the more rugged coastlines and authentic Mediterranean villages it is advisable to hire a car.
Nightly rates start from €153/£122 in a Deluxe Twin Room with Garden View at Tivoli Victoria on a B&B basis
Monarch, the scheduled leisure airline, operates flights to Faro from Birmingham, Leeds Bradford, London Gatwick, London Luton and Manchester airports with fares, including taxes, starting from £69 one way (£144 return).For further information or to book Monarch flights please visit www.monarch.co.uk
Follow The Luxury Spa Edit on Twitter: www.twitter.com/LuxurySpaEdit
This post has been published on The Huffington Post's blogging platform. The views and opinions expressed in this blog are those of the author and should not be taken as those of The Huffington Post. The Huffington Post does not allow bloggers to acquire products, access or accommodation for review in the site's name.