Even city slickers need a recharge every now and then, and so it's good to know that one of Bangkok's most stylish addresses also offers some serious spa options.
Inside, The Sukhothai is an elegant haven away from the crowds, crazy tuk-tuks and smoldering traffic jams that seem to clog the city from dusk till dawn. And outside, hidden in gardens behind the hotel courtyard, we discovered a glamorous way to beat the heat at the hotel's peaceful pool and spa pavilion.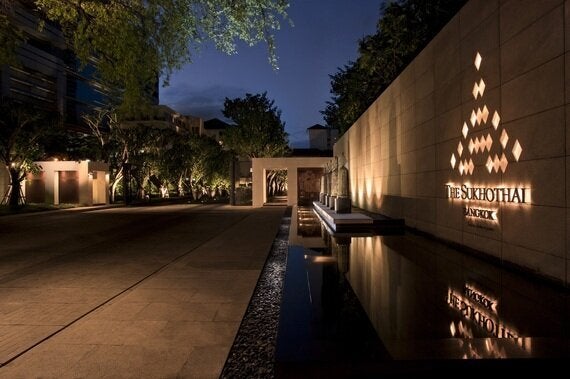 If chilling is your thing be sure to book a room in the poolside wing of the hotel. This offers fast access to the stunning 25ft lap pool (one of Bangkok's best-kept secrets) as well as the gym and spa.
Elsewhere in the hotel it's a more formal affair, featuring suits and stilettos, and not the kind of place to be found wandering around in slippers and a robe. Our Executive Suite (prices from 9,400 bhat / £183 per night) was built for business featuring a roomy entrance hall, guest loo, a supersized desk and enough glassware for an elegant drinks party.
But there was room for romance too, thanks to sumptuous silk detailing, an extensive pillow menu, sexy lighting (including dimmers over the huge bath), a carefully-curated mini bar and lots and lots of mirrored walls.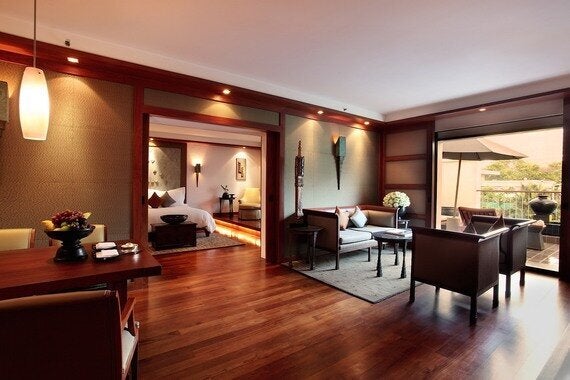 The petite spa at the Sukhothai does seem like a rather boutique offering for such a grand hotel, but the pretty pavilion in the hotel grounds is actually super chic, offering high-end treatments in an elegant setting.
Before I had even slipped on my fluffy gown Spa Botanica won mega brownie points for its extended opening hours (from 9am to 10pm) and a flexible booking policy meaning I could book a time slot and choose the treatment once I had arrived - both big bonuses when one is trying to fit as much as possible (as well some chill) into 48 hours in a new city.
As well as Aromatherapy Associates massages and facials, the spa offers a complete 'Man Menu' (the hotel is popular with power gays from Europe and the U.S.) and a host of its own unique treatments to revive weary world travellers.
I was treated to the new season Asian Bliss massage (2,800 bhat / £55 / 60 minutes) as recommended by the spa staff as something energizing post long-haul flight from London: a gorgeous, lemongrass and geranium-scented combination of Shiatsu and traditional Thai massage, and I left the spa suite blissed-out and buzzing.
It's worth noting that there are no steam/sauna rooms or indoor pools directly on the spa site but guests can use the facilities at the hotel's fitness area nearby and, crucially, have access to the aforementioned pool and its' scarlet-hued sun beds for the day.
SPA SPY: If you're not staying at the hotel you are still able to use the pool and facilities if booking a treatment or for a fee of 700 bhat (£14) which is totally worth doing if you have a spare afternoon in the city and the sun is shining.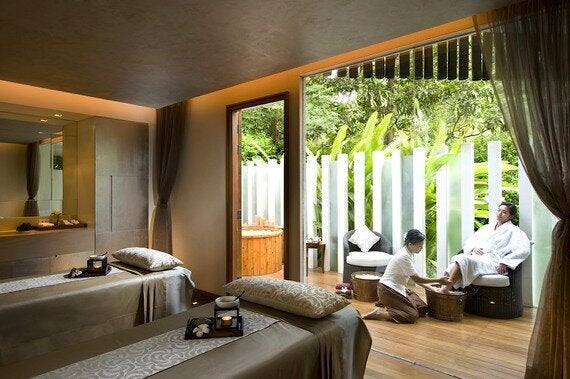 Dining options at the Sukhothai include Italian restaurant La Scala, world cuisine at La Colonnade, private dining and even a chocolate buffet at the weekend (yes, a chocolate buffet!), but when in Thailand with an award-winning traditional restaurant on your doorstep it would be silly not to go local.
Housed in a classic Thai building next to the hotel ('classic' in the 'it includes air-con, Wi-Fi, immaculate service and global wine list' kind of sense) Celeda specialises in Thai dishes and delicacies.
In an attempt at a New Year detox we chose the vegetarian tasting menu (1100 bhat / £22) - seven courses of stylish and fit (ish) fare including steamed dumplings, Tom Khaa soup, green curry, wok-fried sweet potatoes and jackfruit.
SPA SPY TIP: Unless you like seriously fiery food ask for less spice, here and elsewhere in the city. Bangkok loves a chilli bomb. I originally requested medium heat but the staff quickly downgraded my spice-taking ability (providing a discreet box of tissues at the table) once they spied me crying into my Green Papaya Salad starter.
For lunch, the Poolside Terrace offers light bites including oysters, salads and delicate spring rolls that are perfect for spa bunnies. And I loved the vitamin-packed 'healing' smoothies served poolside (nb the not-so-light bite that's worth doing extra laps for is the Wagyu burger served in a black brioche bun from the specialist grill station).
The Banyan Tree next door to the Sukhothai is the place to go to show off your post spa glow at night. The Vertigo restaurant offers rooftop dining on the 60th floor - with sky high prices to match - so we skipped dinner and headed straight for the laser-lit Moon Bar perched at the edge, which offers light-up menus, a retro cocktail list and awesome views over the city. NB there is a dress code, including a 'no sandals' rule, but this is Thailand, where nothing much is a problem, and so the venue has a selection of slip-on shoes to loan to any gents (or ladies) turning up in their flip-flops.
If you're a foodie new to the city then a food tour is a brilliant way to experience Bangkok. We loved the Taste of Thailand Village of Love Tour: four hours of exploring and eating our way around the backstreets of the historic Bangrak area not too far from the hotel.
SPA SPY TIP: Take public transport when travelling around the city, the traffic in Bangkok is as bad as you have heard (and worse).