Perched in a idyllic location on the banks of Lake Geneva, surrounded by 10 acres of park and woodland, La Reserve feels a million miles away from the nearby city. Designed by Phillip Stark and French designer Jacques Garcia, the resort-style hotel evokes, as it's name suggests, an African game lodge. Leopard print carpets, rare butterfly displays, Elephant sculptures and fake exotic birds dress the opulent entrance and cosy bars, while landscaped gardens, chic restaurants and a swimming pool (which doubles as an ice rink in winter) create the buzzing hub of the resort. Venture through the gardens and and you'll find a private dock where the resorts boat will whisk you across to the city or take you on a tour of the magnificent lake. It's easy to see why La Reserve is hailed as one of Switzerlands' most exclusive resorts...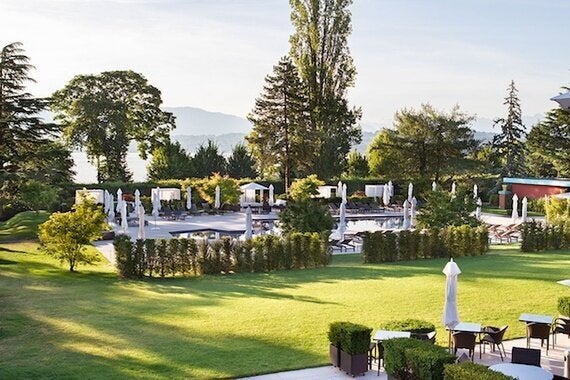 To Stay
Designed in rich earthy tones and dark woods, and styled with sumptuous silks and animal prints, Lake Suites offer uber-luxe accommodation. Marble bathrooms are kitted out with monsoon showers, balneotherapy baths and the full range of La Reserve's own brand products. The above and beyond pillow menus range from the sleep enhancing effects of St Johns Wort to Prestige Orthobone as an anti-snoring option. As the room category states views of the lake are standard, with some rooms also sporting views, on a clear day, of Mont Blanc.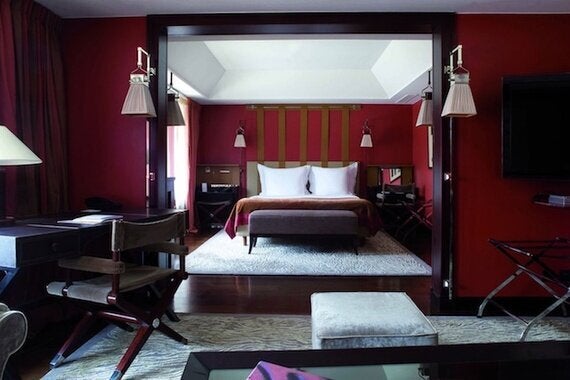 The Spa
Set away from the hub the Nescens spa spans 20,000 square feet. Elegantly styled in crisp whites, dotted with splashes of colour and hypnotic (jellyfish!) lamps the spa is deliciously fragranced with aromatherapy candles creating a complete haven of tranquillity. Facilities include an indoor pool, his and hers steam and sauna, a manicure and pedicure station and the wonderful healthy eaterie Cafe Lauren. There's also state of the art gym, complete with personal trainers, offering a full range of cardio and weight machines as well a Kinesis room. Classes on offer include yoga, pilates and zumba.
The Nescens Better Ageing Plan
Designed by Nescens founder Professor Jacques Proust - hailed as a pioneer in cellular ageing and anti-ageing medicine - the better ageing plan works on awareness and prevention of premature ageing. In contrast to most anti-ageing programmes, Nescens doesn't include any anti-ageing aesthetics treatments, instead taking a more holistic approach and concentrating on diet, exercise, stress levels and osteopathy.
The programme commences with a number of health questionnaires and thorough check ups, including sessions with various doctors, nutrionalists and osteopaths. The Nescens team then design a bespoke programme based on individuals results. My personalised programme was geared heavily towards diet and osteo-health - due to a previous prolapsed disc and further findings, including a dodgy knee caused by flat feet, and slightly high blood pressure due to too much salt (and probably wine...) in my diet.
Over the four day programme I literally felt like I'd been wrapped in a cocoon of wellness. The great thing about this programme is not only the incredible treatments (performed, by the way, by some of the best therapists in Switzerland) but the fact it really does give you an insight in to your daily life - how to treat your body and manage stress levels.
Diet is a key part of the plan and daily trips to Cafe Lauren was one of my favourite experiences. The carb free, sugar free and low salt diet that wonderful chef Natalie would rustle up every day was some of the best cuisine I've ever tasted. Dishes included curried vegetables with quinoa, seabass with spiced vegetables and teriyaki salmon. Breakfasts consisted of soya yoghurt with fresh fruits, gluten free chestnut crackers and sugar free compotes washed down with iced green tea and chamomile. Chef Natalie and her sidekick Pierre would come and join me after breakfast every morning to talk me through the day's menus and ingredients. In the evenings Natalie will plan your diet with chefs at the resorts other restaurants so you can 'dine around' Be sure to take dinner at The Loti where you'll dine on a terrace with views of Mont Blanc.
The exercise regime and personal training (1 hour a day) included in the plan is designed by the fitness team and geared specifically towards individual needs. There's a full range of options from tennis lessons and swimming to cardio workouts, kinesis and yoga. Due to my osteo problems I stuck to swimming, pilates and light cardio. My trainer worked with the osteo team to design specific exercises to strengthen my core and back muscles and designed an exercise plan for me to continue at home.
Two spa treatments a day are performed as part of the basic plan and include:
The Better Ageing Massage - A combination of lymphatic drainage, shiatsu, reflexology and cupping. Designed by osteopaths and therapists to release tension, strengthen muscles, encourage blood flow and bring energy levels to a natural balance.
Balneotherapy - A private massaging jet bath infused with detoxifying and relaxing oils to relax muscles and boost metabolism.
Algae Body Wrap - Using the benefits of marine algae to detoxify, a warm seaweed mask is applied followed by a relaxing head and scalp massage.
3 in one cellulite and shaping treatment. A vibrating massage machine is used to break down fat deposits followed by a lymphatic drainage massage.
Other Treatments
If you can't bear to go through the plan without a facial a plethora of offerings are available from luxury Swiss brands La Prairie and Nescens. There's also a nail bar with a fab manicurist (who previously treated the rich and famous of St Tropez) should your paws or toes need a preen.
The clinic's wonderful osteopath Yven offers daily sessions, and LED therapy and coolsculping are performed by Dr Valerie LaDuc - known on Swiss tv as 'the leg doctor' she is an expert in removal of thread veins.
The combination of the nurture of the staff, excellent treatments, diet, exercise and therapies made me feel like a new person after just 4 days. Lighter, brighter and happier, I left not only feeling rejuvenated - I'd lost a few pounds, my energy levels had soared and my skin and eyes were glowing - but aware of my personal signs of ageing and how to help prevent them. A truly wonderful and educational 'better ageing' retreat.
The Deal
Rates per night from: CHF 1200 for a Superior room for single occupancy or CHF 2000 for double occupancy.