Look up the word fusion in the dictionary and you will find this:
"Fusion: Noun. The act or process of fusing or melting together; union. The state of being fused. Something produced by fusing."
There might as well be a photo of Fusion Maia hotel next to it, because it explains perfectly the philosophy alive and well here at this luxury resort that lies on a stretch of beach in Central Vietnam.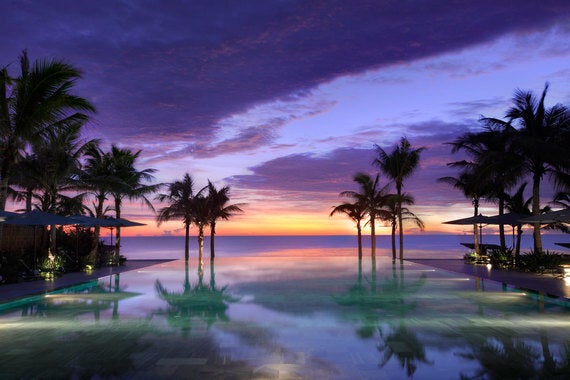 It's not a holiday here, it's more like a luxury lifestyle. This is a ground-breaking resort, and the first of its kind in Asia. Checking in you literally leave everything at the door. Not just your suitcase but your worries and woes - baggage in every sense of the word. The lobby displays feng shui at its best with it's open plan welcoming layout, you are ushered to sit and rest while staff congregate to greet you and celebrate your arrival. The decor, is a dose of asian influence with a pinch of minimalist touch, and a splash of western decadence. Fusion in force again.
Some of the unique touches here, are that all spa treatments are included in your room rate, luxury villas and rooms with private pools are the only room of choice, breakfast can be taken at any time any place (a romantic table set up on the beach being just one) but most unique of all, the "Fusionista" you are appointed upon arrival. The aforementioned, is a dedicated team member who is always on hand to organise whatever you could possibly need. The delightfully bubbly Dutch Saffia was ours. Her origin another nod to the international fusion feel here. Not quite a concierge, not even close to a warm welcoming butler, a best friend or mentor perhaps? As hands on as my agent, yet as invested in my wellbeing as a shrink. Nothing you could ask her felt awkward or out of place, our first meeting with her was like a therapy session. Based on the information extracted from us, she created an itinerary for us, to inspire us to think out of the box. The idea is to 'fuse' (yep get used to that word) these activities around sight, sense, smell touch, to help you to re-connect with yourself and the inspiring countryside around you.
A visit to the markets, a fantastic Vietnamese cooking class, guided bike rides around the wondrous world heritage village Hoi An, Tai Chi on Marble mountain, Mediation at the incredible Lady Buddha. All of which served for an amazing experience of the local areas. All included!! Fusion at its very best.
Fusion Maia is also very much a 'concept' spa. The concept here is to provide the keys to living naturally. There is a 7 day natural living programme which is organised by colour, theme, and aroma, and even the staff wear a different scarf according to the theme of the day. (Feel Free. Eat Well. Be Social. Act Mindfully. Enjoy Nature. Be Active. Open Your Mind).
The Natural Living Program (dare I say it) fuses spirit-lifting activities, nourishing cuisine and practical ideas. Where Fusion excels is that it is "All Spa Inclusive". There are a guaranteed minimum of 2 treatments per day each, with no limit on maximum treatments if available. It's like an all you can eat buffet, but of the spa world. I can't imagine being full from this buffet. I suppose it's a part of the ongoing unique philosophy here. Who wants the hassle of having to think about whether or not you should have a massage or a facial, today or tomorrow? Decisions are made for you here.
The biggest obstacle you'll face is whether to have the luxurious Esens products slathered over you, with a Natural living massage (think herbal foot baths and head massages), or a warm pressure sleep therapy (imagine an Ayurveda-Swedish full body massage with warm coconut oil), perhaps a Natural Living body scrub (think of delicious natural exfoliants like coffee beans stripping old cells away) or maybe a nurturing body envelope (imagine being cocooned in warming coconut clove). There are also Manis and Pedis and blow dries oh my. Oh what the hell. Just like the buffet. Why not stuff yourself and have them all.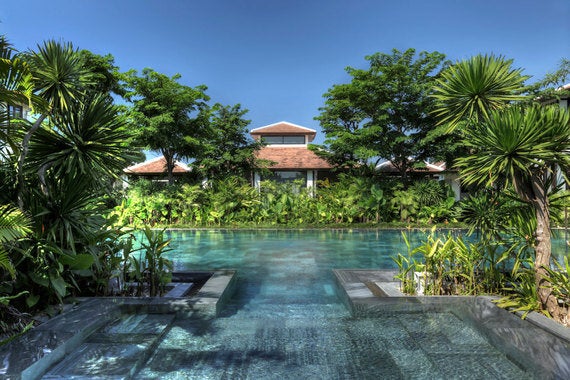 With its large open plan vibe Fusion Maia feels like one large colonial open air mansion, where you feel it's your God given right to roam free and sloth around at snail's pace.
The main restaurant 'Five Dining Room', houses a breakfast buffet to beat all buffets (think fresh smoothies, vegetable and fruit juices, a chef who will make you any egg or pancake like concoction you can conjure up. Asian delicacies like Mi Quang, Pho or Congee dishes. Sushi and pastries galore, and fresh fruit you've never even heard of) Dinner here at Five Dining Room is an altogether different affair.
The passionate chefs, in the open kitchen (whom you will meet if you take a cooking class) are masters in - yep you guessed it... fusing flavours of Asia. Try rice paper noodle rolls, fresh seafood platters, grilled snapper and handmade noodles.
The Fresh Pool Bar facing the infinity pool and ocean, is a perfect alternative for lunch and dinner. Have the steamed white fish and scallops in banana leaf, giant prawns and grapefruit salad with mouth-watering Vietnamese sauce or the chicken curry in coconut shell.
Should you want to take part in the wellness offering at Fusion Maia, you can indulge in a Natural Cleanse Programme based on either Juice Cleansing or Vietnamese Raw Food, both aimed at detoxification and boosting the digestive system. However given that my mouth is still watering at the memory of the flavours here, you can imagine which option I chose.
At Fusion Maia, every one of the 87 pool suites, spa villas and beach villas comes with a pool, as standard. But there is nothing standard about the level of luxury here. This is the first all pool villa style resort in the destination, yet another notch on Fusion's (four poster) bed post that keeps you feeling like you own the place.
In keeping with the flow of the hotel, there is a contemporary, relaxed 'zen' like feel with dark wood, grey stone and bamboo details. Not only does each room have the luxury of its own private pool and courtyard, it boasts lavish four-poster beds, iPods, iPads, and Nespresso machines (should you wish to kick start your day at the gym, before you get a hit of their famous rocket fuel Vietnamese coffee, in the lounge).
Gold sinks fit for The King (and I) are adorned with Esens toiletries, and massive stone sunken baths are big enough to accommodate the Irish rugby team (upon request you can have it drawn and filled with petals and herbs... Not quite the luxury a rugby team would welcome). If you can bear to prize yourself away from your little palace, the hotels infinity pool and beach are just steps away. Standard. In the most luxurious sense.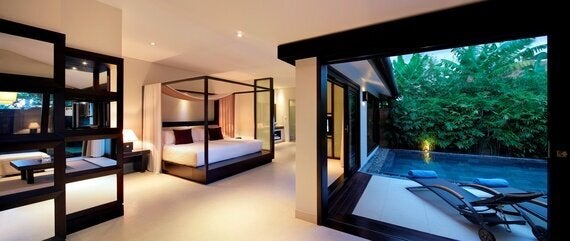 Don't miss a trip to Hoi An, an unmissable beautiful Unesco World heritage site only a 20 minute daily shuttle bus away. Local restaurant Miss Lys is a must, serving the most delicious of Vietnamese delicacies. Be brave and try the street food in the markets, and purchase a lantern from one of the (many) locals, and then join the nightly tradition - light it and float it on the river. Fusion Maia have now opened 'Fusion Lounge' which is a cool restaurant located in Hoi An, just another place you can choose to take your anytime, anywhere all-inclusive breakfast!
I flew to Vietnam with Vietnam Airlines. They offer the only direct flights from the UK to Vietnam, with twice-weekly nonstop flights to both Hanoi and Ho Chi Minh City.

Prices start from £579 per person including taxes. From July 2015 Vietnam Airlines will upgrade its services from with the introduction of brand new Boeing 787-9 Dreamliners, complete with new look interiors, in-flight wifi and fully flat beds in Business Class.