When I think of Versailles I immediately think of the ill fated Marie Antoinette, the Queen of France whose life was the stuff of dreams when she moved into the Chateau de Versailles. She was eventually stripped of her riches, imprisoned and beheaded during the French Revolution. But don't let that stop you paying a visit to Versailles! Of course you can't stay at Marie's old digs, but you CAN stay at the next best thing. The Trianon Palace Hotel. It emanates an air of royalty, perhaps due to the fact that it is situated on seven and a half acres on the edge of the royal domain of Louis XIV, and architecturally, it mirrors the classical style of the famed Palace. Also due to its stunning interior. It has recently undergone a full-scale redesign, which successfully combines a modern flare with regal luxury. Long hallways of marble chequered floors are lit up by oversized chandeliers and lead to the "drawing room" where the contents of the Treaty of Versailles were dictated several days before it was signed at the Chateau. Ladies (and possibly some gents) if you've ever fancied being Queen for the day (and night) then a stay at the Trianon Palace is a must. You may walk in feeling like a commoner, but trust me you will walk out feeling like royalty. Oh, and you get to keep your head... ;)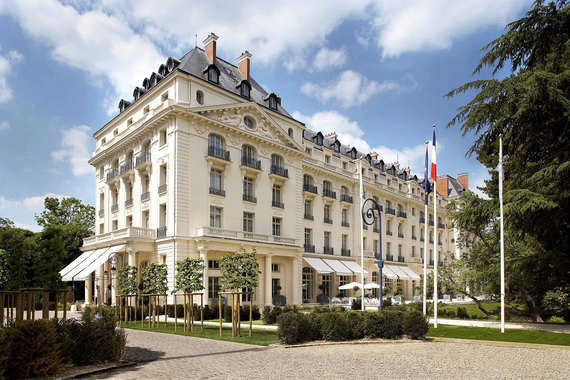 The Room
This hotel is steeped in history. During WW1 it was transformed into an auxiliary hospital, it was occupied by the military, then overtaken by generals and the royal air force and finally after peace was restored, became a prominent hotel again, just what it was born to do. Of the 199 rooms, all retain many of their historical features. Stay in the rooftop terrace suite where you can catch a glimpse of the magnificent Chateau de Versailles and its royal domain out the window. An array of hardwood floors, fireplaces, chez lounges, a living room and dressing room are just what you need to feel like a Queen.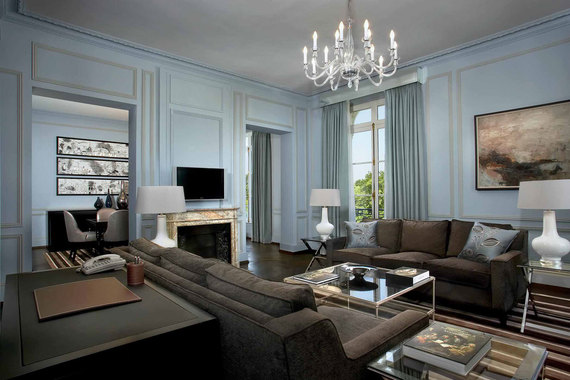 The Spa
The Guerlain Spa is 2,800 meters square and palace unto itself. At its centre is a beautiful indoor pool modelled on a royal Grecian bathhouse. It boasts 11 treatment rooms, hamman and steam rooms. Waft through regally and demand the Intensive Facial. Your face gets a deep cleanse with their amazing Guerlain products - French to their core - Guerlain Paris invented an exclusive facial massage technique, used while applying this speciality mask, and active skincare concentrate.
Don't miss the '5-Senses Hydrotherapy' Sit and let the controlled air jets massage your entire body like a multitude of hands of royal servants. There is a special menu for Kings here too, men can enjoy the 'Ultimate Experience'. For three blissful hours, in a cocoon of  tranquillity with a revitalising facial, body massage, manicure and pedicure. And last but by no means least 'THE Body Scrub' Your entire body is scrubbed and washed down as though you are a car in a drive through wash. They clearly misplaced my throne.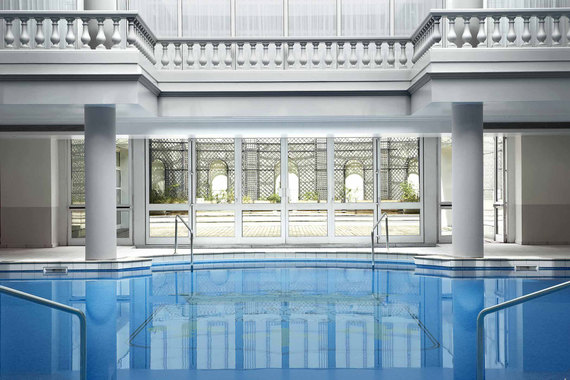 To Eat
The Trianon Palace is home to Gordon Ramsay's "Au Trianon", his first fine dining restaurant in France. Whether Ramsay is backstage shouting at his subjects or not, the food certainly does not disappoint. Have the slowly cooked hens eggs, shrimp ham and scampi mousse or the cod fish cake and goat cheese with capers and vinaigrette to start. Then try the slow cooked rump of veal with gratin dauphinois (when in France and all that) or the divine grilled salmon fillet, cucumber salad, pine nut olives and tomato sauce. Even though you feel full, the words "Let Them eat Cake.." once famously uttered by Marie Antoinette, ring loud in your ear. So give in and order the frozen strawberries marshmallow candied lemon meringue.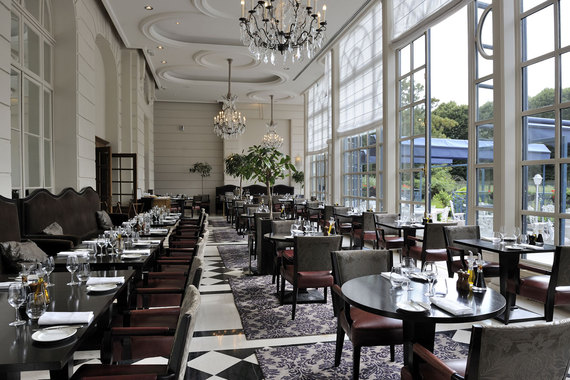 Don't Miss
A visit to Louis XIV breathtaking Chateau de Versailles. Opulent gold gates lead to the Palace and and its surrounding gardens which are considered as the most famous gardens in the world. Ornamental ponds, mazes and fountains are intermingled with white marble and gilded metal statues. You could spend a day here driving golf buggies and still miss out. Now then, where did I leave my crown?
Words: Amanda Byram