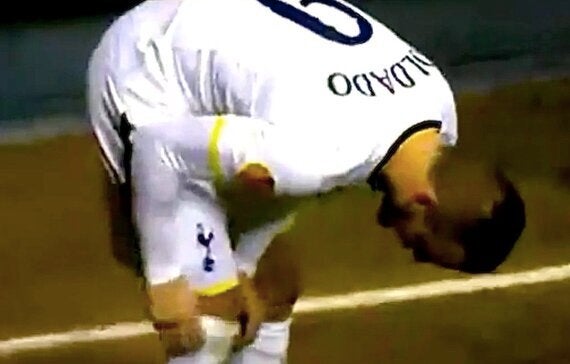 Roberto Soldado pulled his socks up with an early goal against Fiorentina but faded in the second half
Facing six games in 17 days - all important ones - Spurs boss Mauricio Pochettino was walking a tightrope when he picked his team for Thursday night's Europa League game with Fiorentina. For the first half hour his decision to rotate his squad and leave Harry Kane and Ryan Mason on the bench looked a perfectly good one. After taking an early lead through a rare Soldado goal, Spurs played with real zip and looked well capable of building up the kind of lead that would enable them to rest more key players for next week's second leg. That was the plan anyway, but after the Italians equalised against the run of play on 28 minutes the Londoners never quite regained their early momentum and had to settle for the draw.
Once again the simple fact that Spurs are greatly diminished when Harry Kane isn't playing centre forward was all too clearly demonstrated. Kane did come on for the last half hour but he was asked to play behind Soldado and it is much harder for him to change games from that deeper position. Pochettino's decision not to withdraw the fading Spaniard was understandable; he needs to do whatever he can to nurture the his fragile confidence because, with Adebayor nowhere to be seen, he will continue to be needed as the season goes on. But you couldn't help wondering whether a couple more goals might have resulted had Kane been given that last half hour in his best position.
Now, having seen his six match accumulator falter in the first game, Pochettino has to work out how he is going to gamble with forthcoming selections, in particular the one for next Thursday's return leg in Italy which comes just three days before the Capitol One Cup Final with Chelsea at Wembley. A first choice Spurs side would have every chance of getting a result and progressing to the next round and even one with just a couple of important players rested could edge through. But if he leaves all his main men at home he'd be looking at likely elimination.
Some fans would probably be less than sorry to see the latter scenario. To reach the final, Spurs would need to negotiate a further seven games and with teams like Liverpool, Everton, Napoli, Roma, Inter Milan and Wolfsburg still in the competition, there wouldn't be any easy ones. If Pochettino plays a weakened side next Thursday and goes out, he'll not only have a fresher starting eleven for Wembley but a greatly reduced fixture list for the Premier League run in. Manchester United, Liverpool and Arsenal - their rivals for a Champions League place - are all still involved in cup competitions and would surely be disadvantaged by having more games to play.
But playing weakened sides can be frowned upon by the authorities not to mention some of the many Spurs fans who booked their trips to Florence in the expectation of seeing a competitive encounter. It's a tricky dilemma for Pochettino and he risks attracting criticism whichever side he comes down on. But if he exits the Europa League next week he will be looking at the enticing prospect of being able to select his best team for the rest of the season. Given the continued limitations of his back up players, he may find that irresistible.