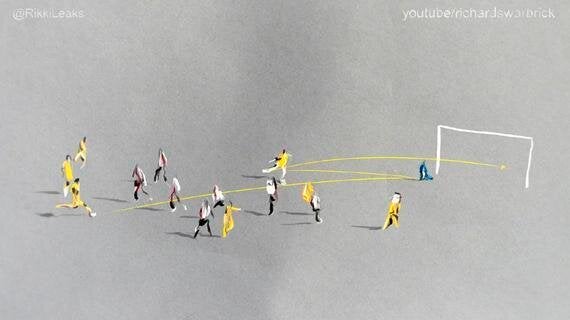 Nacir Chadli's goal in October's 2-2 draw with Sunderland, Tottenham's opponents this Saturday. Illustration by Richard Swarbrick
Plenty to enthuse about for Spurs fans in Wednesdays 4-2 third round FA Cup replay victory against Burnley at White Hart Lane. Apart from the sheer entertainent value, the fact that Spurs were able to recover so comprehensively from going two behind in the opening six minutes suggests that improvement in the team's mettle continues despite last weekend's setback at Crystal Palace. Heads did not drop after the sloppy start and they ran out comfortable winners in the end. Of the individual performances it was Andros Townsend who caught the eye with his best performance of the season coming on the back of probably his worst in the Palace game. His pace and trickery were too much for the Burnley back line and he was warmly appreciated by the crowd when he was replaced after 76 minutes by 17 year old debutant Joshua Onomah.
Seven changes were made by Pochettino from the weekend and among those coming in were Younes Kaboul and Etienne Capoue, whose rehabilitation process continues after the bust up that is supposed to have happened following the Stoke City game in November. Capoue went about his business in his usual unshowy manner apart from in the last minute of the first half when he smashed home a 20 yard first time drive to level the scores at 2-2.
But Kaboul was more conspicuous thanks to a stand up row he had with central defensive partner Jan Vertonghen in the first half. Vertonghen had been berating him ever since they were both embarrassed by the straight ball down the middle that resulted in Burnley's opener and when Kaboul finally snapped a full on domestic ensued. Spectators in the Paxton Road End didn't know where to look. In the second half Kaboul had another spat, this time with goalkeeper Michel Vorm over a communication issue. At least they made up with a quiet chat soon afterwards. As far as you could tell, Vertonghen and Kaboul's relations remained frosty to the end.
If all this indicates that there is still resentment in the squad surrounding Kaboul, who remains club captain and wore the armband on Wednesday, a full reconciliation needs to be affected soon for the greater good. He was previously a model of diligence and commitment to the cause (not something that can always have been said of Vertonghen) and the signs are that he will be around at least until the summer. The third member of the rebel alliance, Emmanual Adebayor, was nowhere to be seen on Wednesday despite noises from the club in the build up to the game suggesting he was fit and likely to play a part. Go figure.
Now attention shifts to the Saturday's match with Sunderland, a game Spurs must win to get the league campaign back on track. The Black Cats look just the sort of side that Spurs should sweep aside especially as they have found it very hard to get goals this season. But they have just invested heavily in a high profile, proven Premier League finisher in the shape of Tottenham's fifth highest scorer of all time, Jermain Defoe. Defoe tends to score on his debuts. If he does so on Saturday, we can expect the most muted of celebrations.
Related