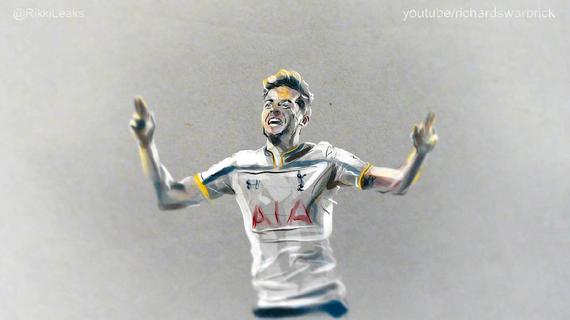 Ryan Mason was the game's most influential player in Tottenham's 2-1 victory at Aston Villa. Illustration by Richard Swarbrick
By the time the Sunday's game at Villa Park had entered its 85th minute a consensus had formed among Tottenham fans in the stands and watching around the world: this was a new low. A response had been demanded after the previous weekend's pusillanimous defeat to Newcastle and here they were meekly surrendering to a team that was the Premier League's worst on form and playing with ten men. Pochettino, Levy and almost all of the players were about to be subjected to a tsunami of the internet's choicest football rage.
I say 'almost' all of the players because among the lethargic, highly paid, multinational superstars were a couple of notable exceptions in Ryan Mason and Harry Kane. Mason was the game's most influential player. He completed more passes (57), more take-ons (five), more tackles (five) and more interceptions (three) than anyone else on the pitch. Perhaps more crucially, he got Villa's best player Christian Benteke sent off. (If anyone thinks that's not something to celebrate, Spurs have been on the receiving end of such sculduggery for years and have been accused of being deficient in the dark arts to the point of being pushovers. Not Mason).
But it was Kane who, despite only playing for the last third of the game, ended up snatching the man of the match award from Mason by bagging an unlikely winning goal with a deflected free kick. These two were brimming with the very vim that was so absent in the others and apart from their brilliant contributions they have a couple of other things in common. They're both lifelong Spurs fans - local lads who have come up though the ranks - and they are the lowest paid of all the players who pulled on a white shirt at Villa Park. The xenophobia of fans and pundits bemoaning the malign influence of mercenary foreigners who don't get what the game means to the fans may be unpalatable, but there is no doubt that Spurs would have lost on Sunday without Mason and Kane's wholly exceptional commitment to their team's cause.
Pochettino looked suitably sheepish afterwards. He knows that in essence this performance wasn't any better than the one against Newcastle and whatever he had tried last week to get his team revved up hadn't worked. For consolation, apart from the three points and the performances of Kane and Mason, he can cling to the hope that the special euphoria that comes form the late plundering of points can be maintained and channeled into a better display in the next league game at home to Stoke City next Sunday. A similar act of larceny at West Ham in August was followed by the demolition of QPR at White Hart Lane.
But before that there is a trip to Greece for a Europa League game against Asteros Tripolis on Thursday. Given Tottenham's well known tendency to under-perform after European sorties, Pochettino has got his work cut out. He'll doubtless give a midweek rest to the players he sees as most important to the first team. Will the local lads be among them?