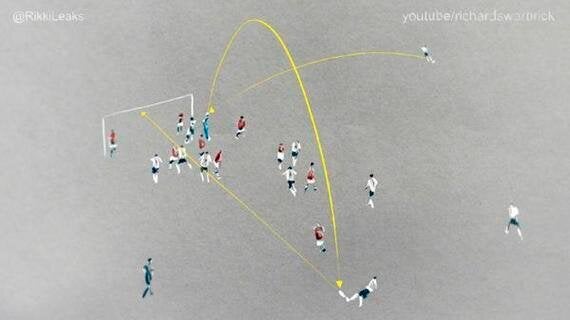 Danny Rose's spectacular debut goal v Arsenal in 2010. Illustration by Richard Swarbrick.
No football fan relishes the prospect of a derby game. It's a horrible, excruciating experience with the only chance of enjoyment coming when it's over and you've won (or perhaps secured an outrageously unwarranted draw with a late equaliser).
Given their status as odds on favourites, the uninitiated might assume that Arsenal fans are looking forward to this Saturday's North London showdown. But the Goons know that if they win they'll only have matched expectations and, should they lose at home to a Tottenham team going through one of its regular crisis of confidence and priced at four to one, it will be tantamount to catastrophe.
Nevertheless, it is Tottenham's supporters that approach the game with the most virulent sense of foreboding. Despite the fact that an entirely changed team ran out at White Hart Lane against Nottingham Forest on Wednesday night in the League Cup, its performance was every bit as toothless as the one on display against West Bromwich Albion three days before in the Premier League. Spurs ended up winning three-one, but Forest - who were fielding a reserve team of youngsters and journeymen on real world wages - had to take the lead half way through the second half before the hosts could rouse themselves sufficiently to have a shot on target (this following the grand total of one that they'd registered against West Brom).
It's not what you'd call ideal preparation for The Game The Fans Most Hate To Lose and there were more destabilising developments on Thursday when Cain Hoy, the International property group that were considering a cash offer for the club, thereby raising hopes of enhanced competitiveness in the transfer market, released a statement saying that they'd lost interest.
On the same day Jan Vertonghen, considered Spurs' most accomplished defender, declared that he had refused to sign a new contract, which is tantamount to saying 'sod you lot, I'm off'. 'Super-Jan' spent much of last season sulking for one reason or another and he has apparently decided to carry on in the same manner in order to secure a transfer. He has four years left on his contract so when he goes it will be at a healthy price, but his continued mopey presence can only weaken the team's already shaky morale.
Arsenal have had their problems too of course and have won just one of their last five games. They were comprehensively outplayed by Borussia Dortmund in their opening Champions League group game last week and they lost at home in the Capital One Cup this week, albeit to a strong Southampton side currently lying second in the Premier League. But, for that game, Arsene Wenger had rested most of the players that will entertain Spurs and everything is pointing to one outcome.
If the near-inevitable happens, the Tottenham faithful will find themselves wondering why Arsenal's dominance, which was close to total for twenty years before a brief spell of parity in the Redknapp/AVB era, appears to have returned so quickly. At least they wont have had any high hopes dashed.
Related