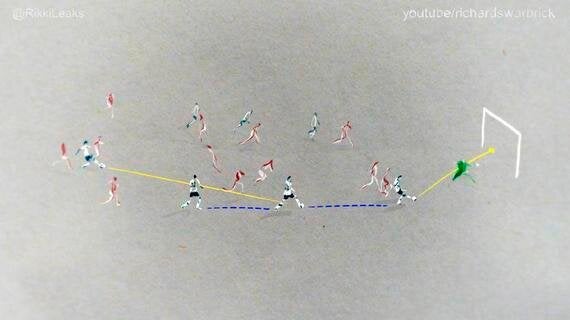 Nacer Chadli's goal in Tottenham's well merited draw in the North London Derby at Arsenal. Illustration by Richard Swarbrick.
Vlad Chiriches has been looking like a disaster waiting to happen in the Spurs defence for some time and on Thursday night, late in the game, the waiting ended. His ugly air-shot of a hashed clearance, compounded by a desperate hand ball in full view of the referee, resulted in a converted penalty for Demba Ba and an equaliser for Besiktas.
Football fans are a more forgiving bunch than you might think. Players' shortcomings will be tolerated, up to a point, if they demonstrate that they are at least trying their very best for the team. At Tottenham they are still singing Roberto Solado's name despite his dreadful scoring record because they see commitment in him. But Chiriches - whose agent let it be known that he regarded Tottenham as a stepping stone on his client's journey to Chelsea when he arrived a year ago - looks like a player with an attitude problem. Playing silly buggers in the penalty area while your team is hanging on to a one goal lead is very much his style and the resulting opprobrium in the ground and across social media was something you rather feel he has had coming to him for a while.
Jan Vertonghen must have seriously irked Mauricio Pochettino to have had Chiriches picked ahead of him for several Premier League games recently. The good news is that Vertonghen has been restored to the first team but the bad news is that with Chiriches now doing his Coco the Clown impression in the second XI, getting through the group stage of the Europa League is looking like a much less straightforward task than it has been over the past couple of seasons.
At least Pochettino can now park his European worries for a couple of weeks and refocus on the main event that is the Premier League and the visit of his old club Southampton on Sunday. When he left them in the summer and they set about dismantling the team he left behind (cashing in handsomely in the process) nobody was predicting that the Saints would be placed above Spurs in the table come Autumn. But while Pochettino is still trying to impose his ideas on a bloated and richly remunerated Tottenham squad, his successor, Ronald Koeman, has steered his exuberant team to second in the table.
Pochettino will likely play the same eleven that performed so admirably in last Saturday's draw at Arsenal unless Dembele, who was ruled out with a twisted ankle at the Emirates, is preferred to Tottenham's newest sensation-from-the-ranks Ryan Mason. But whoever plays, the big challenge will be to introduce some vim and vigour into Tottenham's play, something that's been wholly lacking in all their home games up to now except the one against the division's whipping boys QPR.
The manager will doubtless use the grit shown in the derby as the basis for his rallying cry but he'll also need to find a way of playing, some kind of tactical adjustment, that can channel the renewed esprit de corps productively. He may opt to push someone up alongside Adebayor, probably Chadli as was the case at Arsenal or, if not, Harry Kane who scored against Besiktas playing alongside Soldado. This might help Spurs to be more assertive than in recent White Hart Lane games.
If they can start well and score early the home team could boss the proceedings and win comfortably. But if they fail to get shots on target quickly - as has been the recent pattern - an amply confident Southampton are well capable of sending Tottenham into another international break on the back of a bad result.