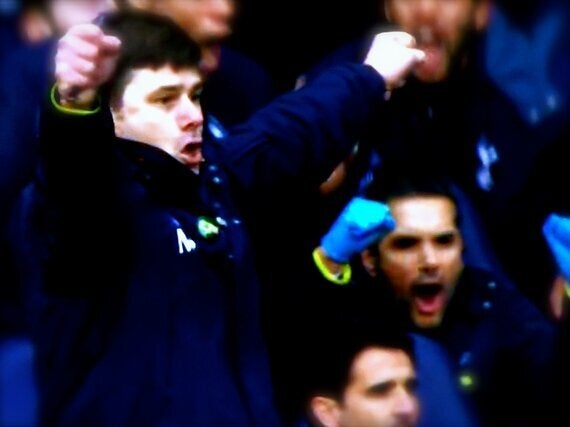 Mauricio Pochettino's powers of alchemy can take Spurs to the next level
In January 2008 Tottenham beat Arsenal 5-1 at White Hart Lane in a League Cup semi final and a deadpan Arsene Wenger appeared in front of TV cameras straight afterwards to claim his team had been the better side. So when the same man grudgingly admitted that Tottenham deserved to win Saturday's North London Derby you knew, in case you thought your own eyes had deceived you, that the Lillywhites had thoroughly schooled the Goons.
The remarkable transformation of Mauricio Pochettino's Tottenham team from basket case to one of the best sides in the land reached a new stage with Saturday's victory. As recently as late autumn they appeared hopeless, surrendering meekly at home to sides like West Bromwich Albion, Newcastle and Stoke and looking set for mid table at best. Now, with a Wembley final in the offing, Spurs have won seven and drawn two of their last ten league games and two of the victories - glorious ones - have come after going behind to deadly rivals Chelsea and Arsenal.
On Tuesday Tottenham travel to Liverpool for a mouthwatering Premier League game that will tell us more about how far they've come. Spurs have lost four times in a row to Liverpool conceding fifteen goals in the process. Their easy 3-0 win at White Hart Lane in August suggested the Merseysiders were ready to challenge again for the title. Instead, like Spurs, they endured a difficult autumn but now the two teams are the form horses in the race for third and fourth place.
If beating Chelsea and Arsenal soundly at home signalled elevations in Tottenham's status, a result at Liverpool would take them another notch up again. It is a tall order because, as all football knows, when Liverpool are on form a collective belief in the home side's superiority seems to grip Anfield and it can prove irresistible to the referee and the opposing players. Liverpool have not lost in the league since mid December and Daniel Sturridge is likely to start after being eased back into the fray from the bench in the last three games. There wont be much apprehension around the place.
Nevertheless, for Tottenham to make a game of it all that's required is more of the relentless intensity and flair that did for Arsenal. In Sturridge, Sterling and the in-form Coutinho, Liverpool have dangerous attackers but they look less than impregnable at the back.
Assuming there are no casualties following Saturday's battle, Tottenham can field a full strength side in the luxurious knowledge that they wont play again for nine days. And the best thing about Pochettino's Tottenham team is its resilience. There's thrilling, high quality attacking play but there is also a rare togetherness and pride in the shirt that was manifest in the derby wins and the semi final victory in Sheffield.
Following the post Liverpool hiatus, the games start coming thick and fast again. Pochettino's main worry is keeping the nucleus of the side - Ryan Mason, Nabil Bentaleb and Harry Kane - fit and fresh because their understudies don't bring the same tempo-setting zest to the team.
But if the boss can be lucky with injuries while continuing to bring his remarkable powers of transformation to bear on the rest of the squad, this most unlikely of metamorphoses might have a way to go yet. A good result at Anfield would represent a highly significant stage in the process.