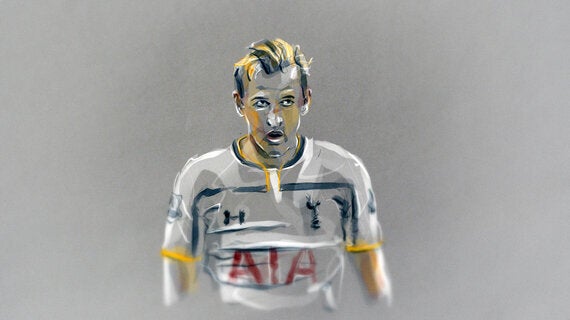 Harry Kane scored and was once again Tottenham's stand out performer in the 4-0 victory over Newcastle. Illustration by Richard Swarbrick
"You Burnt your own town, you burnt your own town, you stupid bastards, you burnt your own town" - so sung the defiant Geordie away section in Wednesday's second half at White Hart Lane in reference to 2011's Tottenham riots. "We're Tottenham Hotspur - we burn what we want" came the musical riposte as Spurs made toast of Newcastle United's League Cup hopes, gaining revenge for the humiliating league defeat on the same ground just a few weeks before.
Tottenham's path into the semi finals was smooth enough once the unfortunate Alnwick, third choice Toon keeper thrust to the fore because of injuries, spilt Eriksen's corner and Bentelab prodded home on eighteen minutes. Three more goals followed in the second half without reply, one of them for Harry Kane who was once again the home side's stand out performer.
Earlier in the day two stories had emerged to provide the big angry monster that Tottenham fans constitute online with meat to chew on. One had Andre Villas Boas saying he had gladly left Spurs a year ago because Chairman Levy had sold his best players and failed to deliver the top quality replacements he'd promised, namely Willian, Moutinho, Leandro and Oscar. Why this was greeted by some as a shocking revelation is puzzling. It was common knowledge that Spurs were in for these players. And anyone who is outraged at Levy breaking promises lacks the most rudimentary grasp of his modus operandi. Like most corporate operators on seven figure salaries he is the arch pragmatist. If he judges that reneging on assurances is the right thing for The Business then renege he will.
But according to the other big story, Spurs could soon be rid of Levy because 'the Qataris' were interested in buying the club. By 'the Qataris' we can assume the Mirror and others meant the Sovereign Wealth Fund of Qatar which is already in possession of Paris Saint Germain Football Club, a contract from Fifa to stage the 2022 World Cup and Harrods. Why on earth wouldn't they be in for a Premier League Football Club? What took them so long?
The question is, if they're looking for one to transform into a major power, is THFC their best option? West Ham, well placed in the League, are poised to move into a ready-made new stadium that they might even have a chance of filling if they could buy three or four hundred million quid's worth of players. You would imagine that Gold and Sullivan, West Ham's pornographer-owners, have their price and that it is considerably smaller than Levy's. If the Qataris can bear the provinces, they could even pick up big old Aston Villa for a song and very quickly achieve total football domination of the Midlands. Then there's Liverpool, Everton, Newcastle, Leeds and so on.
But such is the antipathy towards Levy that some Spurs fans seem ready to roll out a red carpet right along Tottenham High Road for the Qataris. Any previously held concerns at alleged bribing of Fifa delegates, funding of terror organisations and a scant regard for basic human rights would presumably be swept under it.
Of course there's every chance that this is just the latest in a long line of takeover stories that come to nothing. Happily it was the actual football that lightened everyone's mood on Wednesday night and the subsequent draw for the semi finals, which paired Spurs with League Two's Sheffield United, did nothing to dampen the joy. A trip to a Wembley final for the first time in six years beckons and only a failure to wrestle three points from Burnley on Saturday can spoil Christmas now.
Related