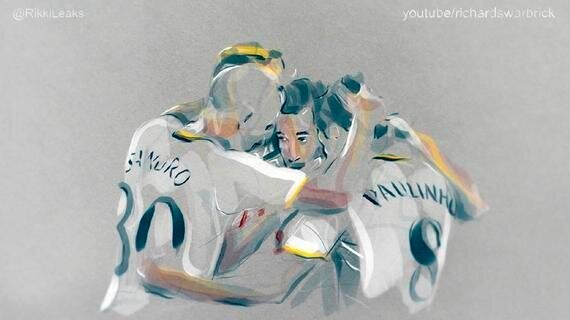 Celebrations following Andros Townsend's penalty in Tottenham's 3-0 victory over AEL Limassol. Illustration Richard Swarbrick.
A second leg Europa qualifier against lowly opposition with a lead already in the bank will never be the most compelling of games. At least Thursday night's encounter with Limassol gave Mauricio Pochettino a chance to take a look at what were essentially Tottenham's reserves whilst bagging a fourth competitive win out of four by three goals to nil. Not that the eleven selected were an anonymous bunch - despite the fact that only Kaboul and Lloris were deemed good enough to start on Sunday in the Premier League this was still a team worth close to 100 million quid and, but for England under 21s Kyle Naughton and Harry Kane, it was packed with full internationals. No wonder they were able to see off Limassol without getting out of second gear.
The game was really a sideshow in a week when the main focuses of attention are this Sunday's mouthwatering clash with Liverpool and the closure of the transfer window the following day. (Unless you count the England call ups of Andros Townsend and Danny Rose, last season the recipient of some of his own fans' choicest invective but this term already looking much improved under Pochettino).
Sunday's team will presumably be the same one that mauled QPR last week unless Poch sees fit to plunge new boy Fazio in for a debut ahead of Kaboul. If Spurs can achieve the same kind of exciting fluency on display last weekend then they have every chance of avenging the heavy defeats Liverpool inflicted last season, but the men from Merseyside will be a whole lot less accommodating than Rangers were. Apart from an all round superior set of players, the guile and pace of Sturridge and Sterling on the break will be cause for concern especially considering the high line Pochettino will again demand of his back four. Fazio, it is said, has all the attributes of a top centre half - physical presence, brute toughness, aerial prowess, saviour faire and raw commitment - with the sole exception of pace. If so, this might not be the right game in which to blood him.
As for the window, rumours inevitably abound. Defensive recruitment would seem to have been completed but, with Sandro so out of favour, Poch wants another ball wining midfielder to go with Capoue hence the links with Barcelona's Song in the press and the refusal to admit total defeat in the pursuit of Southampton's Schneiderlin. Soldado's fall from grace also suggests that a striker - preferably a versatile one who can play centre forward or in the positions just behind - is also wanted. Manchester United's Danny Welbeck fits the bill perfectly and is apparently quite keen. He might arrive on loan at least, unless striker-light Arsenal nip in and nick him.
There will presumably be departures too, to add to that of Michael Dawson. Few Spurs players in recent times have enjoyed as much of the fans' affection as 'Daws' largely because of his unflinching commitment to the cause and his genuine nice guy reputation. Every Tottenham fan will wish him the best at Hull but however well he does there, history will always identify him with Tottenham Hotspur and that's doubtless how he'll see it himself. The entirely fitting opening of a Michael Dawson Lounge in the new stadium is probably just a couple of years away.