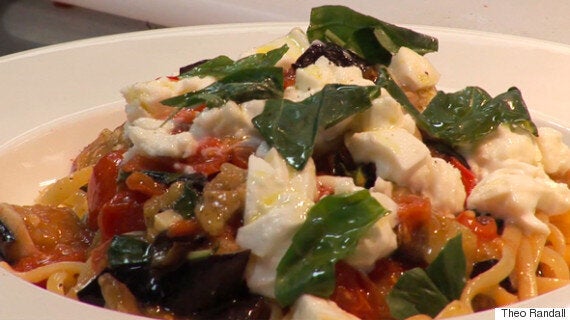 This has got to be the most delicious vegetarian pasta ever! The inspiration from this is from Sicily, home to the best aubergines in the world. The dish is called pasta della nonna which translated means grandmother's pasta. You know it's going to taste good with a name like that.
Fresh aubergines are the main ingredient so it is important to get good quality. If you find the big round violetta aubergine you must make this recipe as the dense flesh becomes creamy when it is cooked. In this recipe I just used regular aubergines so it works well with both but the former is special!
The biggest mistake people make tends to be under cooking the aubergine. Make sure you have plenty of oil in the pan and do not cook too many aubergine pieces in one go. I used linguine but traditionally a short pasta with ridges or crevices is usually used because it holds the sauce. I finished off this dish with buffalo mozzarella because I love it's tangy creamy taste with the slightly spicy tomato and the meaty aubergine,but traditionally it would be served with salted ricotta (ricotta salata).
Ingredients - Makes four starter portions or two as a main course
350g of linguine or rigatoni, orecchiette, fusilli
2 large fresh aubergines (cut into 2 cm pieces - they don't have to be perfect cubes)
12 datterini tomatoes( cut in to quarters)
6 tblsp olive oil (for frying the aubergine)
150g fresh buffalo mozzarella (roughly chopped)
Drizzle of good olive oil
In a hot large frying pan add 6 tbsp of olive oil and gently cook the aubergines in batches until they are cooked through. Place them on to kitchen towel to absorb any excess olive oil.
Clean the frying pan with some kitchen towel. Add a tbsp of olive oil ( not the olive oil you cooked the aubergines in) and gently soften the garlic pinch of chilli and datterini tomatoes. Take off the heat and leave to one side.
In a large pot of salted boiling water cook the linguine 2 minutes less than the packet suggests and remove with a pair of tongs and add to the frying pan with the tomatoes and garlic. Add the aubergines and half of the basil to the pasta and place the frying pan back on the heat. Add a ladle of the hot pasta water and cook on the stove for a further 2 minutes tossing from time to time. Make sure the pasta and the sauce have combined well. Season and serve the pasta onto hot small plates or pasta bowls. Scatter the buffalo mozzarella and the remaining basil leaves on top of the pasta and a good drizzle of olive oil and freshly ground black pepper. Try a glass of Negroamaro or even a Primitivo, it will be delicious! Have a great week!
Related