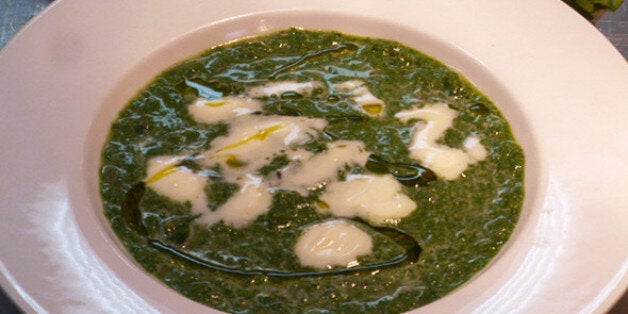 This has got to be the simplest recipe ever. Don't be put off by the lack of ingredients as less is definitely more when you make this soup.
The secret to making this really delicious is having a decent stock. It can be vegetable or chicken but just make sure it is seasoned and has a good flavour. When you buy the Spinach try and get the bunch variety that has stems and leave at least half the stem on. Wash throughly and blanch in salted water until the Spinach stem is tender. If you have a stick blender use it but try not to blitz the soup too much as it tastes better with a little texture ie not totally smooth.
Serves four good portions
200 g of cooked lentils de puy or any good quality Italian lentil
1 litre chicken or vegetable stock
Wash the spinach a few times in cold running water. Trim the stem but leave 4cm of stem if possible. Blanch in boiling salted water until the stem is tender. Place the cooked spinach into a colander but do not pour cold water on top as this will dilute the flavour of the spinach. Squeeze the spinach by pressing a spoon on top of it to push out any excess water.
Chop the spinach roughly and add it to a sauce pan. Add the lentils and stock. Bring to the simmer and season. Using a stick blender blitz the soup until smooth but still with some texture left. Add the creme fraiche.
Check the seasoning one more time then serve in warm bowls with a dollop of creme fraiche in the middle of the soup with some toasted sour dough bread and good olive oil. Soup and wine is always a bit tricky but try with a glass of soave classico this is quite crisp wine which will go well with the fresh spinach flavour. Have a great week!