"A reader lives a thousand lives before he dies, said Jojen. The man who never reads lives only one."

― George R.R. Martin, A Dance with Dragons
Reading makes you wiser. Reading makes you smarter. Reading makes you richer.
This is all true assuming one fact: you remember what you read.
But remembering is hard. It takes time and revision. Much better and much easier is to remember where you read the fact/quote/passage.
We all want to read more but we also want to remember more. Inspirational speeches such as those you find on TED Talks or in university lectures have one thing in common: they are well researched. Professional speakers and experts spend their lives reading, making notes and condensing them but how can you do this for yourself?
I read two or three books per week and have created a system of notation and filing that I want to share. It enables me to use what I've read, search what I've read and come back to it many years on. I use it in my writing on Screams, a creative design blog, and for my own enjoyment. I like to be able to draw comparisons between texts, find links across literature and compare themes over time.
Here is the system of notation I use which enables me to access information from hundreds of books I've read when I need it. As beloved poet Billy Collins wrote in his poem Marginalia which describes the act of scribbling along the sides of books, 'Pardon the egg salad stains, but I'm in love.'
I have a pack of thin multi-coloured Post-its with me at all times. I stick them to interesting sentences, passages and images as I read and they are colour-coded to make it easier to come back to:
Blue - Interesting quote
Green - Main argument
Pink - Interesting picture
Orange - Read later
Yellow - Interesting fact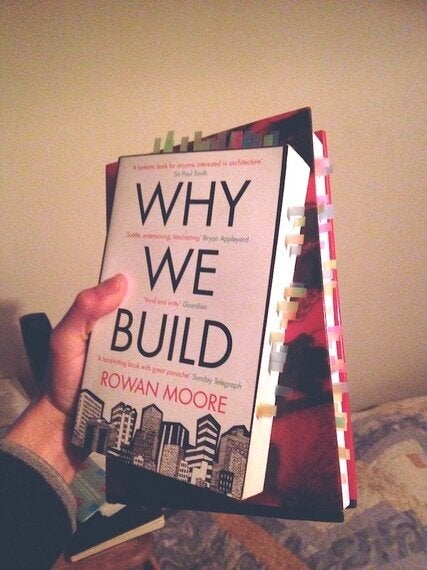 Examples of books I've highlighted (Source: Blogger's Own)
Everyone has a bit of a visual memory and you will have encountered the feeling of that you know you read something somewhere, that it was at the bottom of a page maybe near a picture. These Post-it notes help. When you come to write up your notes (next) they speed up the process considerably.
At the end of the week I write up my notes in Evernote. It is a fantastic program with a free option. I create a note for each book and write a brief description, publisher name and publication date. I type the quotes, passages and facts I highlighted with the Post-it notes. This takes 10-15 minutes per book. A small investment for lifelong returns.
If there were pictures in the book I look for them online and also save them. If I can't find them on the web I take a photo with my iPhone and save them. You can also take a picture of large passages of text and Evernote will automatically make it searchable with optical character recognition (OCR) saving much time!
Once the note is typed I tag it: history, medieval, love, fear, Raymond Carver, Penguin, 1966. Themes and key information. Tagging your notes well is very important. There is no point having a fully-stocked library if it's difficult to retrieve the information you're looking for.
When reading on the web (including through my iPhone) I use Pocket to tag everything. For example, if it's an article about a new KickStarter project for a music band I like I'll tag it 'kickstarter, crowd funding, music, rock'.
I also tag interesting photographs and artwork. Open the image in a new tab and index it in the same way: rainbow, sunset, blue, happy, bright. You can never find images when you need them and this is a great way of storing the ones you love to use in the future. I'm always very surprised to find images I had forgotten about. When thinking or writing about a topic it's great to be able to draw upon a pool of images and video that you've already vetted for interestingness.
Post-Its, Evernote and Pocket will have you covered for indexing. That is all I use along with some pencilled marginalia.
If you want to use what you read to exercise your mind, become wiser and think more creatively then start writing. Put what you've read to use. Screams is a place I share what I've read. I use it to explore themes and draw links between texts. Sometimes I practice a style of writing that I've learnt from an author. For example in this article I've tried to mimic Raymond Carver. He writes short sentences.
The pursuit of knowledge, understanding and wisdom is enough of a reason to start notating. Few professions require active studying yet learning is the most enjoyable and rewarding activity. When you see people on the bus or train playing Bejeweled, Candy Crush or Temple Run, take out your book and enjoy reading instead. While they may get a minute of pleasure from getting a high score, you will get a lifetime of pleasure from a new perspective.
Start practicing with this article. Save it to Pocket and tag it with terms you think are relevant. Perhaps you'll come back to it in year's time, maybe ten. When you do say hello to the memory of you reading it the first time and smile at your foresight of reading it a second.
Read more from Tom Church on his blog Screams.