The holiday period of Christmas and New Year seemed to last for a very long time this time round. A lot of drinking accompanied a lot of eating - a flock of roast birds and a shopping trolley of steamed fruit-based puddings. Crackers popping, silly hats worn in rakish fashion and bad jokes swirled round in my head for what seemed like an eternity. We drove and drove visiting friends and family spreading and receiving as much cheer as possible.
Then it was all over. That Sunday came round which is the one before Monday. I know it always works that way but this is the Sunday be-fore the first working Monday of the year and you have to prepare yourself properly for the great return.
I had planned to leap from my bed and take exercise followed by a hearty breakfast but it did not quite happen that way. I hauled myself out into the day following a rather later night than was wise. An eye-opening coffee and off I went into 2015. London was still deserted as I cycled around on that fell Monday. Everyone seemed to be reluctant to take the reins and get going. The streets lacked activity and many of the parking spaces were unoccupied around the West End like on a Sunday or a bank holiday. My bicycle did not go to Mallett and it did not go to Masterpiece.
This New Year I am on my own and I feel like it is a real beginning and not just another rotation of the carousel. I had clients to meet and work to check up on at Hatfields, the restorers. The air was cold and rain was in the air, but the general grey gloom of the situation was strangely un-dampening. The workshop was open and they had worked on a pair of chairs that had escaped from a barn besmirched by the various winged and scuttling inhabitants. Now they were clean and the timber was revealed in a lustrous way. It gave me a thrill, like a surge of energy, to see the glowing streaky wood where just murk and dirt had been, like drawing a curtain and disclosing a sunny day.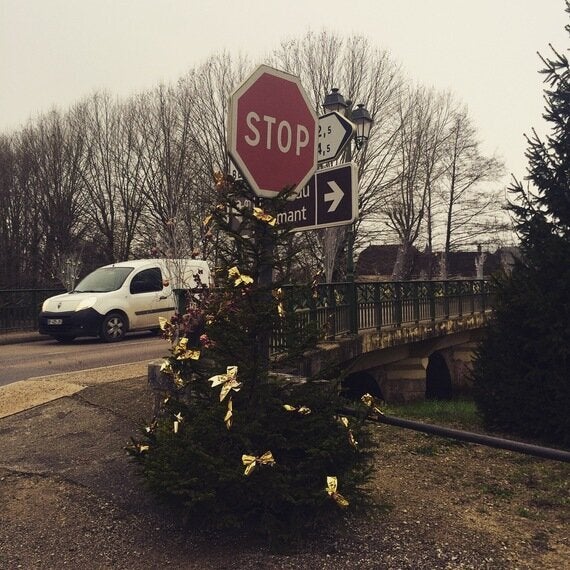 Image credit: Symbol of Christmas taken by self.
I had a meeting in the Strand about a potential collaboration. The meeting began with a recitation of our various experiences over the preceding fortnight. Having got that behind us, we felt reinvigorated, as we got down to prospective planning. I am not sure what will ensue but it was very encouraging to contemplate something that 'may' happen later in the year. On the way out I got a call from a dealer in Norfolk and we discussed the forthcoming Battersea decorative show.
Over Christmas you get the sense that you live in weird bacchanalian bubble, but re-connecting in this way made the trading world seem visible before me. In my inbox there were emails from the USA, China, Belgium and Denmark - with a sputter and a whirr my peculiar working world was sparking back to life. I got home and booked my tickets for Miami at the end of the month and to visit BRAFA on the 22nd. The year was beginning in earnest.
Then I saw the leaflet for the Mayfair Antique Fair. I had never been, although the event has been running for a few years. It takes place in the Marriott hotel by Grosvenor Square, and is small and not particularly inspiring, but I met with various friends who were optimistically stalling out. The textile dealer Marilyn Garrow, Tim Langston who sells an eclectic medley of treasures in Pimlico and the ever elegant Charles Plante who is the master of selling stylish and very small pictures of baffling charm. They were all pleased to have got through 2014 and to be welcoming the New Year. I arrived towards the end of the day and the mood was cautiously buoyant.
Back at home I looked again through my emails and realized that I needed to decide whether I was going to exhibit at the summer Olympia or not. It would be a significant commitment but I decided to go for it. Suddenly it occurred to me that at the end of this first working day of the year the shape of my first six months were now set.
Many look at the year ahead and dread it, some look at it with eagerness and optimism. For a wandering unfocussed dealer like me facing a year like a fresh empty notebook - a brand new and challenging Christmas present - it was both, and I just have to get on with it. I finished the day with cocktails at Little House in Curzon Street. The place is small and always busy but if you get there after 10pm there is usually space at the bar. We ordered a Perfect Manhattan and a Vodka Dry Martini made with Ketel One, with its distinctive peppery note. They have - oddly like the barmen at London's Balthasar - decided to eschew shaking cocktails, and to stir them all instead. The reason being that stirring makes for less dilution and fewer shards of ice in your drink. We were served these in vintage cocktail glasses bought from a shop in Angel. I found this most apt. I do have a habit of seeing metaphor in everything but I detected in these delicious drinks a new smell in the air.
A search for perfection had brought a subtle change in mixing, a splash of the new - and the introduction of a bit of antique into this fashion-conscious world was a good thought to take into the New Year. Cheers.
Related