Back behind the wheel, with my trusty giant Twix nestling in my glove compartment, ready to grant me the benison of its exquisite chocolate, caramel and biscuit melange when a sugar crisis raises its head. Even now, as I guzzle the chocolate stick I cannot resist pretending I am smoking a cigar, something I have never done in real life! An early start delivering a boy to school then I press my Saab into 'd' for drive and we issue forth into the torrential rain. This is my first long run of the year and by my return I will have put 600 miles under my wheels. My soft top Saab has a strange character, as the rain pounds on the roof and splashes on the windscreen I feel as if I am driving a tent, that same sense of being both separate from and part of the weather. I nose out of town slowly on the M4 heading out to Hunterscombe Manor where "The Country Seat" are closing down. The firm were for many years pioneering in the marketing of signed or designed 19th century furniture and decorations. They produced for a few years thoroughly scholarly and innovative catalogues, I still treasure them. Then, when the trade changed post 2008 things went wrong and business faded away to a trickle. The two partners Willy and Harvey have both got health problems. This sorry tale concluded in a sale at Sworders recently and i am off to commiserate and say goodbye as they tidy up and clear out ahead of the sale of their building. Willy is not there but Harvey and his daughter are on site packing and preparing. As I admire the wonderful barn and reminisce with them about good times I cannot stop myself being affected by a wave of melancholy. Two dealers have worked their whole lives and devoted themselves to making a small ripple in the appreciation of their discipline and now it is gone, lotted up and sold. For Forty years Harvey has been studying, buying and displaying his finds. He cannot just stop and he will become one of the many spectres that gather at sales to seek out the mis-catalogued and to connect with former colleagues. He shuffles around, in a curmudgeonly way mourning the lost and unenthusiastic about the future. I buy a small thing out of nostalgia and drag the sodden loose bottomed box through the heavy rain to my car. Out of the drive and off to Calne in Wiltshire.
My next stop is with a living legend. Kevin has been in the trade since Noah sold on the Ark second-hand, and he is steeped in the traditions of the top end of 'volume' selling. He holds swathes of stock, much of it of moderate distinction, but many treasures. My first boss at Mallett, the equally legendary David Nickerson, used to regularly negotiate splendid multi item deals. They would meet and over many packets of cigarettes they would thrash out deals often including 15 or 20 items. I would sit quietly in the background observing the stags locking horns. In my time of being in charge I would do swap deals with Kevin, always aware that he was getting the better of me, but not minding. A few years ago his son came into the business and he has a knack with modern pictures. He is open and boyish and clearly very successful. This team make a stark counterpoint to my morning call and I sit drinking coffee, myriad plans and schemes percolate through the conversational cloud. Kevin does not smoke any more and even for him the stock now moves quite slowly. But even though he is a grandee he has not lost his love of the deal. We walk through everything and I am inspired by several items that offer a potential opportunity.
Back into the rain and as I head further west I am amazed by the unrelenting nature of the flood. Water is everywhere; fields are awash; the roads run like rivers and all around strange reflections throw up light in unexpected ways. I am off to see our Masterpiece exhibitor Edward Hurst. His discrete shed in Coombe Bissett is impossible to find without Satellite Navigation and a great deal of luck. In near total darkness and my low suspension grinding on the uneven road surface i pulled up into his forecourt. No sign, no number, no indication of life at all. He had sent a sub' to show me around and I though I walked through attentively enough, I saw nothing that captured my imagination. The only oddity was talking to his, and my, great friend Tony Fell on the telephone whilst browsing. At Masterpiece, the guys are often to be seen chatting or lunching, they are spiritually in sync when it comes to dealing and luckily they get on well too. One of the most fun dealing days I have ever had was when I went to the Swap shop in Stow-on-the-Wold. Tony and Edward inducted me into the world of barter trading. I arrived with over 50 items and swapped my way into leaving with about 6. No money changed hands and it was a feverish and intense day. Culminating in what Tony calls a 'long swap". That is to say a swap that includes 5 or even 6 swaps to get you what you want. It was terrific and everyone repaired to a drunken cricket match, where I was coerced into humiliating myself with an astonishingly erratic over of bowling followed by an uproarious Indian meal nearby. Sadly, without Edward at his barn there was no magic and I headed back into the night to head for a night in Bristol.
The next morning I head off to North Wraxall to visit Delomosne. They are one of the last dedicated dealers in glass and i was keen to see if they had any new excitements. The rain abated for a few minutes and I pulled in and walked across to their elegant barn. Tim greeted me enthusiastically and we had a lively chat about fairs and their advantages and futures. The struggle for so many dealers is that they need fairs, as the public like them, but the serious buying public only visit the more interesting or glamorous ones. In order to be sufficiently enticing the better fairs spend huge sums on the internal experience from a display and a culinary perspective. Therefore they tend to be quite expensive to exhibit at and that precludes dealers whose stock is not of high value. Those dealers are caught between a rock and a hard place with decreasing local visitors and excluded from the better fairs. It is very tough. But Tim loves glass, and his inventory of fine 18th century drinking glasses, chandeliers and table glass are carefully chosen and displayed.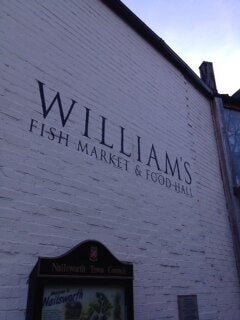 From Tim I headed off to Stroud to the second discrete shed of my road trip, that of Craig Carrington. I have been buying from Craig for nearly 25 years and he has a clear and precise elegant neo-classical taste. He has a strong following and his shed is a paragon of smart objects, laid out in a cool and clear manner. He has some fine pieces and I am tempted by quite a few things. We carry on the discussion of stock and his potential exhibit at Masterpiece over lunch at Williams Fish Market and Foodhall at 3 Fountain Street Nailsworth Gloucestershire. This is the kind of place that justifies many miles on the road. There is nowhere to park and there are hardly any tables. The tables are basic as is the decor, but the food is magnificent. There are a bevy of charming solicitous older women who bustle around ministering. Sitting in the window at a counter nursing a glass of house white wine I am softened up with a small bowl of spicy crab soup. It warms, tingles and delights in equal measure. Then a plate of buttery soft salt and pepper squid, garnished with a huge bowl of golden brown crunchy crispy chips. To the chagrin of the staff I get a small bowl of tomato ketchup and the rest of the meal dissolves into an uneven medley of tastes. I leave to head home replete with miles, meetings and now transcendent seafood.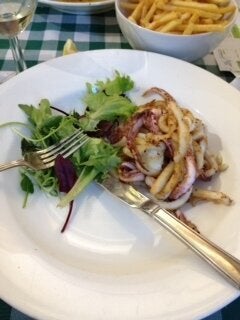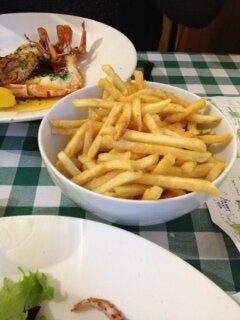 Popular in the Community