I began the week with Lobster thermidor and ended it with half a dozen Burgundian snails; or, I began the week with the Stanley Spencer exhibition at Pallant House in Chichester and ended it with the fabulous 13th century Tour du Guet in Calais. It all depends on how you look at your week. I like to merge the two, and every cultural highlight is enhanced when interwoven with as many culinary delights as possible. That is also our Masterpiece ethos - perhaps it appears a trifle indulgent. My son Vladimir once asked me: 'What are holidays?' I thought about it for a moment, thinking of how to respond to a four year old. My reply was: 'Treats every day'. I continue to believe that. In fact it is true for normal everyday life too: everything we do should be as near to being a treat as we can make it. Admittedly some things we all have to do are quite some distance from being a treat! But the aspiration should be there in my view.
Pallant House is a delightful Queen Anne building in Chichester which is home to a collection of modern British art founded on a donation by the retiring Dean Walter Hussey in 1977. The Cathedral is also enriched with an exceptional collection and so Chichester has become a destination for enthusiasts of 20th century British art. In Berkshire, the National Trust is restoring the Sandham Memorial Chapel, built to commemorate the donor's brother who died in the First World War. The work commissioned from Spencer records his experiences in the medical corps, a time which inspired him to develop and express what he saw in a very personal Christian way. The series is multi-layered in that it depicts war and hospital tableaux, and is thus a memorial, but it is in addition it is a symbolic or metaphorical expression of Spencer's faith. Therefore the centenary of the First World War is poignantly remembered through this show, which began at Somerset House and will end in August back in its Berkshire home when the chapel reopens. I have always liked Pallant House for its stone ostriches on the gates, the crest of the, geographically unexpected, Peckham family, the original builders of the house. These days you don't need to enter between the ostriches as there is an extension of a more predictable museum style adjacent opened in 2006 and designed by Sir Colin Wilson and Long & Kentish. Wandering through the gallery rooms showing the chapel paintings you are transported back to the time of both Spencer's observations but also to the 1920s when the world was brim full of guilt about the war. The figures in the paintings seem young and unformed and their deaths consequently so wasteful. Even Spencer's resurrection, though it offers redemption, does not present a viable validation.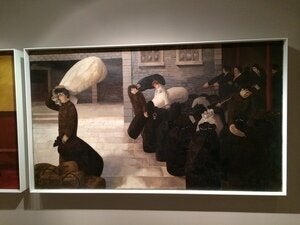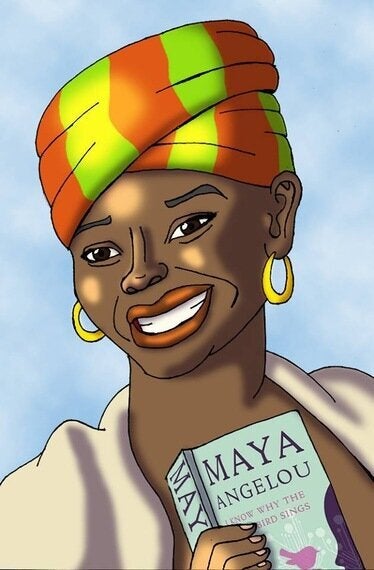 From this very thought-provoking exhibition we drove back to Selsey Bill, where my mother and stepfather have a cottage. Since my childhood we have bought delicious crab and lobster from Julie on East Beach. Then, Julie was a vivacious and dynamic business entrepreneur in her twenties, setting up within the all male world of local crab fisherman. She was feisty and very pretty with red hair and freckles, I was shy of going in to buy from her, unable to properly look her in the eye. Today her children are behind the counter and her original basic shed has become a gleaming white purpose-built structure. My mother loves to cook from recipes gleaned from newspapers and magazines and these garnish every flat surface including most chairs. She has found one for Lobster thermidor, a dish invented in 1894 to celebrate a new play by Victorien Sardou, and named after the summer month of the French Republican calendar. The play and the calendar have melted away but the lobster dish has become a legend and represents for some the epitome of luxury. My father used to say in restaurants, 'Order what you like but not the Lobster thermidor!' As a May dish by the seaside with the sun blazing outside, it all seemed very appropriate. The fresh raw blue lobsters were duly boiled, split and covered with herbs, sauce and breadcrumbs and came gleaming and crusty to the table accompanied by chilled, flavoursome, scented, rich, but dry Cremant de Lugny, and as the succulent, delicate meat was consumed we all agreed that together the Spencer show and Lobster thermidor made for a perfect Sunday.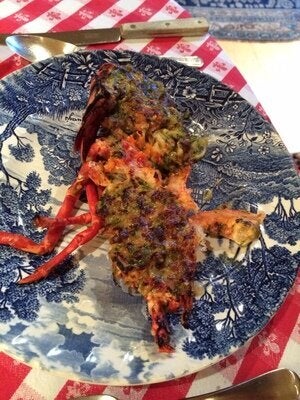 Whilst sitting looking at the join between the original Pallant House and the new extension in the light and airy garden I read a notice about the gold medal-winning gardener Christopher Bradley-Hole who was responsible for the design. On Wednesday Andy Hickling, the Royal Hospital Chelsea's quartermaster and solver of all our Masterpiece fair installation issues, hosted a party which gave his chosen few an exceptional treat. His house is just outside the gates of the Chelsea Flower Show within the bounds of the Hospital itself. He pours us copious glasses of Champagne, teases our palates with tasty snacks in cones and then sates us with an irresistible buffet, this year a superb lamb tagine with couscous. Then he sends us out with passes to roam the flower show freed from the crowds. It is the perfect way to see it. This year our Masterpiece sponsor RBC has also supported a garden and it duly won a gold medal. The show gardens are all incredible and complex and defy the temporary nature of their existence. They are almost like cut flowers, glorious for an instant and shortly afterwards - compost and gone. The massive tent smells of earth and grass and has in various spaces curious and sometimes appetising aromas. Every stand is as spectacular as it can be, some are wonderful but some nudge towards the absurd. I was intrigued by the city of Birmingham stand which had a flower bedecked train and a deserted bicycle. I did not understand the message, but it was undoubtedly splendid and had won a prize.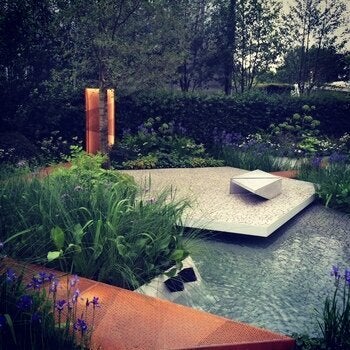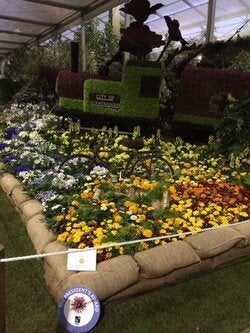 On Thursday I headed off to France. The pre bank holiday traffic leaving London was horrible and I finally arrived in Calais from Le Shuttle, tired, hungry and fed up. Calais is not a pretty town, but despite this it does have a certain vibrant commercial energy. There is an unexpectedly appealing square called the Place D'Armes which was once beautiful and historic but was bombed in the Second World War by everyone and rebuilt afterwards in the now under-appreciated 50s style. Before you are white, low-rise blocks with intermittent metal balconies. One side has been enhanced by a modern water feature lit with purple which squirts water into the air at random intervals from about 25 spouts. I tried to get a table at a wine-focused restaurant but was turned away as they were having a special wine-tasting evening, so my gloom increased. I wandered over to a corner of the square where I reflected upon my remaining food options below the imposing Tour du Guet. From the top of this tower the Calais citizens were told of the surrender of the city to Edward III. Their depression at being conquered felt very keen as I struggled to be positive.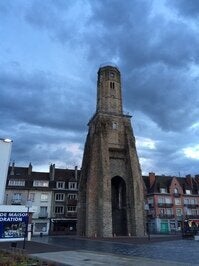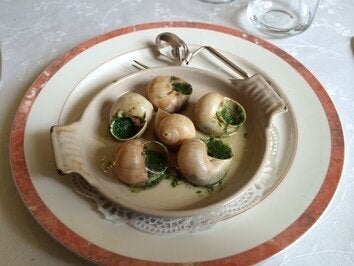 The next day brought the positive mood I sought - in Chatillon sur Seine at the Côte d'Or. This classic French hotel and restaurant focusses on purveying the delights of Burgundian cuisine. So 'oeufs en meurettes' were preceded by six succulent snails. The shells were striped and fashionably pastel. The cast iron platter was white and the garlic and butter infused herbs were lustrously green. A basket of fluffy, crispy and flaky crusted baguette chunks were on hand to assist with the mopping up. Six transcendent mouthfuls ensued and Calais became a distant memory. Now I could concentrate on finding a treasure within the local salerooms to justify the trip.