Britain voted to Leave the EU, my car was towed away at a cost of £300 and I broke the original glass over an 18th-century watercolour. It has been a bad couple of days. Having been an antique dealer for 30 years it is my immediate future and those in my business that is my most urgent concern. In the coming years and decades I can reflect at leisure on the effect of the current swing to the right in global politics; I may even reminisce with friends about these times and the turmoil we seem to be embarking on. But right now I am concentrating on next week. It is a week that begins with the opening of the Olympia Arts and Antiques Fair on Monday 27 June, on Wednesday is the preview of the Masterpiece fair, whilst Thursday sees the finish of Art Antiques London and the viewing of the major summer auction sales at Christie's and Sotheby's. The first week of these is dedicated to the contemporary and modern sales and the second to the decorative arts. Millions - possibly billions - of slightly cheaper pounds' - worth of art are either on show for direct sale or coming under the hammer. London and its position as one of major centres for the trading in art - if not the centre of the global art market - is under threat.
It may be that the current drop in the value of the pound will make our goods more appealing to foreign currency buyers. As I write everything on view is instantly 10% cheaper than it was. But it is the mood, the confidence, that we need to assess. I am exhibiting at Olympia and by the time you read this the first days will probably have passed and we will be getting a bit of a feeling for the way the market will respond. In the old days at Olympia the set-up days were busy with dealers trading with each other - there were 300 of us in those days; I used to vet the fair simply to get access to buy early, before becoming an exhibitor. One year in the 90s, my colleagues - and I - at Mallett spent over £1,000,000 and we weren't nervous - we were thrilled. Over the last few years things have become very different - Mallett has closed all its shops and is trading at fairs only and from the Dreweatt auction house premises near Newbury. There is very little inter-trade dealing and we are now a reduced but still merry band of around 100 exhibitors. Prices have dropped dramatically since 2008 - remember that year? Most dealers now at Olympia sell the majority of what they have below £10,000.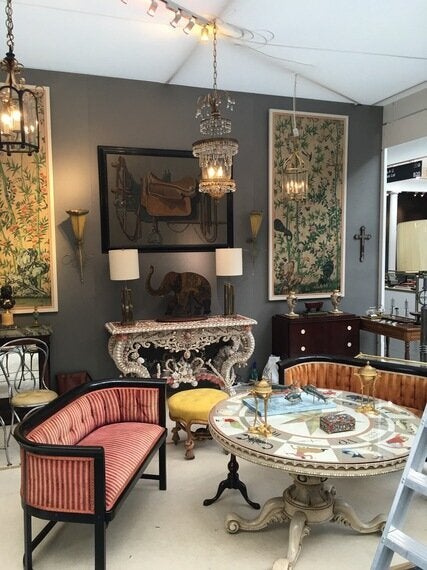 Nearly ready for business at Olympia - but if you build it will they come? (image writer's own)
The goods may be fewer and cheaper but the imagination and fantasy is still very much in evidence. That was always the point of Olympia. You can find great things but mainly you go for fun, surprise and affordable quality - everything is authenticated through vetting. Elsewhere, too, there are great things on offer. - The major salerooms lay on their best decorative arts sales of the year. There the contemporary and modern sales, which are the bedrock of their profitability, are followed at Christie's by Classic week and at Sotheby's by Treasures. So this fortnight is incredibly important. It is a significant barometer but most vitally it is straightforward, bottom-line commerce. If we have a week of flops no one will be very surprised but it may not - it need not -work out that way.
I can recall a time - and this shows how old I am - when I used to buy in francs in France. The exchange rate used to flutter around 10 francs to the pound. At one time the franc strengthened to 8 and suddenly everything in France was fiercely expensive. Whilst it lasted it is true that hotels and meals were pricey but I bought very well indeed. It came down to the dealers - they were keen, they had fresh stock, and they were prepared to deal out of their woes. This is the way forward for us now, I believe. Sellers in the auction rooms and dealers on the exhibition floors have to MAKE business happen. We cannot sit around and wait for the market to pick up. We are entering a sink or swim period and those that swim should thrive.
If I sell nothing over the next week or so I will have every excuse. At the same time, it may simply be that no one wants the things I have. However, if enthusiasm and a willingness to compromise and accommodate the times is required I will be there and ready. The EU vote result is for the majority in London not what we wanted; we live through international trade, and the more border-less it is the better. Last week I sped over to Belgium and came back the same day with a car full of art. I may not be able to do that shortly. I am just one of millions of British citizens and other Europeans who have benefitted from freedom of movement. All this does not matter as we are irrevocably in this situation and we have to make the best of it. Head up, chin high and off we go.