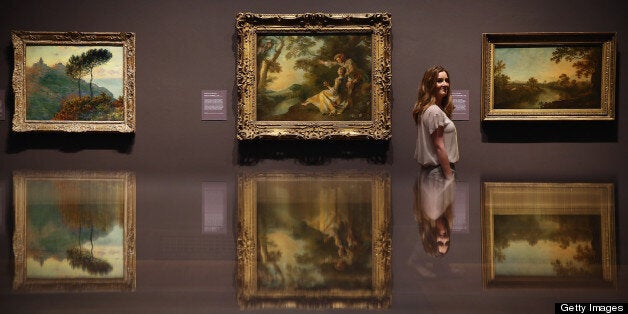 Okay, this is it!. All the waiting is over. The rain has held off, the structure has risen from the ground. The stands are built and the dealers are flooding in.
It is hard to sum up or characterise the team's feelings at this stage. If you can imagine a palpable sense of both exhaustion and anticipation you will get something of a sense of it. As they packed on Friday for the move from the office to the site there was a tingle, a buzz, a frisson, and every word like that, was somehow or somewhere in the air. It is a very exciting time to be here anyway. Christie's and Sotheby's have had and will have sales over the next few weeks, not to mention other auction houses. Furniture, sculpture, silver, Chinese art, every era of fine art - it is all out and on show in London both in the auction rooms and in gallery shows. This is the moment for London; this is the fortnight of intense activity. Even my annual incipient hay-fever seems strangely timely or portentous.
The Stabilo team has been working hard. Janneke and Marianne sit behind their black operations desk fielding exhibitors' changes and additional work. They are both fair-haired. One has frizzy hair whilst the other's is straight. They are an amazing double act. They have brought me and Nicola an orange towel. A Stabilo gift, emblematic of Holland and of the company. We steal them away so that the other exhibitors don't get jealous. The girls are positive, jokey, bubbly even, but they are also ruthlessly efficient and everything gets done and is properly documented. Behind the scenes Dennis, Hans and the other Hans build and perfect the infrastructure and details of the background of the fair. As the Dutch say 'many Hans make light work', or at least they should say that.
In the background trucks rumble through the site and there is a strange sense of calm as everyone gets on with their work. The songs on the Dutch playlist are not quite annoying yet and as Friday arrived the build was well ahead.
At the front my son Inigo and some of his friends are processing and handing out the passes. This is a real-world expression of the time-honoured impression that the young are good with computers. These four boys (men?) are happily taking photographs, even photo-shopping the images to suit the tastes of the incoming exhibitors. It is impressive to watch and not only because it is my precious scion at work.
But the dealers are the real stars. 160 of them all beaver away in the booths to create individual and expressive spaces. Without exception everyone is making an effort. What strikes me as I walk around is how much variation there is and how imaginative people are. It is sort of like a sonnet with its strict 14 lines, no more, no less. Here we have boxes 6-metres deep, with an open front and walls to left and right. Despite this 'plain vanilla' basis no two stands look the same. The fair is the diametrical opposite of the ubiquitous white walls we are so used to from international art fairs. Here we have unalloyed imagination and creativity. Leila Heller from New York has a wonderful terrracotta colour for her walls. It is striking how good contemporary art looks against a strong but well-chosen colour. Elsewhere, Hamiltons has created a brick warehouse and Sperone Westwater from New York has brought fabulous period pieces to place alongside the rigour of his cutting-edge contemporary offering.
I had a typical experience at the fair just now. I was looking at a pair of vases and the dealer was wondering what I thought of them. An hour later and following a walk round the fair we had shown them to half a dozen experts. We had a full picture of what they were and where comparable examples could be examined. I imagine that we plugged into around 150 years of knowledge and visited four countries in our perambulation around the fair. This is the great joy of fairs and the confluence of knowledge and objects that they inspire.
On top of everything else at this stage in the fair everyone is positive and full of optimism. The petty annoyances of setting up their stands pale into insignificance as they dust, buff and fill their stands with light and labels, all the while moving objects, furniture and pictures from one wall to another. Each move is better than the last and each one full of expectation. During the fair most will have some success, some will sell out and perhaps a few will walk away unlucky. In other words, a week from today there will be a mixture of emotions on parade, but today, before the vetting and the preview, the entire structure surges with excitement and positive thoughts. The dealers wander around and admire or discuss each other's goods. Perhaps a few even eye things up for purchase. But the buzz is rising.
The fair is increasingly international and the languages on offer are a global melting pot. All these different voices share discussions of hotel rooms, noisy parties, restaurants discovered or returned to and travel arrangements. We are, for a few brief days, a community. There is no partisanship, no barriers driven by national borders, there is only the wholesome competition of who has the best things and whose taste will most capture the imagination of the forthcoming clients.
We are a group of nearly 1000, including all the sales teams, their carriers and all the support staff. We are together unified in a single purpose: to make Masterpiece a success for one and all. A small army, we have dug in, we have prepared. But this is not warfare, this is love. Everyone here is looking for appreciation, if they achieve that then there is the hope of love and ultimately the perfect end to the romance - the raising of an invoice!
Related