On Tuesday morning I had my first ever job review. I am quite antique and it was rather a strange moment. Once, some years ago, I had my bank account reviewed. I was called into my branch and a young man at least half my age riffled through pages and pages of my bank statements. I sat there in silence waiting for him to speak, eventually he did so. In his view I ate out too often and was wasting too much money. I should be saving more and putting money away in various investments all of which he could help with, for a fee. Gratefully I declined his services. I left the bank fuming at the arrogance and impertinence of his all too sensible advice. As far as reviews go that was it, up until now.
I sat in the arts club in Dover Street pondering my failures and achievements over the past year. When I was young we met the bosses at Christmas, we were summoned to the office library where we were given our pay rises and an occasional bonus for the year. As a garnish there were a few comments of a chiding or encouraging nature and that was it. You were expected to say thank you and accept your offering with deference and respect. Times changed and when I was in charge of Mallett Bourdon House, still many years ago now, we did have reviews but I was never being reviewed myself. This felt very different. It was quite new and refreshing, sort of like writing your own end of term report. "Little Thomas has done well this term but he could work harder on his French" that sort of thing. The review ended and I had to acknowledge that the process was rather therapeutic.
The following day I made an almighty mess up and have bought a client a clock in Spain but not the right one, same maker wrong clock! I flew out to Madrid to try and remedy the situation. The usual early morning rise, the usual tube etc and I am in Madrid. It is really hot there, nearly 40 c. but the city is high up and the air is dry. These two factors combine to make the heat more than bearable, it is delightful. The city is dazzlingly bright and the heat is intense but it feels clean and crisp, a pleasure to be in. I meet my friend and he is on great form too. The clock I should have bought is in fact hugely more expensive so a swap is out. I quickly discover that there is nothing else in the shop to buy so we head off to look at other things. Just off the Gran Via there is a group of dealers and one in particular always has lovely things. They run their business from a stack of apartments. As you ascend the building via the staircase you are ushered into a number of flats, each one has a name on the door outside and is a complete apartment on the inside, however everything is for sale. The building starts with antiques on the ground floor and in a variant of logic you end up on the top floor with contemporary design. Having toured the entire building we are both exhausted and decide that we should have an early lunch. It is now 3pm, so only early for Spain.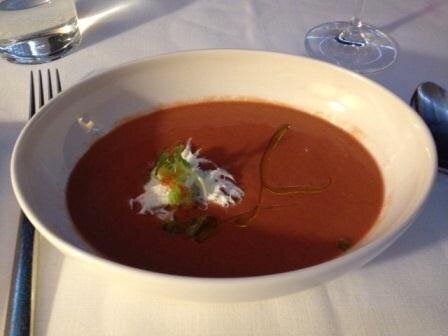 Following a brisk walk we find that our favourite basement dive 'el puchero' is shut for the summer so we stand on a corner and cogitate. With a flash of imagination that is almost palpable Antonio has his eureka moment and suddenly I am chasing after him as he surges forward. A swirl of corners and streets later we pass through a glass door into a serene and cool environment. We are in La Manduca de Azagra in the Calle de Sagasta. With brick lined walls and subtle but not dim lighting; this is a superb place, a real discovery. Family run, this place hums with activity. They find us a table and bring cool water over in a way which is both normal and yet seems particularly caring or solicitous. Menus come and I discover that this place, though not vegetarian, is fascinated with vegetables. Spanish cuisine is famously meaty and so it is rare to find a place that focuses so intently on the growing, preparation and flavour of their produce. Everything they serve, they grow and the freshness is palpable. In a wholly good way you can taste the soil, it is almost akin to the concept of terroir in wine, I don't mean with gritty bits of earth grinding your teeth. I began with gazpacho. This is such a staple of Spanish cuisine, almost a cliche, you would normally not bother to order it but this was a dream of freshness, bursting with intense tomato flavour and enhanced by a generous dollop of sour cream mixed with salt cod. Every mouthful brought fresh pleasure. We ordered beans and celery and they came steamed with oil and salt. Boring, you might say, but not so, these were an essay in subtle but fulfilling flavour. We were also brought fried skinny green chillies that were mild but had a piquancy and bite that had you running back for more. I had, oddly, as a main course a red pepper dish that was peeled red peppers with paprika and chilli. It was again delightfully simple but irresistible. I don't know why this meal was so compelling. Maybe it was because we were hot and bothered; maybe because we were hungry, but maybe, and I prefer this reason, we were presented with passionately prepared traditional Spanish food with a genuinely imaginative and innovative twist.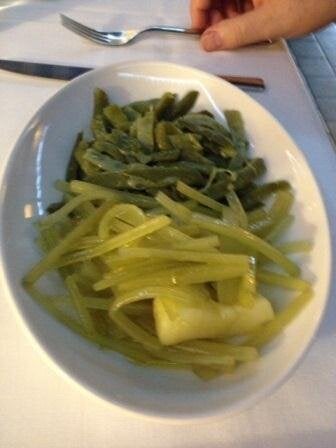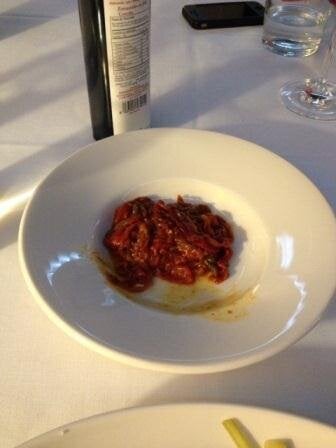 Sadly the rest of the day passed without me resolving the clock crisis. I will just have to confess to my mistake and write off the loss. After my lunch the failure seems all the more bearable.
On Thursday we went to help my friend Louisa. She had sold her house in Primrose Hill and we were saying goodbye to the house. I have been going there since I was a baby, my mother and Louisa were best friends at university. She has been in the house since childhood and therefore every doorway and each step is suffused with memories. It is very hard and painful for her to leave. She is the patron of a fabulous charity that pays for further education for women in parts of the world where women are discouraged from doing so. So, it is classically Louisa to leave her house by hosting a 'bring and buy' sale for the charity. The garden is full of generous people and we raise enough money to educate a girl for two years. It is a fitting and optimistic farewell.