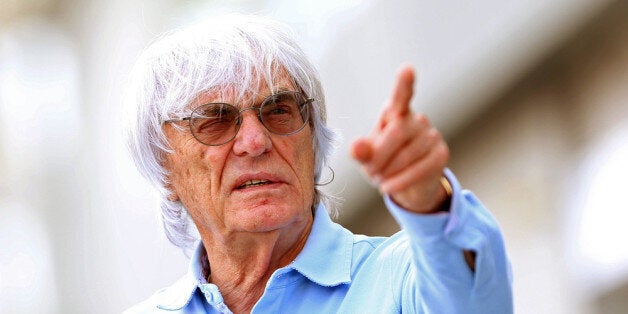 The upcoming Formula One season has been one of interest for a couple of years as the biggest raft of technical changes in F1 hits the sport this year with the hope that it will mix up the grid after three years of utter domination by Mercedes.
However, one week into the new year and we have one team (Manor GP) announce it has gone into administration; the owners of Silverstone, BRDC (British Racing Drivers Club) say it can no longer afford to run the British Grand Prix; and with news that Channel 4 have regained live coverage of the Monaco GP, it reminds us that after the 2018 season the only way to watch F1 in the UK will be via Sky.
Mid-way through 2016, the American media company Liberty Media announced its intent to buy a majority share in the commercial rights of Formula 1 to the tune of $8billion. All going well, the acquisition is due to close within the second quarter of 2017. At a time when the current commercial arrangement is headed by Bernie Ecclestone, 86, a man who has turned F1 into a multi-billion dollar industry, this acquisition could (we hope) spell time on Bernie's reign on the commercial activities of the sport.
Every F1 fan feels it has been left wanting for a number of years now. Too much control is given to the big players, at the sacrifice of the sport itself. No surprise that money is driving the factor of those who control it, but without an audience the product becomes worthless. It is fundamentally wrong that it takes upwards of £330million for a team to put two race-winning cars on a grid each year.
As evidenced by Autosport last week the profit/loss of each team is minimal. Only Red Bull Racing and Williams made a profit on their annual F1 investment. Every other team broke even.
F1 makes annual revenues of around £1.39billion per year. Of that, the top 10 teams in the sport share approximately half, at around £680m, although it is not an even split. Ferrari for example gets a bonus of £80m per year just for showing up! The remaining £710million goes to F1's shareholders, oh and Bernie Ecclestone of course.
It pains me every year when I read reports of teams struggling to survive or circuits unable to afford to run a grand prix. Lets take the latter one here. Silverstone puts on an excellent show for F1 fans each year. Four days of activity both on and off track attracting partisan crowds enjoying everything there is about F1. The drivers love the circuit and the atmosphere and not forgetting that 8 of the 11 teams (including Manor) have operations in the UK too. Yet Bernie Ecclestone insists that for every year a race is run at a circuit, the fees for being on the F1 calendar increase 10% year-on-year. TEN PERCENT! The BRDC, who own Silverstone, run events through the whole year just to provide enough income to pay these extortionate fees. We hear the same stories at Monza, Circuit of the Americas, Interlagos and at Hockenheim.
If Liberty Media want to make an impact in how F1 is run from a commercial side, they need to focus on what matters most: the people watching and paying for it. There are a few quick wins here that they must do to repel the smell of Bernie's archaic way of doing business.
The fee for a circuit to host a round of the F1 World Championship should be nothing. Zero. Not a single penny.
The FIA or an independent body decides which circuits around the world are eligible and meet certain criteria, to then be invited to be part of Formula One for that season. Criteria such as historical significance, cost, accessibility, overall experience (concerts, shops, amenities, driver signings, talks) could all be considered here. This would have repercussions across the financial model, but allow circuits to invest in creating great places for cars to be shown off - and a worldwide competition for creating the best venue. With zero fee, the calendar could look very different every year.
Provide an annual televised subscription service (over the internet) direct to F1.
F1 claims it has 400 million unique viewers, which puts it as the worlds third most watched sporting event after the Football World Cup and the Olympics. Lets assume 10% of that 400m are devoted F1 fans, resulting in 40m people around the world who will get up at 4am local time to watch a race. Now...lets take 10% of that 40m who would consider paying for a subscription service to watch F1 each weekend, advert-free. That leaves 4 million people worldwide - just 1% of the 400m global audience.
Let's say Liberty Media charged the price of a grandstand seat to access this subscription service at £300 per year. To watch F1 on Sky, it costs £600 per year (Sky Sports and Sky Original Bundle). 4 million devoted fans at £300 each = £1.2bn direct to the coffers at Liberty Media. I am no financial expert but this seems too obvious...
You can still have TV companies providing further access to the sport and broadcasting deals in place for the casual viewer, so that final figure could be considerably higher.
Divide the revenues generated more evenly.
If a team is in Formula 1, then they should get a cut of the revenues that ensures their continued survival in the sport. Giving Ferrari £80m just for showing up does no one any favours. Manor GP are unlikely to be in F1 in 2017 - they employ 212 people in their company and all are likely to lose their jobs. The money exists in F1 to save them, but no one is calling them.
I doubt any of these will come to fruition but we, F1 fans, hope for a new era in this sport with new owners specialised in digital media and a modern way of doing business. Bernie's era of doing deals by a handshake at the back of a garage has long gone - the sport needs to move with the times to take its appeal to a new generation.