Twenty-five years ago I began watching Formula One and 2016 also marks the 20th anniversary of my childhood hero Damon Hill winning the world title. I will always be a fan of F1 but even though my current favourite driver, Lewis Hamilton, is dominating the sport I find myself waning in interest of the only sport I truly follow with a passion.
I sat down this weekend to watch the 1996 F1 season review. Damon Hill in a Williams-Renault, Jacques Villeneuve his teammate with other legendary names across the grid: Michael Schumacher, Mika Hakkinen, David Coulthard, Jean Alesi, Gerhard Berger, Rubens Barrichello, Eddie Irvine and Martin Brundle.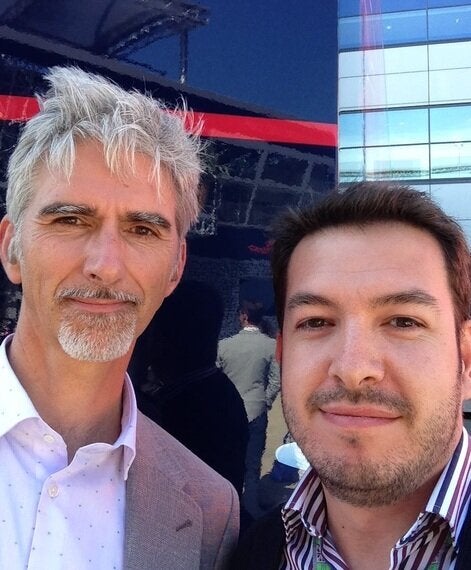 An opportune moment meeting Damon Hill in 2013
The instant you watch any footage of F1 from that era, I don't know whether it was the fashions, the non-HD film, but there was a rawness to the sport. Everything is far too polished today and too damned reliable. In the 1990's cars were made to last 200 miles (the length of a Grand Prix). You knew that every aspect of the car was at the edge of technology at that time. Today, gear boxes and engines are expected to last five times that.
Why is this a problem? Back then there was a good chance that a lower placed team could score the odd point or even win a race at the expense of the front-runners having a bad day. Olivier Panis in a Ligier won in Monaco in 1996 in a race with only four classified finishers. In modern F1, the last time a surprise result came up was probably in 2008 when Sebastian Vettel won in a Toro-Rosso at a very wet Monza.
F1 today is so reliable that seeing a car not finish a race due to a technical reason has become rare.
As for the drivers, they are rich playboys - always have been and quite frankly I hope they always are. Although I hope to see many female drivers in the sport in the coming years too - Bernie, keep your male chauvinistic views to yourself. But drivers should be arrogant, egotistical and show emotion. What do we get instead? Muffled scripted comments where if a driver says anything against the brand of the company they drive for its seen as a bad thing. Before the mid-2000's we didn't have social media so in many ways drivers could get a way with far more than they are scrutinised for today.
I wonder how a man who once boasted about bedding 5000 women would be perceived in sport today? (Tiger Woods could be an example here). Well, that is what 1976 World Champion James Hunt claimed. I also wonder how Alain Prost and Ayrton Senna would have faired on social media in their McLaren years when they consecutively took each other out to win championship titles.
At the recent Autosport Awards 2015, 1980 World Champion Alan Jones commented on his view of drivers in F1 today. In his words, "they are all too precious. In my day we weren't sent to the steward's room to be penalised - we sorted it out on track". I could not agree more.
If there are two words that people within F1 use more than any other when talking about the future of the sport, they are: "The Show". People ask me what I would do to change F1...well, here are some things I would do:
Scrap all team launches. The week before the first pre-season test hold an event at a world arena where each team and their drivers launch their cars in turn, in front of fans and sponsors and a fully televised event. Make it fully interactive and allow fans to get up close.
If anyone has been bored enough to watch the race weekend press conferences, you will see six drivers struggling to stay awake from the boring questions posed at them by James Allen. Remove the press, and bring in fans to ask questions. Also have a conference with all 22 drivers and not six.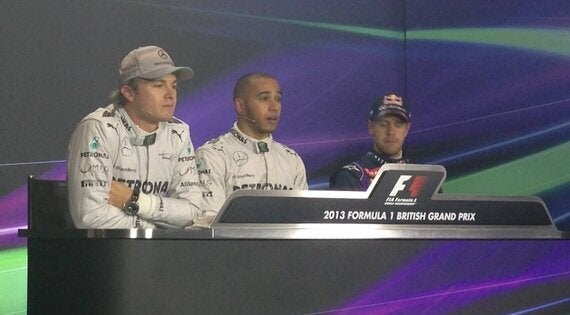 Limited personnel on pitstops
A good pitstop takes about two seconds and never affects the outcome of a race. Reduce the number of personnel to one person on each tyre. Pitstops will be much longer and more open for variances in outcome.
Make cars run nose-to-tail
The Drag Reduction System (DRS) was brought in so a car can get closer to the car in front and encourage overtaking. It is still seen by many as a gimmick and I agree. Lets just implement a design that allows a car to run nose-to-tail.
Drivers relay far too much on technology in the car and advice from the pit wall. I would ban the use of a pit-to-car radio. The driver is on his own until that chequered flag - maybe for interest allow the teammates to talk to each other instead?
Give all the drivers the same amount of starting fuel and a fuel gauge in their car - they and they alone decide when to push and when to conserve fuel. This is what a computer game player must do in the F1 2015 console game - its harder than real life!
Most tracks today do not have gravel traps - if a driver goes off the racing track they will most likely find themselves on more tarmac. Eau Rouge at Spa-Francorchamps was a far greater challenge in the 90s than it is today - just as the final corner at Monza, the Curva Parabolica has become a sanitised version of yesteryear.
Make F1 social media savvy
F1 has struggled to catch up to current social trends. It was one of the last sports to switch to High Definition, the official website is cumbersome at best (even following a redesign last year), the F1 app didn't work for most of last season, and if you ever try to upload a video filmed using your smartphone of an F1 race - it will be removed by Formula One Management over copyright. Wake up guys, it is 2016 and having such control is only stifling its popularity.
Finally, F1 is set to embark on a record breaking 21-races in 2016. Personally I think that is too many and it detracts from the value of what makes a Grand prix so special. F1 drivers are talented athletes at the top of their game. Last year Nico Hulkenberg, Force India F1 driver managed to compete and win the Le Mans 24 Hours during the F1 season. In 2016, an F1 race has been scheduled to coincide with the Le Mans meaning Hulkenberg cannot defend that title. The big motorsport events across all categories should be allowed to stand alone through the calendar year.
It costs over £200million per season to put two race winning cars on an F1 grid. It is a ridiculous sum of money but that is what F1 has become. I wonder what will happen in the inevitable post-Bernie era, but there is never a quick fix and I'd like to see the focus switch back to focusing purely on the racing - the F1 community should stop trying to attract the non-fan to F1. It has a healthy audience, can it just try to maintain that audience's interest first?
Related