We live, my friends, in dark times. Government cuts hit hard, while those in charge seem unable to portray themselves as anything other than pocket-lining toffs or painfully old-fashioned dullards. Her Majesty's Opposition is presided over by a well-meaning scruff who seems perpetually at risk from being ice-picked by his jealous parliamentary colleagues. Industrial strikes abound, wars of various sorts rage away in the Middle East, nationalist parties gain popularity, and to top all the fun, a sparklingly intelligent Democratic US president is on the verge of being replaced by an over-coiffured, dangerous Republican thicko. Hey, wait a minute. Haven't we been here before? About... ooh... 36 years ago?
It's true. 2016 is beginning to look amazingly like 1980. Are we, then, about to embark on a new 80s? Survivors have wildly contrasting views of that decade, but if there's a generally accepted rule, it's this: if you had money, you had a whale of a time. If you didn't, you didn't. This generated what sociologists sometimes call a "crunchy" atmosphere, with its serendipitous by-product: some brilliant, politically-charged pop music.
Think of it. The thriving post-punk drive of Crass and The Specials, the compelling, sophisticated leftism of The Jam and the Style Council, the spirited solo blast of Billy Bragg, the widescreen passion of U2 and Simple Minds, the anti-apartheid flag-waving of Peter Gabriel, the sharp, cut-the-crap synth bulletin-boards of Heaven 17 and New Order, the Clause 28-bashing romanticism of Erasure and The Communards. Benefit concerts (Anti-Nazi League, CND, gay rights, Live Aid) abounded. And, maybe the greatest cultural gift Maggie Thatcher ever gave to the world (aside from perhaps Spitting Image): The Smiths. Although I struggle to think of any blatantly political Smiths songs, their whole vibe, and accompanying interviews, were thoroughly, and sometimes aggressively, anti-establishment.
So, tortured-artist theory and all that, I don't think I'm being unduly optimistic to expect some new bands in 2016 to start wearing their political colours a little more flagrantly. Political rock comes in two flavours. The first I'll call politically driven: the raison d'être for the entire enterprise being to comment on social issues and loudly complain about stuff. Correct me if I'm wrong, but there isn't a whole lot of this about at the moment; the best example I've encountered is Leicester's Grace Petrie, whose Frank Turner-esque socialist anthems are deservedly packing clubs and Labour rallies all over the place. The second, and a subtle differentiation, is politically charged, where the lyrical focus is smaller-scale, but the anger and frustration with the bigger picture boil beneath the surface. To this latter category we can confidently add She Drew The Gun, poised to release their debut album, Memories Of The Future, on The Coral's indie label Skeleton Key. We of the Fink clan know the band well as they accompanied us on our most recent hike around Europe, but there are rapidly dwindling reasons why the rest of the planet shouldn't know them, now, too.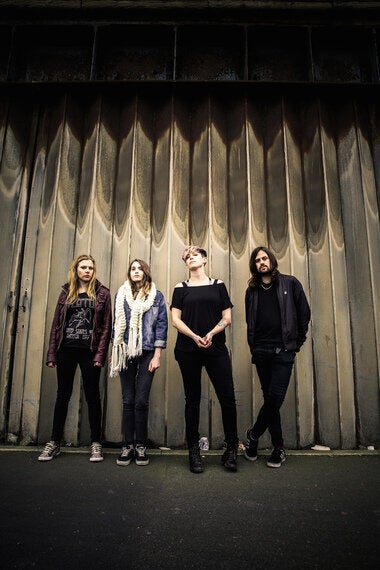 She Drew The Gun. Pic by Keith Ainsworth
The band's songwriter and singer Louisa Roach is the sort of poet you don't come across very often, specialising in a dreamlike, road-less-travelled approach to storytelling, slotting in perfectly with the Kurt Vonnegut-inspired album title. Take, for example, the record's third track If You Could See. Rather than writing a simple stream of complaints and angry observations, Roach has composed what she calls a "sci-fi protest song" in which a frustrated protagonist - "choking on headlines" - manages to strike up an exchange with a future being, from whose vantage point things are looking decidedly grim. "If I could show you my view," warns future-person, "you would pick up the fight now." "They're sending a message," says Roach, "that we've got to stop enjoying ourselves the whole time and try to change things, or it'll be too late." Indeed. Frivolity in the face of impending doom is also explored in current single Poem, depicting - among other things - a homeless person being removed from a city's tourist district: "It's not enough to just pretend you don't see him / you can't stand the sight so you have to disappear him / well I hope you feel more comfortable doing your sightseeing / taking pictures, buying fucking Union Jack magnets and keyrings". Listening to She Drew The Gun is an exercise in having your darkest social rages voiced accurately and eloquently.
But if you presume these sonnets of fury will be set to a similarly furious noise, that's where She Drew The Gun's second surprise hits. The band - Roach and Jack Turner providing the various guitars, Siân Monaghan on drums and Jenni Kickhefer on keys - create a quietly buzzing, cinematic pop, owing more to Portishead, Cocteau Twins and the quieter end of Radiohead than it does to the Clashes and Pistols of this world. It helps, of course, when your singer possesses as expressively soulful and listenable a voice as Roach does. None of which must have harmed the band's chances in the Glastonbury Emerging Talent competition, which they recently won after a nail-biting slot in the Pilton local boozer in front of Michael Eavis and chums.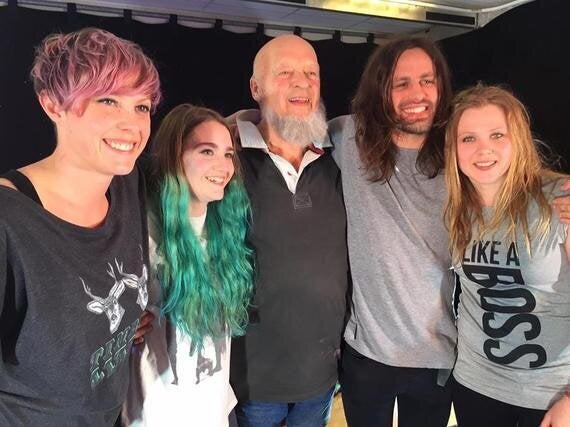 The band with some bearded dude.
"He [Eavis] said he knew we'd win as soon as he saw us," Roach laughs, still in state of mild disbelief. "He came up to us straight after we played, and we told him we'd already bought a ticket for Glastonbury... he said, 'well, you needn't have done that'!" They'll now be walking in the shoes of previous winners The Subways and Stornoway with a set on one of the main stages, expected to be the John Peel Stage on the Sunday. Perfect.
But back to the album. Pit Pony: a vicious attack on the culture of greed set to a bracing Teutonic beat. Since You Were Not Mine: a frustration-sated, Motown-infused list of the mundane events that have occurred since the departure of a lover (a reversal of the lyrical theme of ABBA's The Day Before You Came, in effect). A perfectly-timed, yearning ballad (Pebbles), a gloriously subtle and quietly barbed pop song (Chains), a spaced-out bluesy number (Be Mine) and - most remarkably - a rant from the sober self directed at the drunk one ("that's the last time you're making a fool of me / I'm not gonna let you back in) entitled Where I End And You Begin.
Having a precociously perfect grasp of the pop song's symmetry and a lyrical slant that mixes venom, politics, romance and playfulness, and being from Liverpool, it won't come as a huge shock to learn that they're Lennon fans. "He's the perfect model of a songwriter for me," Louisa says. "Not every song was political, but when he did one it was always spot on. He wrote about every side of life - he could write a love song just as easy as when he was trying to get a message across, like Instant Karma or God, or even feminist anthems like Woman Is The Nigger Of The World."
But whatever the topic, the band also seem to share Lennon's sense - at least where his songwriting was concerned - of balance, place, and justice. A track like Poem, lauded a couple of weeks ago on Steve Lamacq's BBC 6 Music review section Roundtable, voices a clutch of questions only a money-grabbing arse would dismiss: "Can I suggest you're seeing exactly what they want you to see? / a monster, a cancer, a threat to your liberty" and "Is profit the sole aim of humanity?" - concluding sadly that "we're working for a market that doesn't work for we".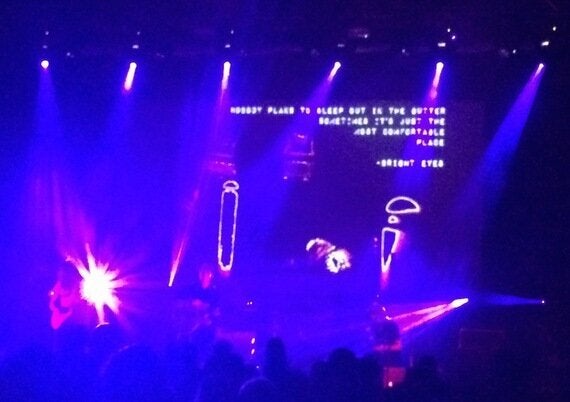 She Drew The Gun live, somewhere in Austria. I took this photo which is why it's so good
If all this sounds a tad po-faced, the good news is that She Drew The Gun are a real band and a complete laugh to hang out with, and this somehow also manages to come across in the music. Live, their sound is accompanied by thought-provoking visuals designed by Roach herself, and as earnest as some of her lyrics might be, she still sounds like someone you could sit down and have a pint with. Or several, as we discovered on the tour, where she and the team embarked on such prodigious boozing they earned the nickname She Drank The Rider (not our finest piece of wit, but hey, it was a long tour). For us, it's a total delight to see them being excited recipients of the fabled "music industry buzz", which I can't imagine calming down anytime soon. "There's a momentum now - a spark," says guitarist/bassist Jack Turner of their progress. "But you still get the fear that only 10 people are gonna show up at the gigs."
One thing's for damn sure: they'll be 10 very happy people.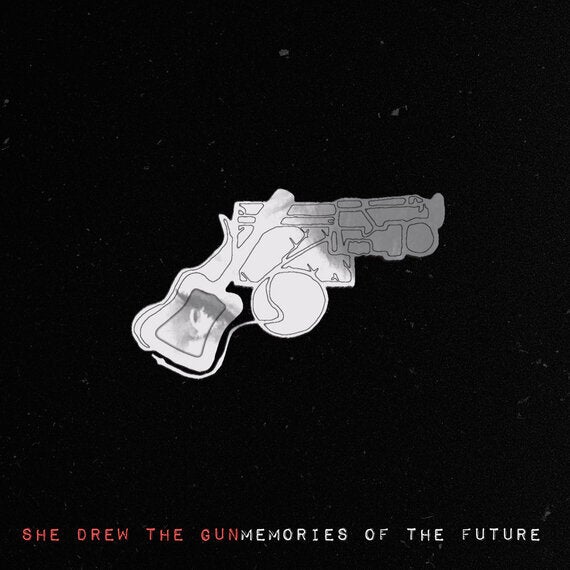 Related