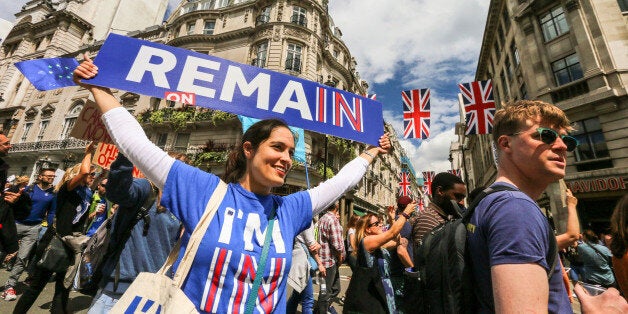 2016. For many of us it was a year when the unthinkable became a reality. A year where - not once but twice - we woke from our slumber to find the world we knew was about to change beyond all recognition. In June, Britain went to the ballot box and, by a narrow margin, voted in favour of leaving the European Union. And in October, months of a bitterly fought presidential campaign finally came to an end when a giant Wotsit in a wig was confirmed president-elect of the United States. Who could have predicted, as the CIA have now confirmed, that Russia would have attempted to rig the US presidential election in Trump's favour, and that a right-wing demagogue and former host of a reality TV show, who ''grabs pussy'' and refers to Mexicans as criminals and rapists, would become leader of the Free World? Or that Britain would risk economic prosperity, freedom of movement and its reputation as a forward-thinking, inclusive nation that celebrates cultural diversity for a xenophobic vision espoused by the likes of Nigel Farage and Michael Gove?
As we witnessed images, from the comfort of our own homes, of Trump mimicking a disabled journalist, or scenes of horrific war crimes committed in Aleppo, Syria, it was easy to think that the world had gone mad and was going to hell in a hand-basket. Especially when you consider that 2016 gave us an unrelenting series of terror attacks across the globe and concepts such as 'post-truth' politics and 'fake news'. It was also the year that sadly saw the likes of gender-bending artistic visionaries such as David Bowie and Prince, as well as iconic Dead or Alive singer Pete Burns, and performer Alexis Arquette, shuffle off this mortal coil.
But despite the seismic political events that shook the world, 2016 was not all doom and gloom. We may have got Brexit, swiftly followed in some quarters by 'Regrexit' but London pulled it off by voting for Labour's progressive candidate Sadiq Khan, the first Muslim mayor of any Western capital city. Khan has already proved himself as a unifying figure for London's varied and diverse communities including the LGBT+ community. Amongst other things, he has taken a zero tolerance approach to hate crime, appointed Amy Lamé, broadcaster and queer performer, as London's first Night Czar and has promised to invest thousands to save LGBT venues.
2016 also saw same sex marriage become legal in Greenland, Columbia and one of the last legal bastions of homophobia in the UK - The Isle of Man. In the autumn of 2016 Northern Ireland lifted its ban on gay men donating blood, and gay sex was decriminalised in Belize and the Seychelles. 2016 was also the year that, for the first time, a British heir to the throne agreed to be photographed for a gay magazine. In April Prince William appeared on the cover of the UK's best-selling magazine, Attitude, and, in a comprehensive interview for the magazine, spoke out against homophobic bullying. There was also a rainbow-coloured victory of sorts when born-again Christian bakers, Daniel and Amy McArthur, lost their court case appeal in County Antrim, Northern Ireland, and the Bishop of Grantham become the first Anglican priest to declare that he is in a gay relationship.
But on June 12th of this year a massacre took place in Orlando, Florida, that shook the LGBT community worldwide. Omar Mateen, a 29-year-old security guard, who had previously sworn allegiance to ISIS, killed 49 people and wounded 53 others inside 'Pulse', a gay nightclub in Orlando, Florida. It was a terrorist attack and hate crime against the LGBT+ community and the deadliest incident of violence against LGBT people in American history. In a show of solidarity against such hatred, vigils were held in many major Western capital cities including London. As crowds gathered outside the Admiral Duncan pub in Soho, the heart of London's gay community, many will have sadly remembered the nail bomb attack perpetrated by a British neo-Nazi eighteen years earlier.
The massacre in Orlando was the most extreme example of hatred against the LGBT+ community in 2016 but unfortunately a massive spike in racist and homophobic hate crime was recorded in the wake of both Brexit and Trump's presidential victory. And of course, just a week prior to the EU referendum, Jo Cox, Labour MP for Batley and Spen, was brutally murdered by a British Neo-Nazi shortly before she was due to hold a constituency surgery. The toxicity surrounding the EU referendum seems to have given credence to a xenophobic, racist and homophobic undercurrent in British society and the political fall-out has left it more divided than ever.
Artistic and creative achievements in 2016 are too numerous to mention but highlights for me include Putting Words In Your Mouth by award-winning artist Scottee. Performed at The Roundhouse in Camden, it's a verbatim piece of theatre that explores notions of belonging, identity, and the legacy of Thatcherism. Matthew Todd's book, Straight Jacket, which explores how homophobia and 'gay shame' has impacted on the mental and emotional health of many in the LGBT+ community, also surely deserves to be up there. As does the French film Theo and Hugo.
Perhaps many of us will be glad to see the back of 2016. But it's important to differentiate between national/international events and the events in our own individual lives, many of which, hopefully, will be positive. And, as we move into 2017, we should never lose sight of the fact that each of us can and does make a difference. Although with Donald Trump moving into the White House, the possibility that Marine Le Pen will become president of France, and Britain's future looking increasingly precarious, it goes without saying that it also pays to be ever-vigilant.
Related