The recent party conferences were an opportunity to debate a host of issues, but one that underlay the many calls to 'build a better future' was the need to address the UK's productivity challenge. This is all the more important as we build the strong economic foundations needed post-Brexit which will provide security and stability for the UK.
But what is the challenge? It's certainly not about working harder and longer for the same (or less), at a time when real wage growth is under pressure. Indeed, the government's approach recognises this: its Industrial Strategy is rooted in the objective of raising productivity growth. This, in turn, is key to achieving rising living standards: by producing more value per person or per hour, higher wages can be earned. This also means producing the high quality products and services that consumers want to buy, whether in the UK or in our export markets, so that we pay our way in the world.
As we set out in our submission to the government's Industrial Strategy consultation, recent productivity performance has indeed been disappointing. There has been a clear slowdown in productivity growth since the financial crisis, although it's worth noting that, apart from the period around the global financial crisis (2008-2010), UK productivity growth has actually performed reasonably well relative to other major advanced economies (see Figure).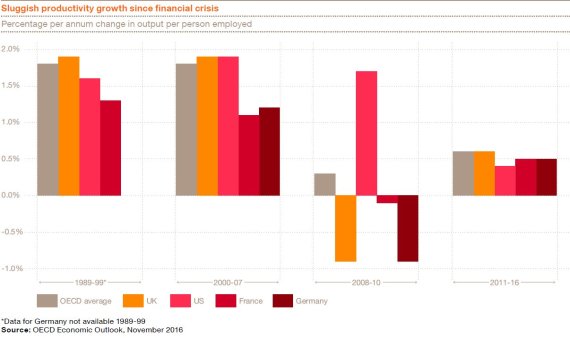 So how can the slowdown in productivity growth be countered? To address this, we need to understand the drivers of productivity growth. These can be clustered into four elements. The first is the importance of education and training in raising the skills of the workforce and the ability of workers to contribute to the development of high value-added and high-growth sectors in manufacturing and services.
A second key element is the quality of the infrastructure available to businesses which want to grow and develop, particularly transport infrastructure, but also housing, broadband and access to competitive sources of energy.
The third element is having government policies which support investment, innovation and business growth including the impact of taxation, business regulation and access to overseas markets. This includes investing in technology and the digital revolution to deliver more, or better, for less. With limited funds, government needs to focus its investment on where UK plc is most likely to succeed, and be famous for its products and services, in a very fast moving world.
Finally, to achieve its full potential, an economy needs to harness the contribution of all regions and all sectors. As we set out in the Demos-PwC Good Growth for Cities Index, local public agencies, collaborating with LEPs, the private sector and higher education, have a key role to embed an inclusive place based approach to growth.
This means shaping visions and identities for places supported by local industrial strategies spanning skills, infrastructure, innovation and business growth. In a post-EU landscape it also includes cities stepping up and proactively going abroad on a city-to-city basis to find investment, develop trading links and promoting exports. In addition, it means building the case to secure additional fiscal powers as part of a re-booted devolution deals process.
It's also not just a challenge for the private sector. There is also a contribution that the public sector itself can make. Still accounting for a sixth (16.9%) of UK employees, an increase in public sector productivity would make an important contribution. In recent years there does seem to have been an uptick, with total public service productivity increasing by 2.3% between 2010 and 2014 (according to the latest ONS release).
But there's more that can be done, driven not just by cutting costs but by transforming the public sector through new operating models and, as we set out in our work on Productivity in the Public Sector:
Redesigning jobs for high productivity working, particularly against the background of the rise of Gov.Tech, Artificial Intelligence and robotics.
Tailoring learning and development to accelerate the creation of an adaptable public sector workforce, ready to meet the challenges of the future.
Aligning pay and rewards to incentivise and sustain productivity improvement.
There is no silver bullet to improving productivity, in the public or private sectors, but a focus on designing good jobs which engage staff is a good place from which to start.