Here at PhysioRoom.com we've gone a bit football trippy. After all, the World Cup only comes around once every four years and it's not like there is EVER enough football going on the rest of the time, is it?
Sarcasm aside, we've bashed our bad haircuts together and taken a look at the World Cup from an altogether different angle. As naturally born pessimists we have instead taken a look at all those poor sods who won't be going to the finals in Brazil. We'd feel sorry for them if they weren't essentially being paid to sit down for the next few months. Such a hard life.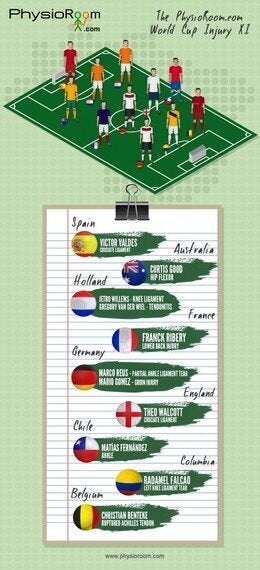 GK - Victor Valdes - Spain
The former Barcelona goalkeeper suffered ACL ligament damage during a March game against Celta Vigo which will see the 32-year old missing from Spain's World Cup in Brasil. Though unlikely to hinder the Spaniard's search for a new club, with a reported pre-contract signed with AS Monaco, Valdes' long term replacement for the national team is likely to be Manchester United's David de Gea.
DF - Curtis Good - Australia
Newcastle Utd defender Curtis Good's World Cup was also over before it even began having damaged a hip flexor during a his Socceroos debut against Ecuador on 5 March. The 21-year old is set to receive surgery in the coming weeks.[1]
DF- Jetro Willems - Holland
The PSV Eindhoven left back miss the Dutch campaign following a knee injury that is set to cast the 20-year old out for several months. Having suffered a knee ligament injury in April, Willems old is looking at returning to full training in time for the preseason but is a definite no-go for the Brasil.[2]
DF - Gregory van der Wiel - Holland
Louis van Gaal, seems to be playing it safe by leaving the 26-year old right back out the Dutch national side. The PSG player, who has been suffering with tendonitis in recent weeks will be a noticeable loss for a side plagued by injuries.[4]
MF - Franck Ribery - France
Franck Ribery's long time addiction to career defining injuries has taken yet another swipe at his international career as the Bayern Munich player, 31, suffered a lower back injury during Les Bleus team training. The Frenchman, often touted as simply one of the finest players in recent times, has had more than his fair share of injuries in recent years with the most recent being a chronic condition which has reoccurred over a number of weeks. In his wake however opportunities arise for youngsters such as Schneiderlin or Cabella who have been called into Didier Deschamps' national side for Brazil.
MF - Marco Reus - Germany
The German national side have taken a beating in the injury department as yet another key player finds themselves out of the finals in Brazil. The Borussia Dortmund midfielder, 25, sustained a partial ligament tear in the ankle during his side's 6-1 stomping of Armenia in the pre-tournament build up. With the tournament only just underway, head coach Joachim Low has already seen top players such as Lars Bender removed from his side in Brazil.
MF - Theo Walcott - England
Having ruptured an anterior cruciate ligament in January, Walcott is set to miss yet another world cup having been controversially left out of Fabio Capello's 2010 side and not playing in Sven Goran Eriksson's 2006 squad in which he named. Having reportedly been approached by some of the finest surgeons in the world, the 25-year old had the chance to make the World Cup finals in Brazil. The Arsenal player however opted for the safe, longer recovery route to maximise the injury healing process and ensure a risk free recovery in time for next seasons Premier League.[5]
MF- Matías Fernández - Chile
Having learned that his niggling ankle injury was actually more like torn ligaments, the former South American Player of the Year has opted for surgery and rehabilitation rather than taking his rightful place in the Chilean national side. A key player in the heart of the midfield, Fernández was set to make waves in the opening game against Australia, a distraction that the Socceroos will most likely be thankful to get to live without.[8]
ST - Radamel Falcao - Columbia
After a 16-year wait for World Cup football the Columbian's could have been forgiven for optimism in Brazil. In their own hemisphere and with one of the worlds star strikers at the helm of their ship, Jose Pekerman's side were set to make waves this year. The 28-year old, who tore left knee ligaments back in January, was expected to make a come back in time for the finals in Brazil but the side have recently announced that El Tigre will in fact, not be taking part.
ST - Mario Gomez - Germany
Another heavy loss for the German side, the Fiorentina striker has missed much of the season with repeated knee injuries. Having scored 25 games in his 59 capps, the former Bayern Munich star will be badly missed in Brasil but in his wake Miroslav Klose will likely be given a chance to equal Ronaldo's all time World Cup record of 15.
ST - Christian Benteke - Belgium
23-year old Benteke is known as one of the most formidable strikers in the Premier League. Though the Aston Villa star has had somewhat of a shaky season riddled with injury and a lack of goals, his presence in Brazil will be sorely missed by the Belgian side. Having ruptured an Achilles tendon in April, the player was ruled out for six months meaning he will sadly miss all of this years finals.
ST - Luis Suarez - Uruguay: The ever controversial Liverpool forward has sent ripples of excitement through the Barclays Premier League this season with 31 games in 33 appearances. Uruguay's ace in the hole is counted as such a fundamental part of the South American side that following his injury in the final game of the Barclays Premier League against Newcastle, Uruguay fans took to social media with death threats.[9] Seriously, he's that popular. Though likely to be named in the squad next week, the 27-year old, who has recently had keyhole surgery on the injury will most likely not feature in England's clash with the South Americans on June 15th.
MF - Riccardo Montolivo - Italy: The Italian side lost one of its key anchormen in a recent game against Ireland, a game that resulted in a 0-0 draw and a fractured shin bone. Riccardo Montolivo, Captain of A.C Milan will of course miss all of the tournament in Brazil with the injury and is expected to return to the Serie A club in time for the start of the season.
The PhysioRoom.com World Cup Injury XI was compiled using our awesome new World Cup Injury Table. Our injury expert Ben Dinnery, made famous by his Barclay's Premier League Injury Table, will be on hand to deliver all of the injury news over the course of the proceedings in Brazil and regularly updates the PhysioRoom.com Twitter account with instant football injury news!