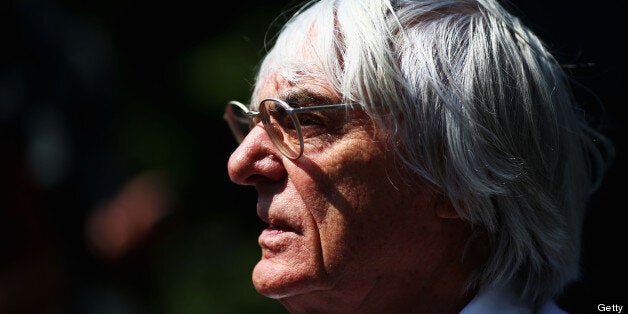 German authorities formally charged Formula One boss Bernie Ecclestone last week for Bribery related to the sale of F1's interest and it raises the question as to who would put an 82-year-old man in prison--apparently the Germans would.
Ecclestone's guilt or innocence is not for debate until a formal court procedure has taken place but it does reveal the pink elephant in the room--who would take Ecclestone's place if he were found guilty and not able to continue in his role as F1's supremo?
Names have been thrown about like fish food at a cod farm and yet none of them really fit the complete role that Eccelstone has held for decades. Formula 1 fans tend to seek for current F1 series names such as Christian Horner or even legacy members of the F1 community such as Flavio Briatore but in the end, current commercial rights holder, CVC Capital, will make the call and they suggested to Christian Sylt that the name most likely won't come from within Formula One:
"The business is too small to have a successor lurking in the ranks. The successor almost certainly has to come from externally,"
Of the names presented as a potential, Sainsbury's chief executive Justin King and former Marks & Spencer boss Sir Stuart Rose have both been mentioned as potential outside possibilities. Is it crucial to have an intimate knowledge of Formula One to be an effective leader of the series? The politics of dealing with teams, the FIA and drivers as well as sponsors and circuit owners and promoters is no easy chore and it takes a man like Ecclestone to keep all those plates spinning.
Could Christian Horner be a worthy replacement and if so, would CVC Capital entertain such a move? Time will tell but as of now, it looks as if CVC is searching for a long-term solution across multiple business industries to find the right person.
Ecclestone has been accused of paying Gerhard Gribkowsky a bribe to undervalue the shares of Formula 1 back in 2006. Gribkowsky was working for BayernLB at the time and the bank had acquired the ownership after German media giant Kirch fell.
Gribkowsky has indicated that Ecclestone had paid him $40 million to usher the deal through and keep the price low allowing private equity firm, CVC Capital, to acquire the commercial rights to Formula One.
Ecclestone has maintained his innocence and suggested that Gribkowsky was, in fact, blackmailing him by threatening to tell UK tax authorities about his Bambino Trust and some improprieties concerning its activities.
Ecclestone says he is clean but the cost to defend the accusations would have been enormous and he decided to pay Gribkowsky the money to prevent the situation. The formal charges were proffered to Eccelstone's lawyers who feel that Gribkowsky's words won't hold up in court.