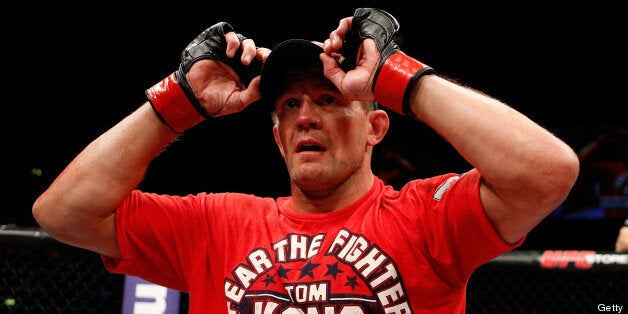 So... here we are again, just over a week until fight night, and I have to admit the nerves are sneaking in a little early.
It's good news though, I tell myself, and I always perform best under pressure!
Through my mind runs the age-old question - have I done enough?
Have I trained sensibly and focused on the correct areas? Is there any more I could have I done?
I know in my mind the answers to these questions, that I am well prepared and that mentally and physically I am in the best place to do what I know will be required of me in Brazil.
I have done all I could have done to this point, with ample training sessions over the last ten weeks in the run up to UFC 163, I genuinely believe any more would have been merely superfluous.
My weight is, as always, on point. If anything I'm a little lighter than normal. I have around twenty pounds to shed between now and next Friday, when the official fight weigh-ins take place, and this does not concern me. I am sure I will retain a small amount of fluid due to the long flight from California to Brazil, but I will soon be back on track after a day or two in sunny Rio.
In terms of preparations, my training has become much more specified in recent weeks. In particular, my team and I have been spending lots of time working on drilling the specific moves that Thale Leites, my opponent, is prone to making.
It's crucial to learn as much about your opponent as possible, so you can work out the most effective defences to his offence, alongside a big focus on my attacking strategy for the fight.
Of course I can never be sure what I truly will come up against on the night. To be prepared for anything that can happen in a fight, I need to make sure I'm still getting an adequate mix of grappling, wrestling and striking in my training. I've been doing just that, so I know I'm ready.
Tired, aching and about to face a week of dietary discipline so that I will hit the mark on the scales at weigh in, I have been taking a lot of ice baths after practice to try and limit the damage to my muscles and speed up my recovery.
Most of the physical work is done now.
I am prepared to do whatever it takes to leave Brazil as the victor in this next battle. My mind won't allow my body to quit and that makes me as ready as I ever can be, and feel as good as possible in this situation.
I would like to thank my team for their hard work in getting me ready for this fight and Fear The Fighter, Lonsdale, Venum Fightwear, Muscle Pharm and Training Mask for their support.
I will not let anybody down. Obrigado!