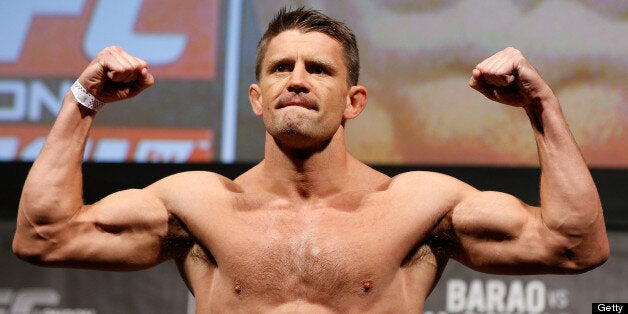 Newport Beach, synonymous with beauty, is where I sit gazing across the water from the harbour.
I'm heading into my last four weeks of training ahead of my next bout against Thale Leites in Brazil, at UFC 163.
A physically punishing schedule has been devised for me by my team, but it's mentally where the fight will be won or lost.
What's vital is that I take time to sharpen my mind, reflect on my tactics and think of multiple outcomes and scenarios that could happen in Rio de Janeiro on 3 August.
Not for the first time in my career, I will be stepping into the lion's den so to speak, to fight a fellow competitor in their hometown. This does not concern me.
I have fought many a man in their own back yard before on my mixed martial arts journey, but it does take a different type of mental preparation. I know the crowd will be backing Leites, and they'll be noisy. Visualising the crowd's negativity towards me is crucial to making sure my mind doesn't panic when it happens for real.
The Brazilian heat is another factor to consider when training, as there's no doubt it will be very hot and humid. Luckily for me California, where I now live and train, is hotter than my home of England!
My mind drifts to my weight. I'm feeling good and right on track. I am currently around 26 pounds over what I need to be on 2 August for the official fight weigh-in.
It's easy to be overly critical of myself, especially in the run up to fights, so I contemplate if I should be at a lower weight at this point. I reassure myself that I rarely make poor food choices, I eat the right foods at the right times. That, coupled with the correct training, always gets me on point for weigh-in day.
My thoughts turn to fight strategy and tactics. My upcoming opponent is a Brazilian Jiu-Jitsu world champion. My mind races again with images of his accomplished grappling. I switch to his striking.
I believe Leites is very underrated in this area and I fully expect him to plan to shock me. He is clear on what I want to do in this fight, which is keep it standing and strike my way to a clean and quick finish.
On the same token, I am keeping my mind open to what he wants to do. That is what makes this fight interesting, and a test of who is better at their own game and a better master of their mind.
Between training, I am a big reader and I take real inspiration from it.
"Mind is the Master power that moulds and makes,
And Man is Mind, and evermore he takes
The tool of Thought, and, shaping what he wills,
Brings forth a thousand joys, a thousand ills: --
He thinks in secret, and it comes to pass:
Environment is but his looking-glass."
- James Allen, As a Man Thinketh
I know that this fight is mind over matter, and I intend to come out on top.