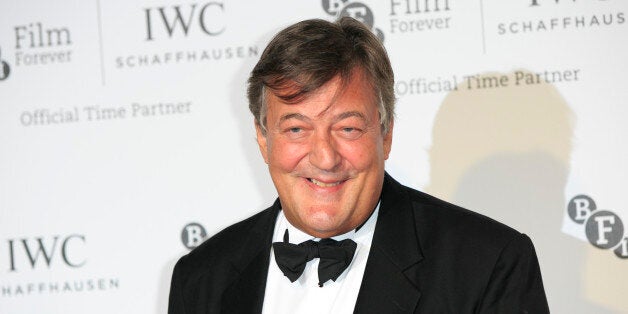 You said some really awful things and I'm gutted.
I have so many happy memories of you making me laugh over the years, the way you poked fun at the establishment in the 80s to the heartfelt documentaries about gay rights and your struggles with bipolar more recently, you were a bit of a hero of mine.
During the interview with Rubin, you spoke about lots of things from political correctness, the 'regressive left' as you put it and the infantilisation of the masses.
I agreed with parts of what you said, but disagreed with others, but hey that's politics!
What really hurt me though, were your comments about rape and specifically child abuse.
This is what you said and with so much anger in your voice as well.
There are many great plays which contain rapes, and the word rape now is even considered a rape

They're terrible things and they have to be thought about, clearly, but if you say you can't watch this play, you can't watch Titus Andronicus, or you can't read it in a Shakespeare class, or you can't read Macbeth because it's got children being killed in it.

It might trigger something when you were young that upset you once, because uncle touched you in a nasty place, well I'm sorry.

It's a great shame and we're all very sorry that your uncle touched you in that nasty place - you get some of my sympathy - but your self pity gets none of my sympathy because self pity is the ugliest emotion in humanity

Get rid of it, because no one's going to like you if you feel sorry for yourself

The irony is we'll feel sorry for you, if you stop feeling sorry for yourself

Just grow up
The sad thing is Stephen, victims of child abuse 'grow up' the second the abuse starts and they never get their childhood back.
I was abused at the age of 12, not by an uncle but a former employee at my father's business.
I've experienced my fair share of self pity over the years, especially when thinking about my lost childhood.
However ugly you think that is, I think I'm entitled to feel that way from time to time.
And you know what, it's funny you said no one is going to like me for feeling sorry for myself.
That's exactly what I thought when I planned taking my own life a few years ago.
Like you, I've suffered periods of deep depression and had a challenges with addictions and feelings of shame and guilt.
My relationships, career and family have all suffered.
I know you will recognise how destructive this can be given your presidency of the mental health charity MIND, who regularly campaign on this issue.
Stephen, I don't want any of your sympathy but I do want you to understand this:
I didn't choose to be abused.
I had no control over what happened to me or my body.
I was just a boy and like other survivors, I'm doing my very best to work it all out in my head.
The last thing we need right now is highly respected yet completely misinformed public figures talking about rape and childhood sexual abuse as if it were a nothing more than an inconvenience.
You will remember, better than me, when gay rights were inconvenient too.
I'm one of the lucky ones who watched the man who abused sent to prison.
It took me nearly 20 years to break my silence and I still think about what happened every day.
I waived my right to anonymity after the trial and I now talk publicly about surviving childhood sexual abuse.
I'm also a fundraiser and ambassador for Survivors Manchester, a charity that supports men and boys who have survived sexual violation.
They helped me when I had nowhere else to turn and so I'm giving a bit back, in whatever way I can.
The support they offer is vital and much needed given the amount to misinformation still out there.
So here is my offer to you Stephen, please come and visit us at Survivors Manchester.
Come and meet the team and find out the impact sexual violation has on survivors.
Come and meet some of the amazing survivors that are supported by the charity and hear their stories first hand.
Come and find out about how the charity is making a huge, positive difference to the lives of survivors in the Greater Manchester and beyond.
Come and have your views challenged and your mind opened.
Despite how I feel right now, I'd really welcome the chance to meet you and build some bridges before it's too late.
At the very least, please apologise for your damaging and hurtful comments.
Tom Leavesley is a survivor of childhood sexual abuse, UK Ambassador for Survivors Manchester, fundraiser and volunteer. He writes for his own website, TomSurvivors.UK where this article was originally published
Related